A tour of Turkana's rugged beauty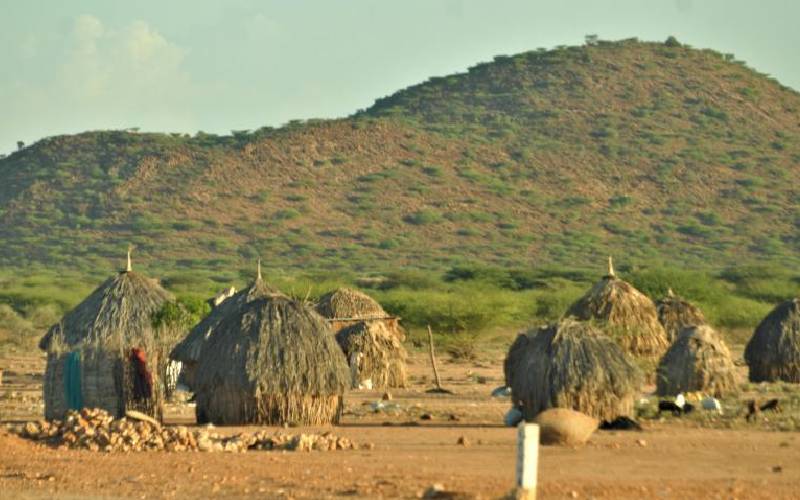 A friend of European descent who spent six years working for a local NGO in northern Kenya has tales about Turkana. He remembers the warm and colourful people who eke out a living in one of the most inhospitable places in the country.
And he remembers the heat. "In six years, temperatures dropped below 20°C only once," he told me in Nairobi recently. "But then you get used to it."
For the second week in a row, my forays to northern Kenya continued. And with my friend's apt description of the heat in Turkana, the thought of spending another week in oven-like conditions looked like the musings of an insane mind.
"However, look beyond the vagaries of the sun and see warm people whose vaunted resilience makes them break into warm smiles, mocking the desert-like conditions," he said.
Turkana has been the victim of uninformed minds. "Nothing works, or grows here," some say. Nothing could be further from the truth.
A visit to Lodwar, the gateway to
Turkana, reveals a town ready for takeoff (or perhaps one that has already taken off). Lodwar has a busy airstrip where dozens of flights land in a day.
The terminal building may not be the most inspiring but there are no planes that land in my village either.
The formerly dusty road that skirted through the town has been transformed into a modern thoroughfare connecting Kenya to South Sudan and spurring vibrant businesses in urban centres such as Kakuma and Lokichogio to the north.
And then there is Cradle, a tented camp in Lodwar and my base for exploring the hinterland. Cradle stands out like an oasis in the parched land.
Turkana has enough space and the camp's developers took note of this by giving the rooms here ample space that helps in air circulation for those averse to using air conditioning.
A first-time visitor to this camp might mistake it for an elegant NGO outpost, what with all the Toyota Landcruisers in the parking lot!
Talking of the all-terrain vehicles, the best way to discover Turkana is by hiring one of these beasts and venturing into the interior.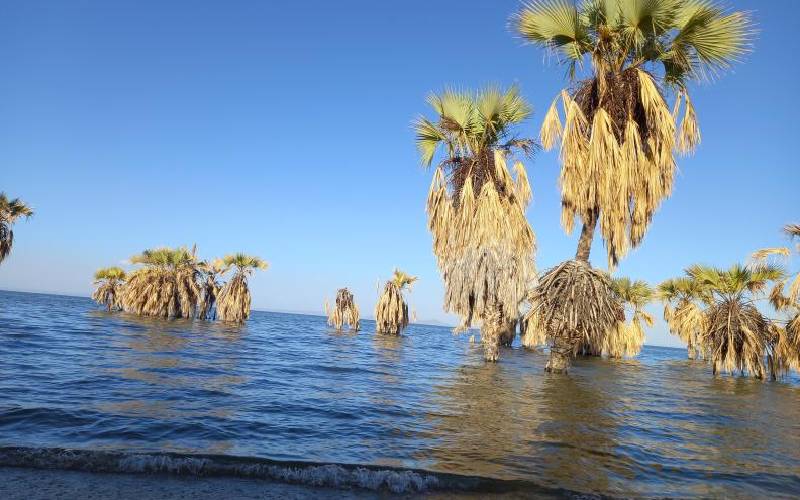 On a late Tuesday morning, we decided to head east to the small settlement called Lorengelup, about 45 minutes drive from Lodwar.
The route is dusty and the stretch is made more treacherous by the midday heat that almost makes the vehicle's air conditioning system irrelevant.
In the plains of Turkana, temperatures soar as per my friend's earlier warning. The heat does not spare camels that one would assume are used to this environment.
The region's beasts of burden huddled together under the shade of a roadside shrub, unwilling to move a limb no matter how close to them our vehicle got.
Distant mirages created by the hot thermals held little promise to the weary herdsmen watching over the animals. Rain is a distant rumour here but the people have the will to live on, hoping that tomorrow will be a better day.
Lorengelup is no different from any other village here; there is a cluster of huts with an open courtyard around a tree where people nap on straw mats during the heat of the day. But even in this bleak and windswept landscape, tales of hope abound.
We met Joyce, a 47-year-old mother of eight. Joyce is witty and regaled us with her love stories. She met the man of her dreams in her Kalokol home, a small fishing community by the shores of Lake Turkana.
"He was light-skinned," she says. "You can see I am quite dark and so I thought the children will have a fair complexion."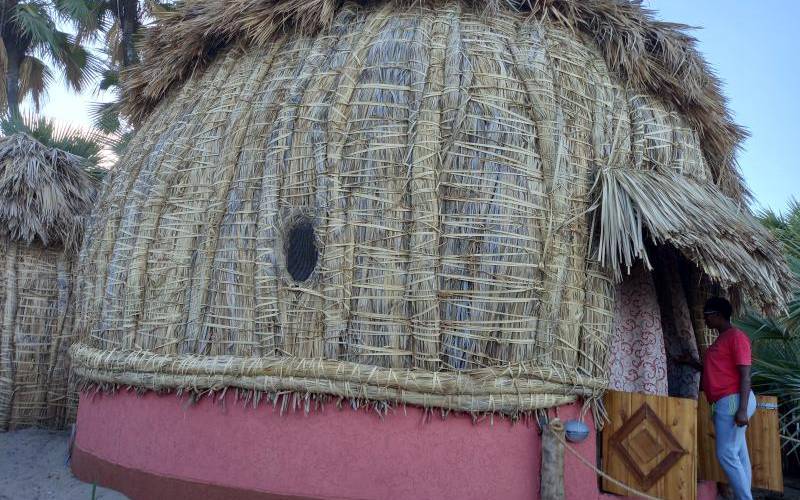 Her husband was away and the children were in school hence we could not verify her assertions. But one thing was clear though: the love bug had smitten her those many moons ago, and she could not shake it off.
From the initial meeting in Kalokol, Joyce and her new lover walked for three days to her new home in Lorengelup, spending lonely nights along the way.
"It was just the two of us. We would even cook in the bush."
The beadwork on her neck shakes vigorously from her laughter. "I just wish you saw him." Perhaps in a future visit.
Joyce's story inspired a trip to the lake, an hour away from Lodwar. Peter, our driver, suggested we take the dirt road to Eliye Springs, the holiday hotspot by the lake. From Lodwar, the road cuts across a dry riverbed and we almost stall under the heavy sand.
At other times, the track got lost in the maze of shrubs. Our only consolation was to follow another vehicle almost a kilometre away and whose cloud of dust marked the rest of our route. "We hope he is heading to Eliye Springs," said Peter.
The doum palms marked the edge of the lake. Lake Turkana, for beginners, is the largest desert lake in the world and a UNESCO World Heritage Site.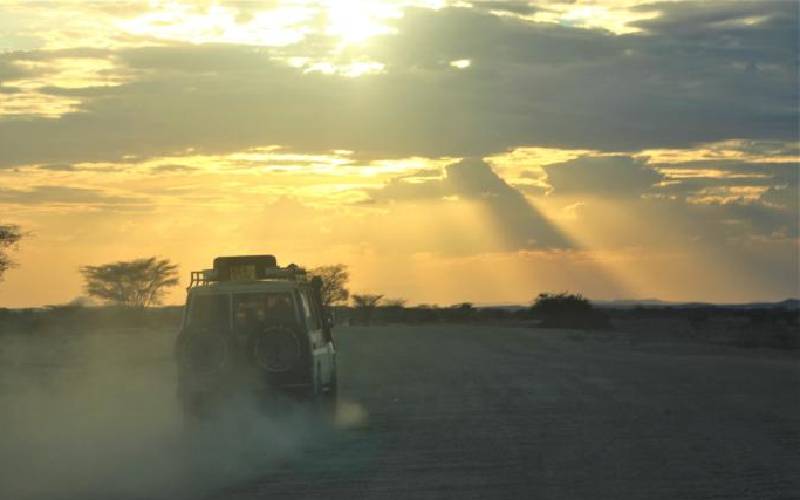 The Jade Sea, as some call it due to its light bluish-green colour, is as resilient as the people around it.
The fish here feed most of the communities in northern Kenya, yet, the lake is under threat as the vagaries of climate change and human developments threaten its existence.
El Molo, one of Kenya's smallest tribes and who are almost losing their language, are in danger of losing their livelihood too as fishing sites get buried under the silt that has also contributed to a rise in water levels.
Some palm trees, 100 metres into the lake, might have provided some shade to some tourists sitting on armchairs.
A short offshore trip by boat revealed the death of the once vibrant hospitality industry as some hotels lie submerged.
But then a week is not enough to explore what Turkana has to offer. Still, the few gems it has revealed are worth inspecting.
I plan a future visit to explore the famed Central Island, home to some of the world's biggest crocodiles as well as Turkana's famous archaeological sites.
Whatever you have heard about Turkana, you have not been told even half of what it has to offer.
Overhydration is a real threat
Have you noticed how when you gulp two or more glasses of water it does not take long before you get an urge to use the toilet?
Eight gift ideas for a gamer
Christmas festivities are nearly here with us, and you might be wondering what gift you can get your friends, colleagues or partners.