Why Lamu, the Promised Land is no longer at ease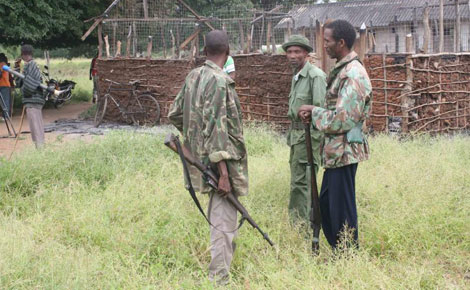 Kenya Police Reservists at Pandanguo village after the attacks. [PHOTO:FILE/STANDARD]
Lamu, Kenya: Little was known of Mpeketoni before the gory, mercenary like attacks of June 15. But to locals, Mpeketoni is the Canaan, the Promised Land.
The land puzzles newcomers, while it soothes the locals. Travelling on Malindi, Lamu road, the scenery is of dry land inhabited by shrubs, where crop cannot do well. But suddenly, as you approach Mpeketoni, the landscape changes; the shrubs graduate to green, healthy crop.
Maize is the most popular food crop here performing amazingly well, says Boniface Mutunga. He hails from Kitale, so called because of its bumper maize harvests. "We harvest three times a year. In February, I made Sh160,000 from maize sales, this time round, my plant is huge, and profits must be higher," he says. Other crops that do well include cashew nuts, cassava and cotton and in a country where most youth are idle, in this region, the young people engage in one activity or the other.
But senior chief Isaac Mwangi, popularly known as Mkarimani of Hongwe says "Canaan" is no longer at ease. "We never seek the market, people buy from the farm. Things have been good until now..." Mkarimani's father was among the first 30 men settled in Mpeketoni from Kinangop by then President Jomo Kenyatta in 1973. By then he was in Standard Six.
Dormat volcano
He believes the land issue has been a dormant volcano. "In my 19 years as chief, I have witnessed many land related conflicts and I have several times acted as a go between."
This turn of events, claims the chief has especially become pronounced after announcement of oil and gas finds.
"Also, the Lamu Port Southern Sudan Ethiopia Transport (LAPSSET) project has made people clamour for the area. The price of land has gone millions of shillings up," says Mkarimani.
Take a quick survey and help us improve our website!
Take a survey
The fertile and expansive Kitale and Mavuno land, situated between Mpeketoni and Witu is referred to as Witemere (literally, cut a piece for yourself) meaning they have no documentation for proof of ownership though there are two individuals claiming ownership.
Though Mkarimani and Mutunga have raised their children here, they say the indigenous community, especially the pastoralists feel their land has been taken by the newcomers (wabara) and they might be left out of the new found windfall.
Indeed, a recent report, Forgotten in the Scramble Lamu: A Position Paper on LAPSSET Project in the case of the Aweer and Fisher-Folk by the Kenya Human Rights Commission, says the indigenous communities might not directly benefit and may actually be left poorer.
And now with the attacks, most of the immigrant farming community have returned to upcountry while others are in camping sites for the displaced. Most of those who moved from their homes are at Mavuno camp. The number for the internally displaced went up after the Kaisari attack, the remote village where nine people were massacred a day after the Mpeketoni attacks.
A week later, gunmen raided the Pandanguo village, a few kilometres from Mavuno at night, harvested maize and stole other goods from abandoned homes.
And as the country explores different theories to solve the puzzle Lamu is embroiled in, residents say land is the cause of all their woes. Musungu says before the attacks, they had been asked to leave.
Summons
"The day Kaisari was attacked, we were to go to a Malindi court after summons from one of the people claiming to own the land incorporating Mavuno, Pangani, Kitale and Wipho villages," he says.
But the threats continue. A day before our visit, on July 3, they had been urged by Government to go back to their homes but they feared fresh attacks after one woman returned to her farm only to encounter familiar faces equally shocked that she had returned home.
"Yani hamjaenda?" the woman, who we can't name for security reasons says they asked her. She adds, "I was also shocked as I recognised two of them. They were five, three carrying swords and two with guns. The two familiar faces of Somali origin used to live in the area and were not police but pastoralists."
Musungu says the allegation was corroborated by another resident. They reported the matter to Mpeketoni Police Station. "Since moving to this camp, we had not been provided with security but as you can see, after reporting they sent in some police officers."
Clueless police
The residents live in fear even in police presence since the security apparatus seem clueless. The day Hindi, which is 40 kilometres from Mpeketoni was hit, they had been assured of enough security and had been urged to go back to their farms. According to some survivors the militia owns sophisticated weapons.
So what is happening?
Mbijiwe Mwenda, a security expert and former soldier, echoing the Lamu residents, says the pattern of killings point to a social issue, and rules out al-Shabaab but not completely. "The pattern and consistency of the ethnic targeting is uncharacteristic of the terror group. It could only be them if the al-Shabaab see it as an effective strategy but on the other hand, the pattern makes it easy for security officers to lay a trap."