Police on high alert as youths plan 'jihad' meeting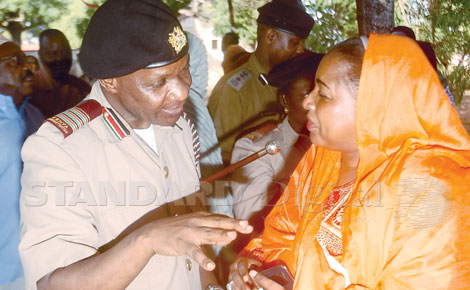 Mombasa County Commissioner Nelson Marwa (left) and Woman Representative Mishi Mboko during a security meeting in the town last week. [Photo: File/Standard]
By Ishaq Jumbe
Mombasa, Kenya: A radical Muslim group is planning to hold a convention on teachings on jihad at the controversial Musa Mosque in Mombasa this Sunday.
The move has sparked fears of renewed clashes with security forces and moderate Muslims.
Authorities in Mombasa said yesterday that they were aware of the planned meeting and would not allow it to take place.
Police said the planners of the jihad convention seek to spark a new wave of violence and mosque takeovers similar to what happened late last year.
Leaflets were distributed in Mombasa yesterday inviting youths to attend the convention aimed at reviving the jihadist movement in the region.
Provincial Administration officials and police yesterday asserted that they would not allow the meeting to take place given several security alerts that have been issued in the past one week.
Rites
"We are aware of the planned meeting but there is no way we can allow such a meeting to take place," Nelson Marwa, the county commissioner, told The Standard.
The posters pinned up in several public areas around the town by unknown people promise participants to address, among other issues, Ahkamul Jihad (laws pertaining to jihad), history of nifaq (hypocrisy) in jihad and rites of a shaheed (martyr).
Marwa revealed that security apparatus was fully prepared to deal with the threat and that they were narrowing down on the convenors of the meeting.
"They should get necessary clearance from the police first," Marwa said.
He also said that as far as the Government was concerned, the ban on lectures at Masjid Musa remains in force.
The radical youths have intensified their quest to give jihad teachings in mosques after the killing of Sheikh Aboud Rogo, who used Masjid Musa as his base. Several people associated with the mosque have also been killed.
Islam Omar, who was the chairman of the Masjid Musa committee, yesterday said the mosque has since been taken over by youths, a situation that led his entire committee to resign.
"We could not control the mosque. We, therefore, opted out of running its affairs three months ago," he informed The Standard.
Moderate religious leaders said they were being viewed as supporters of the Government because they do not condemn it.
Contacted, fiery Islamist Abu Bakr Shariff alias Makaburi said he was not aware of the convention.