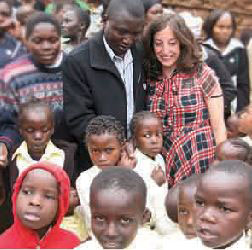 Odede with his wife and co-fouder of Shining Hope for Communities, Jessica Posner, and Kibera residents.
[PHOTOS:COURTESY]
By Joan Barsulai
Kennedy Odede, a 29-year-old Kibera resident, has been awarded the top 30 under 30 Social Entrepreneurs award by Forbes magazine.
Over 100 impressive candidates were nominated and then reviewed by a panel of distinguished judges including renowned social entrepreneurs Jeff Skoll and Cheryl Dorsey, and Randall Lane, Editor-in-Chief of Forbes magazine.
Mr Odede was selected based on "the obstacles that he has had to overcome in his life — and his dedication to using any opportunities to give back to his community".
His project, the Shining Hope for Communities, runs the tuition-free local Kibera School for Girls, and an adjacent centre for the community, with health care, clean water and sanitation services, a library and computer lab.
Great struggle
His meteoric rise to the top has however been nothing short of a great struggle. He was born in abject poverty in Rarieda Constituency to his then 15-year-old mother, whom he describes as "an incredibly strong woman".
He moved to Kibera, where he grew up with his family when he was only two years old.
As the oldest in a family of eight children, life was tough for Odede, and he was in and out of informal schools due to lack of funding. He therefore had to teach himself how to read and write. At ten, he was driven to the streets by poverty and hopelessness.
But just as he was about to give up hope, he met a volunteer at a local church who gave him a book about Martin Luther King Junior.
"The book about Martin Luther King Junior changed my life. Here was a man who shared similar struggles: poverty, prejudice, lack of opportunity but he never gave up. I thought if this man could do it, why couldn't I?"
Shortly after, he landed a job in a factory where he made Sh80 a day. He bought a second-hand football worth Sh50 for his friends to help them escape temptations and idleness.
Odede continued to dream big, and without any formal documents, applied to Wesleyan University in the US and received a full scholarship.
Even while in college, his community back home was constantly on his mind. "I wanted to use my education to give back more to others."
In 2009 he started the Kibera School for Girls and linked it to other social services like a health clinic, clean water, and economic empowerment. It has so far impacted the lives of 40,000 people.
His project has been recognised by The Clinton Global Initiative, and has also been supported by luminaries like Nicholas Kristof, American rapper 50 Cent, and has been featured in The New York Times, NBC, Vogue Magazine, and many others.
The project has now moved from Kibera to other slum dwellings.