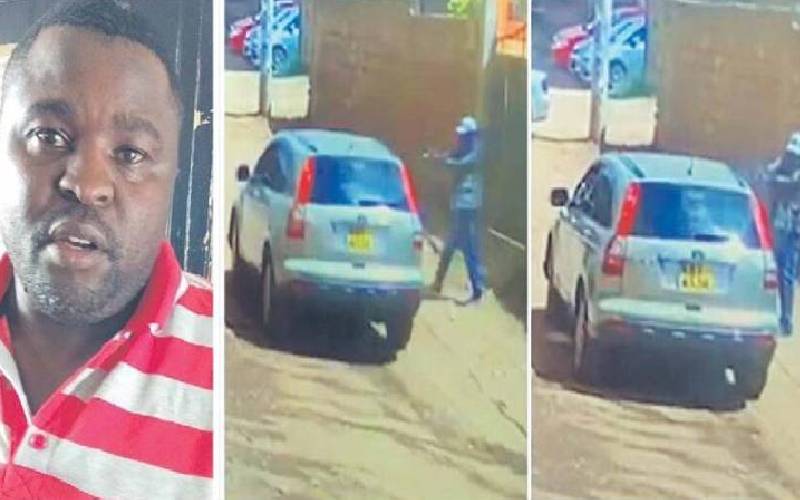 A chilling execution, a list of victims, mugshots of accomplices and a police explanation that poses more questions than answers are the things that have followed Samuel Mugota in death.
In life, Kenya's law enforcement agencies say he was a notorious criminal responsible for a vicious gang of thugs robbing revellers in bars in and around Nairobi.
But in death, the mystery around Mugota's life continues, with events surrounding his execution painting a picture of a probable cover-up or an already bungled investigation barely days after he was killed and the possible hand of the police in his chilling death.
The executioner
Mugota's killing may have been chilling, but for many who saw it, it was not shocking. For years now, extrajudicial executions of a similar nature have been a common sight, but when Mugota woke up that Monday morning, little showed that he was living the last moments of his life.
"He woke up, took breakfast and drove out at 8am. I saw him speaking to boda boda operators near our home, and thereafter drove off," his second wife, Winnie Wambui said. The details were contained in a statement she recorded at Kasarani police station on Wednesday.
A few hours later, Mugota was dead. Slouched over his steering wheel, the six exit wounds to his chest providing an exit for the blood from his body. He died from profuse bleeding and the trauma caused by the impact of the bullets to his body.
CCTV footage of the incident shows just how meticulous the killers were. The shooter was well aware of the presence of the camera that covered the stretch of road that is Mirema Drive. Dressed in clothes that appeared a few sizes too big and in a lowered baseball cap, the shooter was certain that no aspect of his physique would be picked up by the cameras.
Then, the soon-to-be shooter who appears in the CCTV footage as a man of above average height and of slender build lay in ambush, waiting for Mugota by the roadside as his Honda CRV, drew closer.
At exactly 1:57pm, the attacker aimed at Mugota, who was on the driver's seat, and opened fire, shooting him six times at close range.
So careful was the shooter that even as the bullets exited his gun, there was little to no recoil from every gunshot, indicating just how comfortable the executioner was with the hand gun. After his mission was completed, the man jogged into a waiting getaway car and drove off.
The shooting of Mugota took seconds. And under a minute, the shooter had left the scene in a grey saloon car. Although Mirema Drive and the surrounding roads are littered with CCTV cameras; investigators say that they were of little use since the getaway car had a fake registration plate.
Apart from make and colour, those involved in the investigation say little progress can be made on the ownership of the car and its occupants. As Mugota breathed his last, the shooter and his accomplices got away.
Hours after his death, Mugota's secret life was on social media. His criminal past. His current dealings in stupefying drugs and his death was broadcast by official social media handles of state law enforcement agencies.
The Directorate of Criminal Investigations has held little back in giving details of Mugota's criminal past. His dealings. His victims and his movements. Somewhere within the narrative, lay a past that included some 30 arrests in a span of 11 years according to police, with little proof that he was ever arraigned before a courtroom to face any sort of criminal charges.
The narrative
For more than a decade, he patronised Thika Road, leading a gang of ruthless and money hungry women, trapping patrons in various nightspots and robbing them almost bare of cash and other valuables. In some extreme cases, their victims never lived to tell of their experiences.
Some of the owners of three of the seven national Identity Cards found in Mugota's vehicle said in their police reports that they were victims of drugging.
One of them a university lecturer said he was having drinks with his friends on the Eastern Bypass, when a woman selling men's underwear and vests approached them.
"She asked me to buy a vest from her. I picked one that I believed would fit me, went to the washrooms to try it. I, thereafter, returned and gave her money. The lady then asked if she could join us. Later, she asked if she could speak with me privately. I don't know what happened thereafter," said the lecturer.
He further stated that he woke up the following morning in a room. His mobile phone, ATM card and ID card were missing.
After reporting the theft and renewing his line, he learnt that he'd lost Sh370,000 from his mobile wallet and bank account.
"The suspects even borrowed mobile loans using my details," the lecturer said in his statement.
Police believe that this was Mugota's mode of operation.
Yet, if they knew just how deadly his gang was, how was he, a man with such baggage around him, on the streets and going on with his business?
"Mugota had been arraigned at Kiambu, Makadara, Milimani, Thika and other law courts on numerous occasions but found his way out, often by approaching the complainants and paying them back their money. The complainants would then disappear," the DCI posted on Twitter.
This was not all. From the DCI explanation, it appears that the authorities had enough dirt on Mugota to arrest him and charge him before a court of law.
Past operations
The criminal investigations agency knew of Mugota's past operations, his alleged sim swapping and a host of other long cons on unsuspecting Kenyans.
They have even released photos of women they claim Mugota recruited to lure men.
"Armed with personal details from the young men and women, Mugota had over 300 bank accounts that he was using for his transactions. In one day, he was making over Sh1 million from administering ''pishori'' to unsuspecting men," the investigators say.
Yet, they could not find any evidence that could stick any charges in courts and ensure he faces justice for the crimes committed. Police informants say that in the numerous times that he was arrested, Mugota was never taken to court and more often than not, he paid his way out of police stations and went back to business.
"He was a source of food for the policemen who knew of his operations," a senior policeman told The Sunday Standard. "He was not a mysterious figure. People in the force knew him. They knew what he did. And they accommodated him for the period that he was useful to them."
A name search of Samuel Mugota into Kenya's digital court files does not yield any hits on the portal, but on Friday, police released yet new evidence in relation to the killing- the identity of the man suspected to be his killer.
According to detectives, the armed and dangerous man was suspected to be in possession of a firearm that was snatched from a stupefied officer, after a round of drinks at a popular joint in Mombasa, in November 2020.
Police internal records show that the only firearm that went missing in such circumstances in Mombasa during that timeframe was reported missing on November 24, 2020.
But it is another tell-tale by the DCI that alludes to unanswered questions in the curious case of Samuel Mugota.
"Efforts by detectives to arrest him have been futile since the thug who is well loaded, influences rogue cops who tip him off once an operation for his arrest has been launched," the investigators say.
A picture of the wanted man, bares striking differences from the shooter captured on CCTV. Like Mugota, his name too does not raise any red flags from court archives.
Police have however vowed to pursue the investigation to its conclusion.
Yet, critical elements in the case are providing little headway.
Those familiar with the case told The Sunday Standard that the CCTV footage does not capture any features that can be useful to the investigators. There are no faces. There has been no eyewitness that has come forth.
Away from the DCI, those who were intimate with the man knew nothing of his criminality. None of the wives The Sunday Standard spoke to knew of any of his arrests or brushes with the law. His brother, who also spoke to the press soon after Mugota's death, knew nothing of this other life.