For Ndung'u every match is a learning experience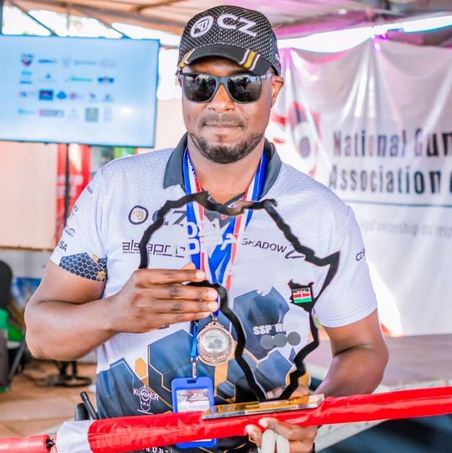 "Every match is different," says Ibrahim Ndung'u who together with Eng. Sammy Onyango and Gikonyo Mwangi were representing Kenya at the Level III Nationals over the weekend at the Frontier shooting range in Stilfontein, South Africa.
Ibrahim who was recently promoted from class C to B after an impressive performance at the Africa Level IV handgun championships emerged number 8 out of 103 in his class and 19 overall, in the International Practical Shooting Confederation (IPSC) match.
"My maiden try in the B-Production class was a tough one; challenging but fun and exciting. I enjoyed the entire competition and I am happy with the results though I didn't win a medal this time round.
In class B, a single mistake can cost you a match performance unlike class C where one can make few mistakes and get away with it," says Ibrahim Ndung'u.
Ndung'u adds, "I was fully prepared since I was training on increasing my speed for about one month, but only to find out that most stages were testing accuracy.
Besides that, unlike during the Level IV championships, most targets were at a distance of between 15-20 metres and few at 25. That posed a challenge for me since I was training at a distance of 7-12.
The Class C-production bronze winner also pointed out that the weather was a challenge too since they shot most of the stages under heavy rain on the first day.
"At some point my eyes protection would be filled with mist causing poor visibility. One of the competitors in my detail noted my challenge and was kind enough to offer me a liquid solution that helped protect them from the mist.
All in all I accepted the challenges. I learned areas of my weaknesses and shall be working on them before the next Level III match at Limpompo - South Africa and later at the Level V championships in Thailand," said Ndung'u.