Basic record keeping injects life into dying farm projects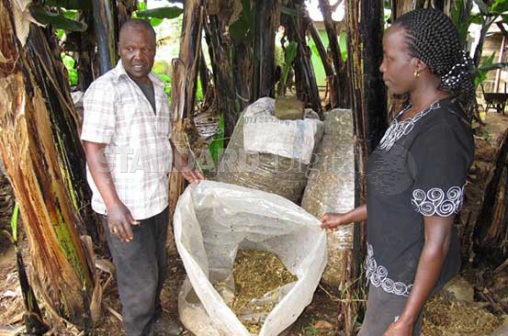 Fredrick and Hilda Kinoti, a couple, from Meru County, ventured into farming close to 20 years ago.
But hard as they tried, for years they made losses after losses.
"We used to grow green bananas for commercial purposes but for some reason we rarely made any profits. In our journey, we encountered challenge after challenge. The bananas were attacked by diseases, sometimes they would rot in the farms and may a times the yield from the farm was depressing," says Mr Kinoti from Imenti, Meru County.
However, the determined couple soldiered on.
They tried to farm coffee, maize, yams, nappier grass, beans, and Irish potatoes and keep dairy cows. The couple also tried to get a bank loan, but no financial institution wanted to risk on their non-profitable venture.
Blunder after blunder
"On several occasions we sought loans to expand our farming activities without success. All the banks turned us away," says Kinoti.
Clearly there was a problem but they could not put their fingers to it.
But in 2013, help came in the form of an initiative called Sokopepe, a social agribusiness enterprise.
Through Sokopepe the Kinotis realised what they were doing wrong.
"We were introduced to the Sokopepe officials and they audited our project and gave us what was ailing it. Apparently, our biggest problem was not doing record keeping at all. Because of that, we were not able to track and monitor many things," Kinoti says.
Veteran farmers know record keeping is an important aspect in farming, yet the Kinotis had not embraced it.
Sokopepe works under two models — Farmis and Soko — Anne Murangiri, General Manager Sokopepe Ltd explains.
"Farm Records Management Information System (Farmis) is a farm management and diagnostic tool based on the use of farm records," Murangiri says.
She goes on, "Before we started this initiative, we realised many farmers do not keep any records which is a recipe for disaster. But Farmis is based on the simple idea that with farm records, a farmer or other stakeholders can access various reports highlighting husbandry practices, market trends, weather conditions and on-farm challenges."
Once they were enrolled in the project after paying a small fee, the Kinotis were taken through basic record keeping, which they implemented and now they can see a difference in their venture.
Thanks to the initiative, the Kinotis are masters at record keeping where they record the types of crops they grow, seasons per year, production, expenses involved, size of land and other farming activities.
"With our record of progress, banks and other financial institutions are now willing to give us a loan for expansion," the couple says.
Kilometres away, there is also a farmer who has seen the light through the Sokopepe initiative.
Silas Murithi, a farmer from Mwanganthia, Central Imenti, started farming bananas in 1999 in a two-acre farm.
He however was lucky to get loan of Sh200,000 from a bank after giving out the title deed.
However along the way, Murithi encountered major problems after he started harvesting bananas but there was no ready market. He turned to brokers.
"You either sold at half price to brokers or lost everything," he recalls.
But Sokopepe officials armed him with the information he needs to take his venture to another level.
Through the link Murithis are able to access market linkages across the country.
Now empowered Murithi can maximise on his farm's potential.
"I invested more in maize farming since last year. Today, l harvest over 50 bags in a season. It was purely because of their advice," he says.
Murithi has had five farmhands who assisted him in the farm, yet was struggling to pay them. Today, he makes good money and pays them with ease.
He discloses, "In fact l have increased their pay from Sh250 to Sh350 in a day."
So how does this Sokopepe work?
Murangiri explains that the social agribusiness enterprise bridges the gap amid farmers and others on the value chain such as linking to financial institutions, input manufacturers and markets.
Market prices
The platform through its application Farmis and Soko+, helps farmers to keep records for future decision making, provides market information throughout major markets such as Meru, Nairobi, Mombasa, Nakuru and Eldoret.
Already, the social enterprise has recruited 7,000 farmers in five sub-counties of Tigania West, Buuri, Imenti North, Imenti Central and Imenti South, and expanding to other areas.
To get market prices, farmers send text: price#commodity#town send to 20245.
The organisation has also employed Production Information Agents (PIA) who are either agronomists or graduates of Agriculture/agribusiness, moving around and advising farmers on farming best practices.
Such advice has helped Jane Nturibi, an integrated farmer from Kianjai, in Tigania West. She initially planted bananas, coffee and macadamia. However today raises maize, mangoes, beans, macadamia, sorghum, coffee, sweet potatoes, bananas, green grams, cowpeas, in five acres.
"Many of the crops you see here l started planting two years ago following the advice of PIAs. They told me this soil has potential to raise other crops. I tried and the crops came out well," she explains.
Create jobs
Others say records have helped them know how losses occur and when to switch to another crop for more profits.
To join farmers pay Sh500 a year and get all the services.
Ms Murangiri, explains that Meru is one of the counties with highest number of farmers yet they were preoccupied with traditional way of farming that is not profitable.
"They were making losses without knowing how, and when to act and turnaround their business enterprises. This was launched specifically to intervene and help them increase profits. We happy that for only two years, we have achieved a lot," she says.
She says the platform has also created employment for youth.
Murangiri says: "By creating such platforms and employing youths, we are also wooing them into farming."
Through interaction with PIAs, farmers acquire agricultural knowledge, and can even rotate or manage diseases and pests on their own.
Farmers also have interactive forum where they can share a lot about their activities.
"Farmers who are deep in rural areas can ask those near town to help them sell their products or other advices," says team leader.