Uhuru gifts family cows after surprise encounter in forest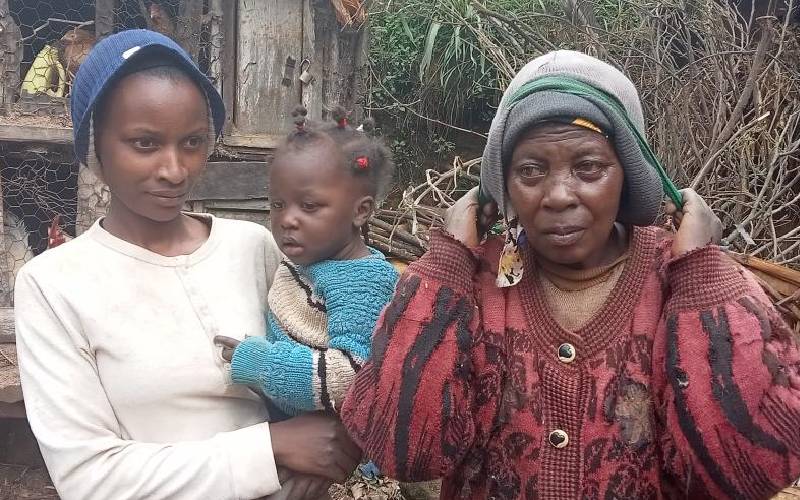 For 60-year-old Eunice Wanjiku, July 12 is a day she will never forget.
As usual, Wanjiku left her home at around 10am to go fetch firewood from the nearby Kieni forest.
Little did she know, a surprise lay ahead on the material day.
As Wanjiku made her way into the forest, accompanied by her daughter, Esther Nyambura, she came across some police officers.
"At first I thought they were forest guards, but as we drew closer I realised that they were police officers. I became afraid but quickly remembered that we had a receipt that allows us to collect firewood from the forest," Wanjiku told The Standard.
Wanjiku narrated how she went into lengthy a conversation with this 'stranger' who, at the time, was wearing a face mask.
"At first he asked us whether we had the key for the gate that leads into the forest and the dam," she said.
But only after removing his mask did Wanjiku's daughter recognise the 'stranger' to be President Uhuru Kenyatta.
Wanjiku said they had a small chit chat with President Kenyatta, who sought to know how the family was coping with life, adding that he looked relaxed and jovial.
They later learned that the president had made a private visit to the dam, which is under construction, to inspect its progress.
But that is not all.
After the surprise encounter with Uhuru in Kieni forest, Wanjiku and her daughter received yet another surprise after the president gifted them two high-breed heifers.
The Standard team hit the road 45 kilometres from Thika Super Highway to the sleepy village of Raini, Gakoe in Gatundu North constituency, where Wanjiku resides.
Yesterday, the home was a hive of activity as villagers trooped in to see the gift cows.
Wanjiku could not hide her joy.
"It has been difficult buying a litre of milk for my grandchildren and family. God willing, I will now be in a position to get something small for upkeep and to educate my grandchildren."
The two heifers were delivered to Wanjiku's home by the Presidential Delivery Unit, led by Kiambu County Commissioner Wilson Wanyanga and a team of veterinary officers.
"The family will not be where they were in the next one year when the heifers give birth. I will be visiting them to see the progress of their dairy farming," Wanyanga said.
Joseph Thuo, a veterinary officer, assured the family that the cows are a superior breed that produces over 70 litres of milk per day.
He advised the family to take good care of the animals through regular vaccination, and proper feeding and care.