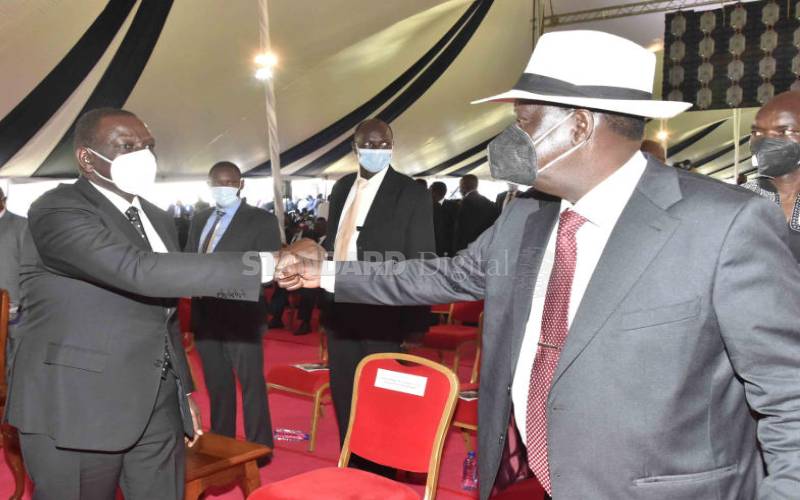 Men seeking the presidency are becoming a dominant feature in Kenya as August 2022 nears. They fall into two categories; those at the top and those aspiring to be at the top.
Deputy President William Ruto and former Prime Minister Raila Odinga are competing at the top. At a respectable distance are men hoping to reach the top, including Musalia Mudavadi and Kalonzo Musyoka. Each man wants to be seen to be his own man rather than being in Raila's shadow. The most affected by the shadow image are Kalonzo and Mudavadi. Ruto and Raila are well-endowed and dominate the political scene. They have adopted different strategies for capturing the presidency, whether under fresh BBI constitutional dispensation or under the existing 2010 arrangement.
They hold similar public rallies in the streets and small towns, mobilise their respective DDTs to spice up rival's rallies, accuse each other of numerous offences, and even indulge in conspicuous religiosity as each begs the public to trust him.
So far, Raila has proved to be the most versatile political operator with unusual gift to adjust adverse conditions and come out looking good. He did it in 2002, leaving Daniel Moi to join Mwai Kibaki's winning NAK; in 2008 when he forced Kibaki to accept power-sharing; and in 2018 with his handshake with Uhuru Kenyatta in which the two men signed a document as equals. The handshake produced the BBI.
Raila's strategy is to use the BBI to downsize Ruto, if only he can get Ruto to lead the 'No' campaign. Ruto refuses to entertain Raila's BBI strategy because first, it is not in his interest and second, he would not mind being president under the proposed BBI formula.
Read More
And the BBI is not a factor for other aspirants who appear preoccupied with either containing Ruto's spreading influence or in distancing themselves from perceptions of being under Raila's shadow.
Two aspiring men are trying to re-engineer themselves in order to deal with the reality of the Ruto and Raila dominance. Kalonzo aspires to emulate Paul Ngei and Mulu Mutisya as the undisputed 'chief' of Ukambani, but lowers his stature by making reckless statements. His derogatory remarks about Johnstone Muthama's estranged wife made him look like a home-wrecker. He compounded the impression of desperation when he declared himself willing to become Uhuru's 'mtu wa mkono'.
To free himself from Raila's shadow, during Simeon Nyachae's funeral, Kalonzo reminded the audience of how Raila, after signing an MoU in the morning, betrayed Nyachae in the 2002 election by jumping to Kibaki's side. By showing Raila to be unreliable, Kalonzo was freeing himself from the Raila dominance.
Like Kalonzo, Mudavadi would like to be dominant among the Luhya groupings. He, too, faces challenges of backyard consolidation and of discarding the Raila dominance image. Mudavadi also promotes an emerging image of being the best alternative to both Ruto and Raila. For him, the Raila challenge is more serious than the Ruto one.
This is because Raila has the ability to claim historical connectivity with prominent figures of the past. These include Mumia of Wanga (Luhya) and Musa Nyandusi (Abagusii). Since such ability tends to disempower local leaders, Mudavadi has to fight to reverse Raila's penetration. Three forces assist him in trying to remove the impression that Raila is dominant among the 'Mulembe' people.
Fight hard
First is the 'deni' or debt politics in which the Luhya claim that since they have previously supported Raila's presidential ambitions, it is Raila's turn to support a Luhya candidate. Second, Raila had given impression that 2017 was his 'last bullet' and would thereafter not be a candidate again. Third, an impression exists that 2022 was 'Mulembe' time because Raila and Ruto were likely to cancel each other. This claim was reinforced by a tantalising possibility that outgoing Uhuru might throw his immense political weight behind Mudavadi.
Politicians who want to dislodge Ruto and Raila from the top have to re-engineer themselves or remain mere aspirants. Mudavadi's hope that Ruto and Raila would cancel each other is unlikely to bear fruit. Kalonzo has yet to regain the standing that he lost through negative utterances. Both have yet to prove worthy challengers to Ruto and Raila.
-Prof Macharia is a senior associate, Horn International Institute for strategic studies