Unctad boss Mukhisa Kituyi's presidential bid elicit mixed reaction in Western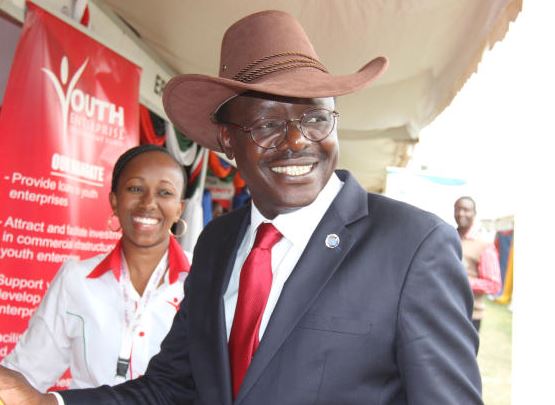 Mukhisa Kituyi recently quit as the secretary-general of the United Nations Conference on Trade and Development (UNCTAD) to run for president in 2022.
The former Trade Minister, who served in retired President Mwai Kibaki's administration between 2002 and 2007 declared his presidential bid when he met professionals in Bungoma County early last month.
Since he made this announcement, Dr Kituyi's presidential bid continues to elicit mixed reactions in Western region, with questions abound on what his candidature could mean for Amani National Congress (ANC) leader Musalia Mudavadi and Ford Kenya's Moses Wetang'ula.
Mudavadi and Wetang'ula have been working on producing a single candidate from the region.
Some have been speculating that Kituyi, who also served as Kimilili MP could be the preferred compromise candidate for President Uhuru Kenyatta and ODM leader Raila Odinga in case the former prime minister opts not to contest.
But Raila has been categorical that the outcome of the BBI referendum will determine whether he will take the fifth stab at the presidency next year.
Some political pundits however see Kituyi as a spoiler out to scuttle Mudavadi's chances of succeeding President Kenyatta, but others argue that nothing stops the former minister from going for the top seat.
Martin Oloo, a political analyst, appreciates the fact that Kituyi is a shrewd and experienced technocrat.
During the Kusi Ideas Festival, 2020 edition, held in Kisumu towards the end of last year, Kituyi impressed with his views and approach to development issues in Kenya and by extension Africa.
He talked about a significant policy shift in global trade, arguing that whereas international trade declined by about seven to 10 per cent globally, the drop in Africa has been steeper at 25 to 35 per cent (exports) and 17-25 per cent (imports).
Kituyi delved deeper into how Kenya could transform its informal sector to become the engine for growth and a net exporter of products.
Proud intellectual
According to Oloo, the former legislator is an intellectual who is proud and never ceases to show it.
"Those who say he (Kituyi) wants to divide the Luhya votes are short sighted. It doesn't matter how many people present themselves from the community, rather it is for the people of Western to identify and rally behind the strongest candidate. They should decide among the politicians who they want to entrust with their votes," he says.
Oloo insists that it should be the people to decide who their best candidate is.
"He (Kituyi) has been in politics for a while, he should soldier on but if he presents himself as someone's political project, even children will be able to see through that," he says.
According to the commentator, it would not be proper to label Kituyi a traitor or spoiler this early.
Kituyi, 65, has been categorical that he would wish to introduce new strategies to Kenyan politics. Speaking in Matungu Constituency last week, he said he was determined to give other candidates a run for their money in 2022.
On January 5, Kituyi told residents of Kakamega County that his journey to State House was unstoppable.
He was in Matungu constituency to preside over an education event where at least 20 secondary school students were awarded scholarships.
"I am finalising on my international assignment so that I can come home and officially launch my presidential bid. My gun only has one bullet and is aimed at the presidency," he said. "The Luhya community has been used as stepping stone by other communities to ascend to power for many years and I am here to change that narrative. Let other leaders rally behind me and support my presidential bid," said Kituyi. While Kanduyi MP Wafula Wamunyinyi and his Tongaren counterpart Eseli Simiyu and Bungoma Governor Wycliffe Wangamati have held to the notion that Wetang'ula is no longer Ford Kenya party leader despite the failed coup, it is not clear whether Dr Kituyi is interested in renewing his Ford Kenya membership.
Reports have indicated that Kituyi could be shopping for a new political outfit on whose ticket he will be seeking the presidential seat.
He has said before that he will not ride on a borrowed party to State House and has disclosed that he was in the process of registering a new political outfit.
Dr Kituyi has been tactical while delivering his speeches.
At one point, he said those vying for the presidency should tell Kenyans what they would do differently if they were elected.
He has avoided Luhya unity politics and has been careful not mention Mudavadi and Wetang'ula in his speeches.
So far, some elders from the Bukusu and Tachoni communities have thrown their weight behind Kituyi and are calling upon Wetang'ula and Mudavadi to swallow their pride and support the outgoing UNCTAD boss.
"We know Mudavadi and Wetang'ula are nursing similar ambitions but as elders we urge them to sacrifice their ambitions and back Kituyi to become the fifth president of Kenya. This will be in the spirit of Mulembe nation brotherhood," said Captain (Rtd) Charles Masinde, the group's spokesman.
Robust network
Masinde described Kituyi as an experienced, knowledgeable scholar with a robust network all over the world.
"These attributes will ensure he steers the country to great heights if elected," he said.
James Lunani, a member of the Bukusu Council of Elders, called on other leaders from Western to bury their differences and rally behind Kituyi.
"It is time for the region to offer the country the next leader who can finish the journey started by Masinde Muliro and then left by the late Vice President Wamalwa Kijana," said Lunani.
But Federal Party of Kenya (FPK) leader Andrew Kutitila sees Kituyi as a non-starter for he "failed to do anything for our people for the eight years he has been at UNCTAD despite the connections being talked about, he didn't even secure jobs for our youths."
Former Cabinet Minister Burudi Nabwera said the community is preparing to go to the next polls as a united front and it will be in bad taste for Kituyi to start competing Mudavadi for the same seat. He said the ANC leader is more sellable across the country.
Nabwera agrees that Kituyi could also make a good president, given the chance, but "this is not his time and he ought to respect that".