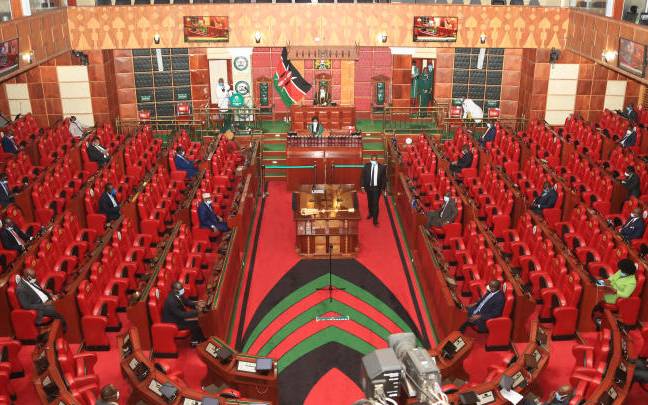 Sometime in the early 1900s, the legendary Kinjikitile Ngwale after allegedly spending 24 hours submerged in water, came out and his body was miraculously still dry.
Ngwale, according to the legend from Tanganyika, now Tanzania, had been dragged into the water by a spirit known as Hongo, which came to him in the form of a snake.
It is from this legend that the Maji Maji Rebellion started in 1905 based on a narrative spread by Ngwale that the German's bullets would not hurt anyone who sprinkled himself with 'holy water'.
The result was over 300,000 deaths – from both war and famine.
Read More
While Ngwale might have died in 1905 by hanging, his spirit seems to be still hovering around some political leaders. Or maybe it is a just a curse that comes with the path of career – the curse of free speech even in areas where they are not experts, and in this case – medicine.
The Covid-19 pandemic has brought out the good and the bad in a politician. No one has been spared, starting with the outgoing leader of the free world, Donald Trump, to our own senators.
When the pandemic started, Trump trashed wearing masks against the advice of the Centre for Disease Control and Prevention and the National Institute of Allergy and Infectious Diseases headed by Dr Anthony Fauci.
Experts
The result has been over 250,000 deaths and counting from Covid-19.
Slovian philosopher Slojav Zizek once said: "The duty of a politician for me is to be a representative: a politician is not an expert; experts are experts, hired for their expertise."
But not for Narok Senator Ledama ole Kina, who recently insinuated that pharmaceuticals are out to make a killing from the pandemic and in the same breath put doctors on the spot to explain what a PCR is.
"I am beginning to think we are in PCR test pandemic rather than a Covid pandemic and the pharmaceuticals are about to make a killing! I wish the doctors can tell us what PCR test measures!!" Kina, who is a member of the Senate Adhoc Committee on Covid-19, tweeted on November 19.
"What exactly does a PCR test measure? @MagufuliJP I am beginning to question this PCR test! We might be dealing with a PCR test pandemic and not a Corona Pandemic! Are we looking at the biggest tort case ever?"
While Kina's comment on social media was directed at Prof Makau Mutua's post that chastised Health Cabinet Secretary Mutahi Kagwe's comments on Pfizer vaccine, it got the attention of doctors who chose to spare their time to educate him.
"PCR in full is Polymerase Chain Reaction and it measures the viral genomic sequence, has analytical sensitivity and specificity up to 95 per cent. A most accurate way of testing for the virus. Some education needed here before the masses are misled," Dr Chibanzi Mwachonda, Kenya Medical Practitioners and Dentists Union Secretary General, replied to him.
The senator's comments came just days after some remarks by Kagwe on the development of vaccines. Kagwe, while being grilled by the Senate committee, trashed the Pfizer's vaccine, which is said to be 95 per cent effective, with a smirk, saying he cannot trust it.
"Personally to tell you the truth, I have got my own doubts. They talk about a vaccine that stops you from getting the virus… If you are talking about treatment, when I have the virus and it goes down then I can understand the measure, but when you tell me that it (vaccine) will stop you from getting the virus, how do you know that I was going to get it in the first place?" posed Kagwe.
This comment caused outrage, not only among doctors but also Kenyans at large. Some doctors went on social media and illustrated how a vaccine works using short videos and facepalm emojis.
"Kagwe keeps displaying his ignorance, and anti-science thinking. A simple Google would tell him the different trial phases of a vaccine. Also, Kenya already has anti-vaxxer issues, I'm not sure he is helping with this," tweeted @RookieKE.
Taken out of context
The CS later issued a statement that his comments were taken out of context, but insisted Kenya had no plans to place an order for the vaccine as it is developing its own through a partnership with University of Oxford and AstraZeneca, the firm behind the project.
"Let's just say the CS should keep away from commenting on technical health matters and refer to his able officers. The statement made here should be assumed never to have been uttered!! With all due respect to the CS, I mean that" tweeted Dr Githinji Gitahi, Amref Health Africa Chief Executive Officer.
Majority of Kenyans wondered why Kagwe did not let Health Director-General Dr Patrick Amoth respond to matters of the vaccine.
However, not having learnt from this mistake, the CS was later in the soup again over his comments about the National Hospital Insurance Fund (NHIF) cover for Covid-19 patients, which is still a contested topic.
But this behaviour of politicians speaking from both sides of their mouth or the 'say it now regret later' mantra did not start with Kagwe or Kina. It has almost become a trend for politicians to ride on any narrative or create one even when there are facts and experts who hold a contrary opinion.
It is only that medicine seems to be a specialised field with serious repercussions that doctors would be quick to debunk any false claim.
In 2017, former Prime Minister Raila Odinga called a press conference to allege that a tetanus jab being given to women was a government ploy to sterilise them.
"Concerned Kenyans have approached us with analysis of samples, which were used in this exercise, which we proceeded to cross-check with experts. Today, we can confirm that the Catholic church was right. Hundreds of thousands of our girls and women aged between 14 and 49 did not have children because of the state-sponsored sterilisation," Raila said.
This statement forced the WHO and Unicef to quickly debunk this narrative, saying the claims brought forward by the leader had no evidence.