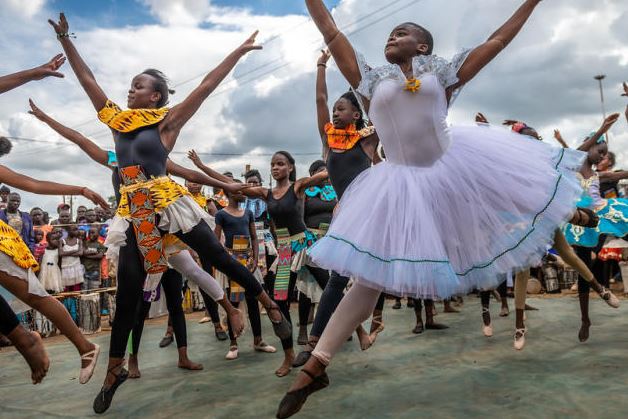 It is Monday 8am, and Mike Wamaya is waiting patiently in a court room in Nairobi. This is the third time he is there and all he is hoping and praying for is that the case he's been following up on for the last two months finally starts.
The case involves a father and his 18-year-old daughter, currently a Form Four candidate. The man is accused of sexually abusing the girl two months ago in their home in Kibera slum.
Almost six hours later, bad news, the case won't start on this day due to technological challenges. The wait goes on. Courts resorted to virtual sessions to curb the spread of Covid-19 since the first case was reported in March.
Wamaya is not related to the girl but she is among the more than 1,500 teenagers who are members of his Project Elimu, an organisation he founded two and half years ago to help teenagers from underprivileged backgrounds navigate the challenges of adolescence.
He does so through ballet, among many other activities. The last few months, Wamaya says, have been tough but dancing gives them hope for better days ahead.
This is one of the many abuse cases he has had to deal with. When he is not arbitrating domestic violence cases in the slum, he is offering counselling and psychological support to the teenagers, many of whom have been raised in homes where violence is the norm.
Since the coronavirus pandemic forced people to spend more time in their homes, Wamaya says, domestic violence cases have more than doubled.
Back at the Project Elimu centre nestled in the heart of Kibera after the long wait in court, he is met by a couple of other boys and girls who have been eagerly waiting to update him on their day's work and seek guidance on the next day's projects.
After a quick appraisal of the projects, he invites me into his office at one corner of the centre where we find two of his colleagues wrapping up a meeting.
Hardly a minute passes without a knock on the door as those done for the day seek permission to leave.
Why ballet dancing in a slum? Wamaya says he owes all his life's achievements to dancing. He was among the top ten Global Teacher's prize nominees in 2017, thanks to ballet dancing.
Having dropped out of school when his father died, dancing offered him the much-needed therapy and a safe way to express himself and tell his story in an unconventional way. This is the same thing he wishes for the children he teaches ballet in Kibera.
"This serves as a safe haven for the children in our programme. Many people don't understand why I chose to teach ballet in a slum where children have other needs considered more important such as access to proper education. Having academic knowledge is great, but I believe children need much more than books," he says.
Though his love for dancing runs in the family, having followed in his great grandmother's footsteps who was known for her dancing among her peers, he says auditioning for a visiting arts company opened his path onto the international dancing stage.
"I was just a clueless, uneducated boy, but my talent took me to places I had only come across in my dreams. After the auditions, I was awarded a scholarship to study dance. While most of the people we got the opportunities with decided to settle down in western countries after we finished studying, I chose to come back and offer children who had a similar background as mine hope," he says.
This opportunity exposed him to a world he never knew existed and having experienced poverty first hand, he decided to share his talent with children living in slums by teaching them and helping them tell their own stories through dance.
Wamaya says his mission is, however, not to push the children he teaches into professional ballet dancing unless they choose to, his desire is to help them realise their purpose in life through art.
Some of the girls he started with when they were just six years old are now university students some pursuing careers in art.
What keeps him awake, however, every night is if the teenagers, and especially the girls, will return to the centre the same way they left the following day.
Fresh challenges
Since schools were closed in March due to the pandemic, 16 girls, all below the age of 18 have joined the programme pregnant. He now has to cater for their prenatal care and nutritional needs.
"The past few months have been quite hard for us. We started dealing with fresh challenges we had never experienced before but we are the people these children look up to. We don't have the resources to support all of them, but we share the little we have," says Wamaya.
One of the biggest challenges most of the girls who joined Project Elimu when it opened its doors in 2017 faced, Wamaya says, was getting access to sanitary towels. At least this burden was lifted off their shoulders as the organisation has partnered with a local sanitary towels manufacture with the support of a donor who caters for the production cost.
"They get two packs of sanitary towels every month and since one of our guiding principles here is community work, for one to earn their two packs every month, they have to do some work in their community and they don't have to be supervised. I want them to know what being responsible is all about," he notes.
There were also a few cases where parents thought learning ballet was a waste of time and a foreign concept that wouldn't add any value to their children. All that is now behind him as parents are some of his greatest cheerleaders today.
"Parents always look forward to our annual concert, which happens at the last quarter of the year where we showcase what we have been up to throughout the year. To support our cause, parents actually make the ballet costumes that the children wear at the event," he says.
Wamaya says ballet has helped the children create their own charm and charisma in life, this is the goal he always look forward to every moment they hit the dance floor.