Kenyans withdraw Sh58.5 billion from their accounts after Uhuru re-opened economy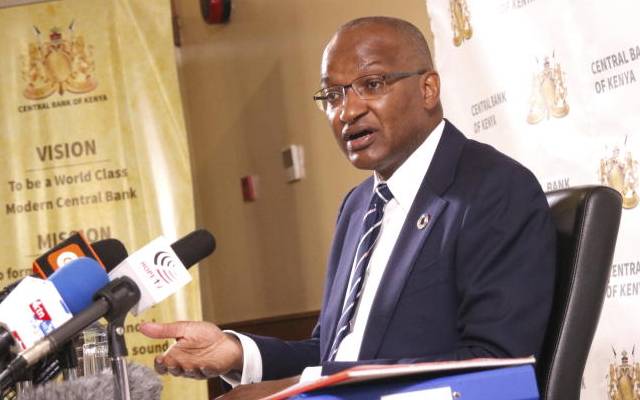 Kenyans withdrew more than Sh58.5 billion from their bank accounts in August after President Uhuru Kenyatta partially re-opened the economy.
The easing up led to a drop in total money supply in the economy from Sh3.9 trillion in July to Sh3.84 trillion in August, according to data from the Kenya National Bureau of Statistics (KNBS).
"This decline was mainly attributed to drop in demand deposits and withdrawal of money from banks by businesses that are opening up," said KNBS in its latest report.
This is a positive sign that the economy, which has been choking under the stringent containment measures aimed at curtailing the spread of Covid-19 is now on a recovery path.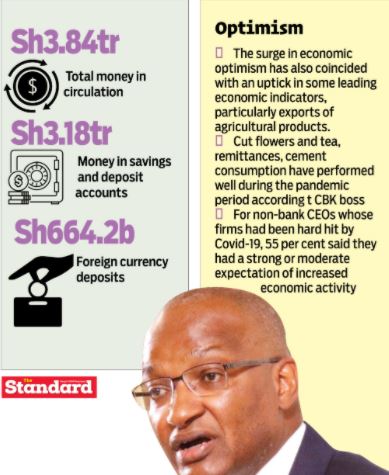 Afraid of losing their money in a volatile business environment, most Kenyans had stashed their money in savings and fixed deposits. Money in savings and deposit accounts in banks rose by Sh217.8 billion between March when the country registered its first case of coronavirus and July.
With fewer importation of goods and services, foreign currency deposits increased by Sh25.8 billion. However, President Uhuru Kenyatta has gradually been relaxing these measures, signalling the return to normalcy.
This has spawned a flurry of economic activity that had initially slowed down with Kenyans withdrawing Sh53.9 billion from their savings account, the KNBS data shows.
Take a quick survey and help us improve our website!
Take a survey
It is also good news for the close to 1.7 million Kenyans who lost their jobs between April and June due to the pandemic.
The Head of State has gradually been easing the containment measures. Last month, he lifted the prohibition against the sale of alcohol by licensed hotels even as he allowed them to operate up to 8 pm, from 7 pm.
Kenyatta also gave bar owners a reason to dip into their bank accounts and invest in their business after he allowed pubs and nightclubs to operate after six months of closure.
The closing time for eateries, restaurants and pubs has since been pushed up to 10 pm, giving businesses more time to operate.
The maximum number of people permitted to attend funerals and weddings was reviewed upwards to 100. The ban on the sale of second-hand clothing, popularly known as 'mitumba', was earlier on lifted, a situation that saw importers raid the foreign currency deposits.
KNBS data shows that foreign currency deposits in banks declined by Sh4.5 billion to Sh664.2 billion.
Investors who at the height of the pandemic preferred to park their money in government securities have instead been funnelling the money into the economy by re-stocking or upgrading their facilities after months of inactivity.
The performance rate for the last four auctions of Treasury Bill, short-term securities, has been underwhelming with the Exchequer getting less bids for its offers.
This has forced the National Treasury to resort to overdraft facilities to meet its urgent obligations such as payment of interest on domestic loans. However, with the easing of the economy, the National Treasury is expected to collect more taxes from businesses and workers.
The lifting of restriction of movement of people into and out of four counties of Nairobi, Mombasa, Kwale and Mandera gave transport sector some life with passenger service vehicles now allowed to cross-country.
Spooked by the uncertainty in the investment climate, banks had also shunned the private sector and instead funnelled most credit to the government.
Rather than lending this money to the private sector and households, banks have opted to pump it into government securities at low-interest rates.
However, National Treasury Cabinet Secretary Ukur Yatani is optimistic that banks will soon start lending to the private sector. "This will go on for a month or two, and then they (banks) will start lending to the private sector," said Yatani in a recent interview.
Last week, the Central Bank of Kenya (CBK) Governor Patrick Njoroge announced the end of emergency measures, such as freeze on black-listing of defaulters at the Credit Reference Bureaus. Dr Njoroge noted that the economy had since began to recover and so borrowers should be able to repay their loans in six months.
The captains of industry have also expressed optimism about the recovery of the economy, according to a market perception survey by CBK.