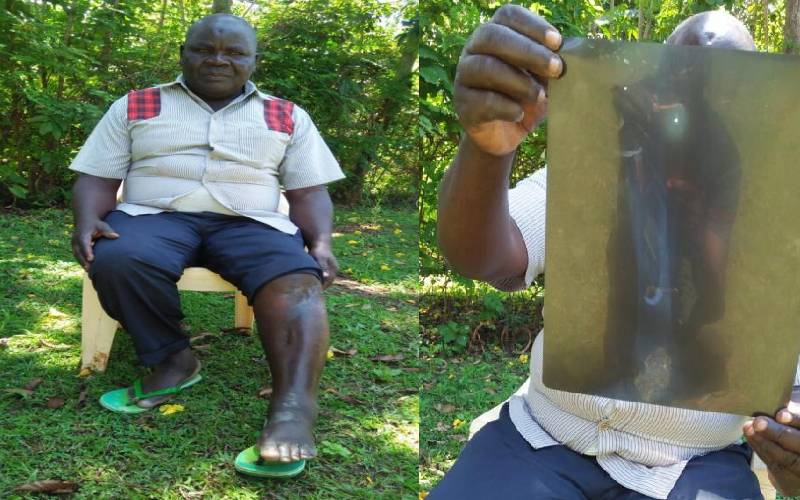 On February 27, 1994, Peter Wamkota then aged 39 left his home in Nalongo village, Bungoma county, for a political meeting before proceeding to his shop, which was a few metres on his way home.
The meeting was to sensitise locals on the need to identify themselves with a newly formed political party that was to drive the region's development agenda.
His task was simple — mobilise locals into drumming support for a two-year-old party known as Forum for Restoration of Democracy (FORD) in his capacity as the region's chairman.
He was in perfect health and nothing appeared out of the ordinary as he attended to buyers in his wholesale shop. While he was preparing to close late in the night something strange happened.
Read More
"Three armed people in police uniform walked in, approached me and began shooting me without saying a word. Three shots were directed on my thighs, one on my chest and the other three on my legs, the gunmen walked away after accomplishing their mission,'' he says.
After the shooting, the former (FORD) Bungoma chairman was left at his shop writhing in pain, lying in a pool of blood with seven bullets in his body. He was helped by neighbours, who rushed him to Bungoma District Hospital for treatment.
Though he doesn't like to talk of the ordeal, pain from the bullet wounds is a constant reminder of the tragedy that visited him that day. With every passing day, the polygamous man wishes things were different.
The incident shook the quiet village of Nalongo and locals staged several protests demanding the arrest and prosecution of officers who had shot Wamkota.
After nine months at the health facility, Wamkota was out of danger but he was referred for specialised treatment at St Luke's Hospital in Eldoret. He had three bullets still lodged in his shinbone.
Wamkota says his family, through the sale of a two-acre parcel of land, managed to raise money for his treatment. However, doctors at the facility failed to remove the metals in his body saying their removal could cause the breakage of his bones.
''X-ray pictures showed the bullets were inside a bone and that the only way of removal was to be transferred to hospitals outside the country, which has never been possible,'' he says.
After he was discharged from the hospital in 1995, Wamukota was arrested and locked up at Nzoia Police Station for 13 days without trial. During the period of his incarceration, his family was barred from seeing him.
"It was very tough. Imagine you are not fully recovered and still on medication but the police are bent on torturing you. My prayer then was never to end at Kamiti Prison," he adds.
It did not take long before he was transferred to Webuye Police Station where he spent five more days without being charged in court.
However, things got worse for Wamkoto when he was later moved to Kamiti Maximum Prison.
''I remained in detention for six months where I was thoroughly beaten and molested. I was tortured as a way to make me confess I was planning to overthrow the Government. My fellow prisoners died due to this harassment and beatings,'' he notes.
In 1996, Wamukota was released and went back home to seek medication after a recommendation by prison officers who noticed his deteriorating health.
For more than two decades, the three metals in his body have been a thorn in his flesh and not even pain killers can quell the sting.
Staring at the puckered scars on his thighs, the events of that fateful day remain engraved in his mind, as pictures of those who shot him cloud his sight. As Wamukota limps out of his house each day, prodding his way to his shop in crutches in order to make a living, the 64-year-old laments his political friends deserted him at the hour of need.
"Since the shooting incident, none visited or cared to know of my health despite the massive contribution I made to the party.
"I have learnt people are only close to you in your good days. In my worst moments, my family was literarily reduced to beggars," he laments.
Life to the father of 16 has never been the same. From struggling to do basic things like walking on his own, to meeting basic needs for his family. He has exhausted his finances and at one point turned into a beggar. Wamkota biggest regret is getting involved in the murky waters of politics.