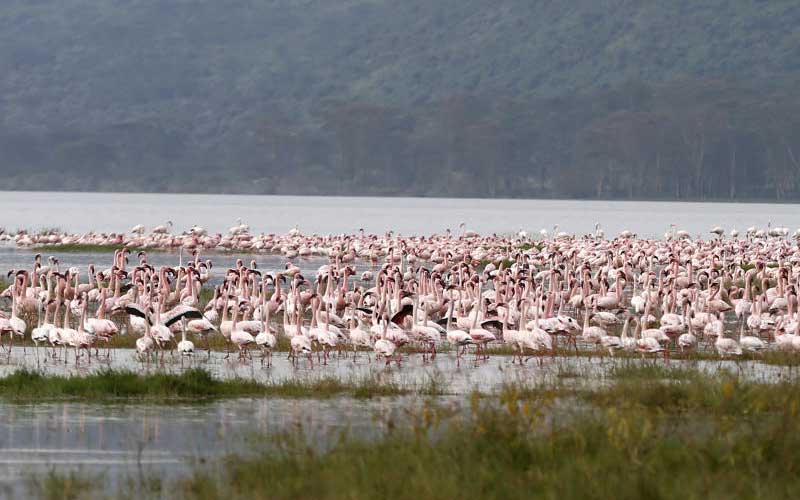 Coinciding migrations of the humpback whales in Kenya's coast, the floating pink flamingos in Kenya's soda lakes and thousands of wildebeests dotting the Mara are redefining domestic tourism as the industry struggles to stay afloat.
From their tedious journey through the rough cold seas of Antarctica to the warmer ocean waters in Kenya, humpback whale migrations have defined sea expeditions in the last few weeks.
In the meantime, flamingos have been making their way back from Tanzania's Lake Natron as the wildebeests in the Mara make the great migration, which is one of the world's most amazing spectacles.
Every year, humpback whales migrate up to over 4,000 kilometres from Antarctica to warmer climates that often see them congregate in Kenyan waters between July and August to take care of their new-borns and mate.
Read More
"The migration is annual and takes place between July and August. These animals come to warmer northern part of Kenya then back 4,000 kilometres back to Antarctica. This is the longest trip a mammal like this can make. We are trying to connect it with the wildebeest migration in Masai Mara," said Tourism Cabinet Secretary Najib Balala.
He added that current migrations position Kenya as the go-to destination for both safari and beach.
The whales often make their way back to Antarctica around September every year. Their migration was named one of the top 50 tours of a lifetime in 2014 by the National Geographic.
Flamingos, on the other hand, fly in with their young ones after a successful breeding season in Lake Natron to grace soda lakes in the Rift where there is an abundance of algae, which they feed on.
Currently, iconic flamingos are flocking back to Kenya's Rift Valley soda lakes, including lakes Bogoria, Nakuru, Solai, Magadi and Elementaita.
The birds fly hundreds of kilometres, making stopovers in lakes that support the growth of algae. Lake Bogoria currently hosts the largest flocks, species that have evolved to live in some of the planet's most extreme wetlands - the caustic, hypersaline lagoons.
"Flamingos start trooping in from mid-July through to September after several months of breeding in Tanzania's Lake Natron. This often coincides with the peak season in tourism, making Lake Bogoria a bird's paradise and traveller's choice," Lake Baringo senior warden James Kimaru said.
The shores of Lake Bogoria is painted pink even as thousands of flamingos continue to land over night to join thousand others in their leggy strides while performing flag salutes on the shores.
In the vast savannah of Mara, spectacular migrations kick off in mid-June or July through to September. The troops are currently on their thrilling journey from Serengeti to Mara for the mating season.
Masai Mara chief warden James Sindiyo said the water volumes in rivers in Mara have risen, making the migration a thrill.
"When the water volumes in the river is low, it kills the allure of migration but currently the water levels are high and wildebeests can swim across in what has become a world wonder. Often, stampede and drowning is part of the migration phenomenon that highlights the season," Mr Sindiyo said.