State House: 'Jerusalem mafia' will select the next president
THE STANDARD INSIDER
By Eric Nyakagwa | Aug 16th 2020 | 4 min read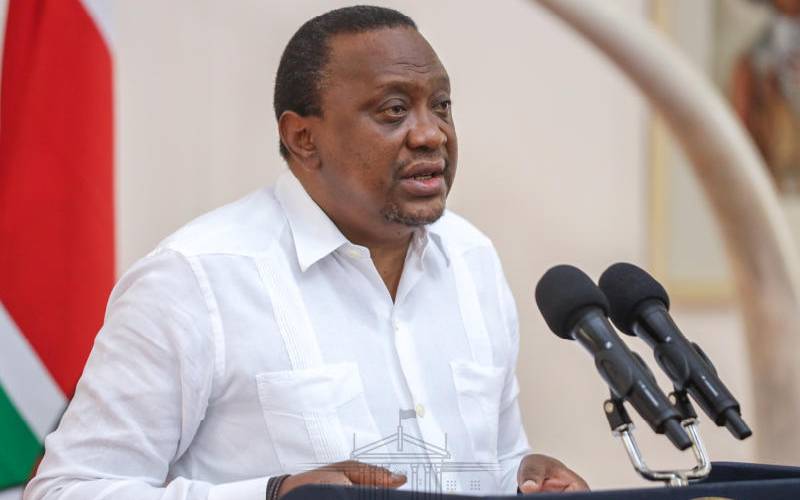 Even as presidential candidates position themselves ahead of the 2022 Uhuru succession, political pundits agree that the Deep State, political dynasties and powerful financiers, will greatly influence who becomes Kenya's next president.
At the moment, David Murathe, the mouthpiece of President Uhuru Kenyatta (pictured), has already floated former Opposition leader Raila Odinga as the potential ODM/Jubilee flag-bearer. That means elements in Deep State have skirted Deputy President William Ruto off their axis.
Raila's elder brother Dr Oburu Odinga recently reckoned it's time for Baba's tenancy at State House having won over 'the system' which had previously sabotaged his ambitions. Oburu further noted that Uhuru controls 'the system' and which is on Raila's side.
'The system' is part of Deep State which Daystar University don Evans Maritim termed as "a complex web of rules, procedures, processes, power networks that are oblivious of what the masses could be saying and cares less."
Maritim notes that 'the system' can smell disruption from far and make self-preserving decisions: DP William Ruto was the disruptor and decisions made included cutting his political legs, wedding him out of the presidential race.
Headed to Jerusalem
Towards that end comes the 'Jerusalem Group', an informal but influential caucus which could eventually determine the next President. Besides Raila and Murathe, other core members include former presidential candidate Peter Kenneth, former Sports Cabinet Secretary Paul Otwoma and Cotu boss Francis Atwoli, who like Murathe, is backing a Baba bid.
It was so called as Candidate Raila in 2017 was taking his supporters to Canaan but the political canoe has since detoured and is headed to Jerusalem come 2022.
Kanu Secretary General Nick Salat and businessman Edwin Ng'ong'a, who played a key role in brokering the Handshake, also sit in Jerusalem Group meetings at either Atwoli's Ildamat home in Kajiado, Murathe's Garden Estate residence or Otwoma's Karen home.
Atwoli argues that Baba will not only continue Uhuru's legacy (or what will be left of it) but his presidential candidacy is also anchored in the spirit of actualizing the Building Bridges Initiative (BBI) which was birthed after the Handshake.
But Raila's candidacy has the usual bottlenecks: Wide fears he's a destabilizing figure, who could dismantle the free market economy and dish out revenge against his past political tormentors. Foreign powers like the British and American governments also fear his socialist inclinations which can lead to nationalization of their businesses. Foreign investors, who control 70 percent of trading at the Nairobi Securities Exchange, also fear a Raila bid and the reason shares tumble whenever his candidacy is on the cards.
That he had once had a hand in attempting to overthrow the government with the help of disgruntled Kenya Air Force soldiers on August 1, 1982, does not make matters any better. At least one key member of the Deep State is said to have vowed Raila will never be President on account of his role in the abortive coup.
Unguarded enthusiasm
Raila's recent failing health and advancing age might also be used against him during campaigns.
While Oburu's claim could have easily been misconstrued as unguarded enthusiasm, Murathe the influential Jubilee Vice-Chair, only gave it currency-being a key player in the Uhuru Succession. Murathe singled out Baba's 'experience and statesmanship' and capacity of holding Kenya together as his winning cards and "we will go out of our way to ensure he is elected by a huge majority."
Murathe, a former Gatanga MP also pointed out that Baba's candidacy would be payback time for historical debts owed to the Odingas, by not only the Kenyattas but Kenyans as a whole.
Kenya's fifth President
Indeed, it was the fallout between Uhuru's Old Guy and Odinga Oginga in 1966 which sparked the bitter rivalry between the Kikuyus and the Luos, a rift being settled through the BBI.
Historian Prof Macharia Munene, a lecturer at USIU, agrees that the Deep State "will have a lot of influence" but he's not sure whether Uhuru is part of it as Oburu claimed and that Kenya will always have "a permanent government that does not change with elections."
Analysts, however, concur that elections and other major events like the BB are not won at the ballot box: One can have money to finance mega campaigns and still lose-because Deep State would have already handpicked to polish and market Kenya's fifth President-of their choice.
A good example is the 2013 elections. President Uhuru and DP Ruto had surrendered their joint ticket to Mudavadi, who was then favoured by the Deep State to take over from Kibaki on account of their ICC cases.
However, Uhuru would later rescind the decision, accusing some madimoni (evil spirits) for confusing him. He went on to win the Presidency. His successor has thus to continue the unfinished business.