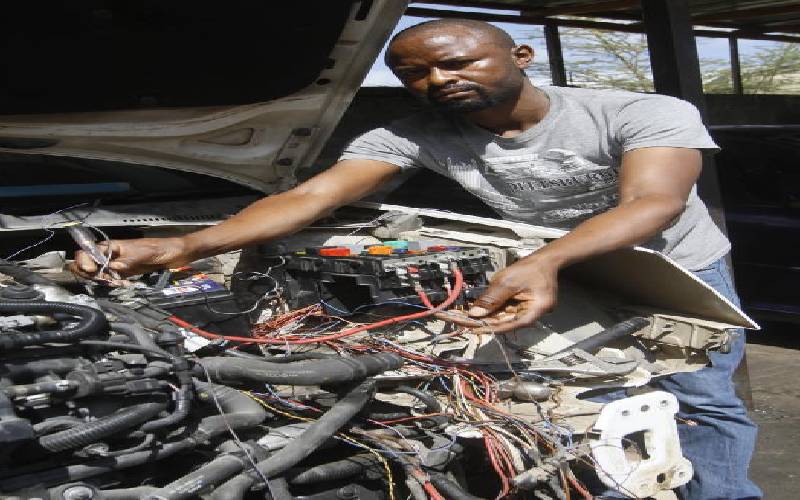 He loves his Audi A4. Not because it is a luxury sedan but more so for what it represents to him. Fifteen years ago, when Jackson Karaya, 36, first set foot in Nairobi, wearing torn gumboots, he would never have imagined that he would make it this far.
That he would own two garages and that he would be an employer and training over 150 aspiring mechanics across the country. Known in the auto circles as the engine whisperer for his skill with the machines, the Marcallexon brand owner shares with Hustle the difficult road that got him here.
What was your first job?
That was right after high school in 2004 back in Nyeri when I was helping out stitch school bags and Bibles at my aunt's tailoring business. Four months later, I moved to another aunt in Nairobi. I had saved up the fare telling myself that I needed to go to Nairobi where everyone else went to hustle.
In Nairobi, I would wash my uncle's vehicles and he liked my work. He then got me a job at Haco Industries. My work was to add bleach to soap powder. I made Sh5,600 a month. I began taking driving classes on the side.
Is that how you got into the car repair work?
Sort of. I had to quit my job as I was developing some chest problems. My uncle then found me a gig at a garage in Industrial Area. While undergoing training I earned between Sh50 and Sh100. I saved up the money till it got to Sh16,000 and enrolled myself at Kenya Polytechnic for a certificate in electrical engineering. I would attend classes and make my way to the garage to make a few shillings. At the garage, I did everything; from buying cigarettes for the mechanics, washing the cars to fixing the engines. I volunteered for anything. But coming from where I came from, no work was tough enough.
How is that?
I come from Nairutia, an arid part of Nyeri. At night, we would be in the forest burning wood for charcoal and farming. It was the only way my siblings and I would get school fees. Plus I really wanted to uplift my family and the young men from my village. When I came to the city that was my focus. Soon I was able to move to my own place.
Why move out when you needed to save?
I had a plan. In 2009 I moved to Mukuru Kayaba slums where together with a group of young men, we opened up a garage and would split the earnings at the end of the day. I would not be a long stay in the slum because I met my wife and we were going to have a family. This made me work harder. In 2011, I would start my own open-air garage along Mombasa road.
Was that an easy undertaking?
Not at all. I would soon learn that getting space for a garage was not easy and one could be chased out of a piece of land once the owner decided to sell it. This happened to me. But fortunately, one of my loyal customers, Mr Wamae, helped me find another location. This also meant that I lost some customers too because I had moved away. If I was lucky in my new location I would get one customer in a span of three weeks. With time though, the numbers started rising.
What about competition?
It was stiff. I lost some of my customers yet again because he stocked products that could only be imported. I needed to up my game. I saved up and went to Dubai in 2013 to get the goods. I would keep this location until 2015 when the land owner decided to kick me out and set up the same business in the same spot. And you know what they say about trouble?
What?
That when it rains, it pours. It was in the process of looking for a new plot for my business when some con men took advantage of my desperate situation.
I was conned off about Sh2 million. They were offering me a piece of land that was already sub-leased to someone else. I couldn't give up though. 200 metres from where I had my last garage, I would get a lease for a piece of land. I was back in business, and my fortunes changed.
Did the management side of the business come easy?
No. But I had to observe what other businessmen did. I read up a lot on how Chris Kirubi started his business and also tried to look at how Polycarp Igathe was managing Kirubi's business those times at Vivo. I was aiming high all the time. Even now I am still learning. I have an accountant now who does all the book balancing for me. Most of the new clients I get from referrals.
The business makes between Sh500,000 to Sh800,000 a month.
What were the hardest parts of setting up a garage business?
One was dealing with the County Council about the paperwork that comes with running a business. I also didn't know matters to do with insurance which would have come in handy when starting out at Mukuru Kayaba where thieves in the area would come and steal parts of the cars from the garage. Competition is one of the greatest challenges you deal with in this business.
What advice would you give to young people?
Don't rely on one thing. Learn these Jua kali skills where you know you can earn something at the end of the day as you wait for that big job. Find something to do and don't look down on any job. I even have a graduate working in my garage. Any honest work is good work.
How has the pandemic affected your business?
Well, we can't travel now to buy parts. There has especially been a big delay of shipments from Germany and Japan especially with secondary spares so all we can do is wait. Also, there are many loyal clients coming in now without money and I have to make adjustments for them because I understand what is going on. I also had to slash my employees' salaries after reaching an agreement with them. I know things will get better though.
In the meantime, I will keep training the young people. I want to open a formal training institute in the future where those who need training in mechanics can be able to hone their skills and make a living for themselves. But for now if parents don't know what to do with the children, even those from rehab centres and have nothing to do at home, bring them. They will learn a skill.
Do you have other investments?
Yes I do. I salvage old cars and sell them and I dabble in real estate too. And I always save every time I earn money.
Any plans of expanding?
Besides the training school, I also want to upgrade my garage and bring in more machines to be able to improve my work. That will need setting up an administration leg to do the office work while I focus on the real job of working with customers.