Teachers' tough call in new rules for schools reopening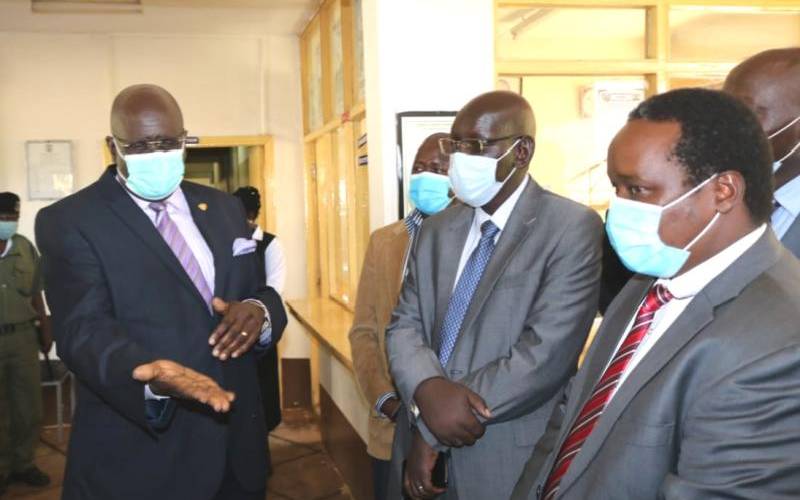 Head teachers will shoulder the greatest responsibility of containing the coronavirus in schools if Ministry of Education draft guidelines are adopted ahead of 2021 reopening.
Finer details of the reopening plan for basic and higher learning institutions reveals that teachers will be at the centre of a successful resumption of learning.
The teachers will be required to make plans to receive learners and also guarantee their safety and cleanliness during their stay in school.
From ensuring schools hygiene, security, creating adequate space for social distancing and enforcing all Ministry of Health directives, new guidelines put teachers at the heart of successful management of Covid-19 in schools.
The draft document titled 'Guidelines on Health and Safety Protocols for reopening of Basic Education Institutions amid the Covid-19 Pandemic' provides measures for physical re-opening and safe operations through prevention, early detection and control of Covid-19 in education institutions.
Suspected cases
Overall, the head teachers will be required to institute health and hygiene practices, put in place procedures of handling suspected Covid-19 cases and at the same time ensure continued learning and review of schools daily routines.
Under the guidelines, enforcement of use of face masks by all learners and trainees, teachers, non-teaching staff and parents and visitors at all times within the school environment rests on teachers shoulders.
Supply of adequate clean running water, liquid soap or hand sanitisers and provision of mental health and psychosocial support for learners and staff members will also be done by the teachers.
This means that a slight enforcement lapse on the part of head teachers will derail the resumption of learning when schools open next year.
Under the new guidelines, head teachers will be required to ensure the right class sizes are maintained to ensure adherence to social distancing.
This means that they will be required to make available necessary infrastructure that comply with Ministry of Health protocols.
"Renovate, improve, or install (as necessary) age, disability and gender appropriate hygiene facilities like washrooms, toilets and bathrooms to ease congestion," it says.
They will be required to develop protocols on hygiene and social distancing measures to be put in place before re-opening.
Part of this will require head teachers to stock up the institution with key supplies including disinfectants, liquid soaps, non-touch thermometers, facemasks and first aid kits.
The document says that availability of liquid soap, hand washing facilities, disinfectants, thermos guns, and face masks and enforcement of their utilisation will be the work of teachers.
"Ensure consistent provision of clean running water (at least five litres per person per day for day scholars and 20 litres per person for boarders) and adequate water storage facilities," reads the guidelines.
To implement the guidelines, head teachers will be required to revise and re-adjust the institution budgets to reflect the current priorities addressing the impact of Covid-19 such as improved hygiene management.
And once schools open, head teachers will be required to communicate to parents, teachers and learners on the health and safety measures put in place to guarantee their health and safety.
They will be required to streamline learner transport management systems to prevent transmission of infections and provide weekly progress reports on the status of institution health and safety.
In school, head teachers will be required to set aside designated rooms within the institution premises for use as a sick bay or for ?temporary isolation in case presumed cases occur in institutions.
"Equip institution's sick bays/clinics with basic supplies to cater for emergencies paying special attention to learners with disabilities and those with pre-existing conditions such as asthma," reads the document.
Head teachers will also be required to identify learners, colleagues and other staff with pre-existing health conditions and ensure appropriate health attention is provided.
They will also be required to follow up on all cases of absenteeism in liaison with Ministry of Interior and to minimise dropouts.
They will also be required to collaborate with the Ministry of Health through the sub-county education office to map ?quarantine centres to at least one per sub-county in case of re-occurrence of the outbreak.
The teachers will be required to generate and maintain updated bio data of all learners and contact numbers and home addresses of the parents and caregivers for ease of management of emergencies.
Response committee
In addition to this, they will be required to ensure adequate security and safety measures, including provision of a fence or barrier and guards to restrict entry to and exit from the institutional premises.
"Restrict entrance of visitors in the institution and cancel institution events such as career and motivation days until further notice," reads the document.
And for learners, teachers will develop movement protocols including designating entrances and exits for different learner cohorts, sectioned off common spaces, and floor markings to direct foot-traffic flow.
Overall, teachers will be required to carry out risk assessment for suitability focusing on space, water, sanitation, provision of meals, transport of learners and develop mitigation measures.
The Ministry of Education wants teachers to sensitise parents and the entire communities on their role in ensuring health and safety of ?learners, trainees and staff.
They will also sensitise parents, non-teaching staff and community members on the importance ?of hygiene practices and social distancing both at homeand in institutions.
And at school level, teachers will be required to constitute institutional Covid-19 response committees to coordinate response strategies ?comprising of five members, one being a learner, a non-teaching staff, one board of management member and teachers.