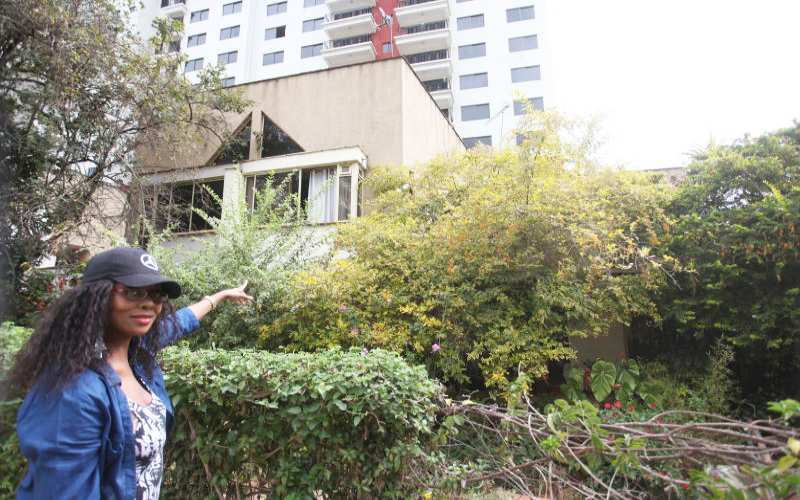 A woman adjudged by the High Court as suffering from mental illness will lose a Sh50 million property located near State House and which she maintains she sold while in a poor mental state. Monica Wambui lost her bid to save her Dennis Pritt Road property after Justice Grace Nzioka ruled that she did not prove that she was mentally indisposed during the actual period of the sale. She nevertheless acknowledged Wambui's mental issues but said on the basis of the evidence adduced, they could not be related to the purchase. The sale had been concluded on January 13, 2009 but Wambui subsequently attempted to cancel it and rejected the money, citing fraud and mental incapacity. Justice Nzioka now wants Wambui to hand over the prime property to the purchaser, Lucy Wairimu Mwangi.
SEE ALSO: Court ruling limits Centum school fee
"I have considered the evidence analysed herein and I find that there are no factors established to vitiate the sale agreement entered between Mwangi and Wambui. The contract of sale of the suit property was basically concluded on the date the sale agreement was signed and consideration received in full," Justice Nzioka declared in the judgement dated May 18. Mwangi moved to court on March 17, 2009 and listed Wambui as the first defendant and her (Wambui's) mother Pauline Mukuhi Nganga as the second defendant. She claimed she had paid the full Sh13.7 million purchase price to Wambui's lawyer Chege Wainaina.
Depression
In the ensuing court proceedings, Wambui claimed at the time she signed the agreement, she was suffering from depression and could not have been legally competent to enter into a contract. She also did not receive the sale amount having written to her lawyer to cancel the deal. She claimed she was holding the four-bedroom villa situated along Dennis Pritt Road in trust for her then 11-year-old daughter, having been bought for her by her former husband Garry Vincent Corbit.
SEE ALSO: Only Uhuru can name 41 judges, rules court
The property is known as Maisonette No.6 Casablanca Villas on L.R No. 209/5827. "Wambui's case is that she did not freely consent to or execute the sale agreement, as at a time of executing the agreement, she did not understand or comprehend what was going on due to the fact that she was mentally impaired," the judgement read. It turned out from the proceedings that the Wairimu had indeed paid part of Wambui's hospital bill at the instigation of the lawyer but did not know what she was ailing from. In rejecting her arguments, Justice Nzioka said the evidence adduced showed that Wambui had tried to sell the property to three other people prior, but the deals fell apart over a alleged defects in the house and because the property was mentioned in the Ndung'u Land Report. All the attempts took place in 2007. As to her mental status, the Judge said no evidence was produced to show that she was hospitalised throughout the period of 2007 to 2009, the period the attempted and the actual sale took place. The documents produced in court did not give evidence on her mental state for that period of interest to the court.
SEE ALSO: MCAs challenge new law allowing voters to recall them for poor performance
Rehabilitation Centre
A medical report produced by Dr Pius Kigamwa dated March 2009 showed that Wambui had been her patient since June 2008. Another report showed that since 2008, she had been at Nairobi Place Rehabilitation Centre. "She was oriented in time, place and person. Her mood was depressed. She did not have hallucination or delusional experiences," another report by a Dr Okonji, a consultant psychiatrist told the court. In this particular report, the doctor concluded that; "She is in remission from her psychiatric illness, and was fit to instruct counsel and follow court proceedings." Another psychiatrist, Dr FR Owiti said she had been treated at another city clinic for two months. In analysing these, Justice Nzioka said none addressed the period of the sale. The closest they came was a January 26 to January 30, 2009 period she was admitted to Nairobi Hospital. This particular admission happened a few weeks after the sale had been concluded. "I find that she suffers a mental condition known as delirium which is capable of impairing her decision-making," the judge affirmed. Still, she said, on the basis of Dr Okonji's opinion, that she had periods of remission from her condition, and her inability to produce any evidence regarding her hospitalization, she has to lose the property. At best, Justice Nzioka could only wish her well. "This matter presented a very sad case before the court, and material conditions of Wambui was considered and seriously regretted. The court, however, evaluated the matter painfully on the legal principles of law as expected. Wambui is wished a quick recovery from her condition." Wambui is dissatisfied with the ruling. She has instructed her lawyer Danstan Omari to appeal.