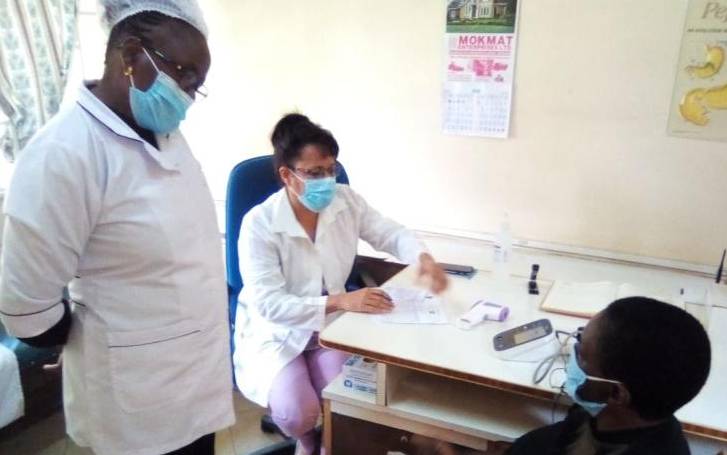 The parents of a 13-year-old boy from Solai in Nakuru had struggled to access the best healthcare for their son.
The minor had shortness of breath, chest complaints and fever. He was referred to the Rift Valley Provincial General Hospital for further review by a cardiologist.
It was here the parents met Yanleys Herera, who discovered the minor had severe pulmonary hypertension and pulmonary Tuberculosis. Dr Herera suggested a chest X-ray and CT scan, and she discovered features of novel coronavirus disease that has claimed more than 100 people in the country so far.
This is one of the successful cases that Herera, a Cuban cardiologist under the national exchange programme, has successfully reviewed.
Read More
"I was a bit shaken after I realised the patient had symptoms similar to that of Covid-19. But I am happy that he is stable," she told The Standard during a recent interview at the hospital where she has set up a heart centre.
After her deployment, Herera opened up a cardiology unit at the facility where she reviews about 20 patients daily, among them those with diabetes, hypertension and renal problems.
The Covid-19 positive minor is not the only patient who has passed through her hands. She diagnosed Ziporrah Wambui, 72, with dissecting abdominal aortic aneurysm that would have caused her sudden death.
She underwent eco-cardiogram, where the doctor noticed that her arteries had blocked. She was referred to Kenyatta National Hospital (KNH) where she underwent successful surgery.
"I am so happy that I no longer have pain," Wambui said.
At the unit, the heart specialist conducts eco-cardiogram and reviews ECG, that dictates the type of treatment.
According to medical records, all cardiac conditions are reviewed at the unit, with those that require surgeries referred to either KNH or Moi Teaching and Referral Hospital in Eldoret.
"All cardiac conditions are reviewed and treated apart from critical operations. Some of the heart conditions are complications from hypertension while rheumatism is common in children," said the hospital in-charge, Joseph Mburu.
Jacqueline Ombati is among nurses stationed at the cardiology unit after receiving training for two weeks.
"I have gained skills on heart-related conditions. Most ailments, if detected early, can be treated," said the nurse.
Dr Mayrolis Benitez, a family physician, also provides services at the wards, handling about 100 patients weekly.
The two Cubans train medical students from various institutions and impart knowledge to other medics.
Dr Rolando Ernesto Ojeda Martell, an Intensive Care Unit (ICU) and Critical Care physician has reduced referral of patients seeking specialised services.
The doctor is stationed at Kabarnet Hospital in Baringo County with a 10-bed capacity.
"The ICU specialist has enabled the county to provide specialised services to needy patients. This is a great move in boosting our healthcare system," said Health Executive Mary Panga.
Panga said services at the facility have improved after installation of a Sh5 million oxygen plant. Previously, the facility used oxygen cylinders but these impeded effective services.
At least 10 nurses have been trained on ICU and are working closely with the Cuban specialist.
However, a family physician who was offering outpatient services at the hospital went back to Cuba after falling ill.
"The Cuban specialist has a good working relationship with our local medics, a virtue we highly value as this symbiotic relationship has boosted discharge of services," said Panga.
Kericho County also received an ICU and critical care physician and experts that have boosted service delivery, according to medics and health officials.
Heath Executive Shadrack Mutai said the doctors have boosted human resource and knowledge exchange with their staff.
"ICU expertise has boosted services at the county; we did not have an ICU doctor stationed at the hospital," said Dr Mutai.
The family medicine expert conducts medical outreaches in remote villages of Bomet County in partnership with social workers.
But with coronavirus, the initiative conducted with Beyond Zero mobile clinics have been scaled down.
The specialist opened an Endocrinology clinic at Longisa Hospital that is open from 9am to around 3pm from Monday to Friday, reviewing and treating patients ailing from diabetes and hypertension.
"His objective is preventive health," said county Health Executive Joseph Sitonik.
Nyandarua's family physician and orthopaedic doctors are all stationed at JM Kariuki Hospital, where they are fully engaged.
According to medical records, the family physician serves an average of 20 patients per day in clinic and 30 in respective wards, while the orthopaedic department handles about five patients in the wards and 20 in clinics.
"We bought orthopaedic, theatre and rehabilitation equipment for the hospital, which are being used by the Cuban doctors to provide quality health care," said the county Chief Officer of Health Joram Muraya.
The county had one family physician and referred patients seeking orthopaedic services to Rift Valley Provincial General Hospital in Nakuru.
On June 12, the Ministry of Health renewed the contracts of the Cuban doctors serving in the country.
In a letter by Health Cabinet Secretary Mutahi Kgwe, the specialists will continue serving as per an MoU issued in 2018.
"This is to inform you that the ministry has renewed the bilateral agreement between Kenya and the Republic of Cuba on provision of specialised healthcare services through deployment of Cuban doctors," read the letter in part.