Murang'a Senator Irungu Kangáta political trajectory has surprised many despite his humble demeanour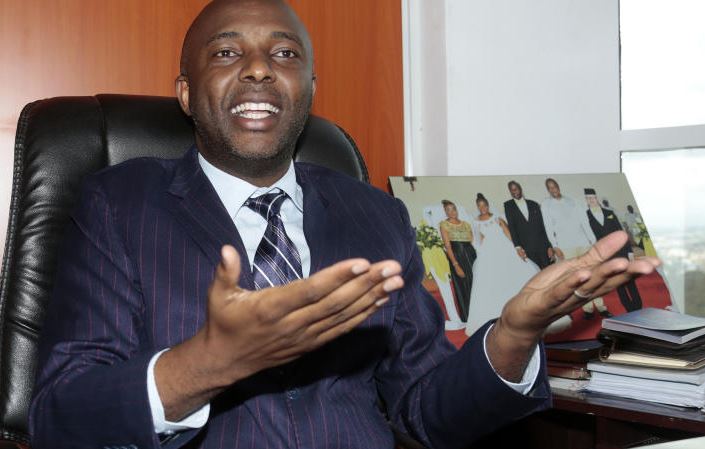 Friday's ouster of Senate Deputy Speaker Kithure Kindiki provided an early opportunity for Majority Chief Whip Irungu Kang'ata (pictured) to prove a few things.
He may have missed out on the praise heaped on Minority Leader James Orengo, who in his vintage fashion told us of Grigori Rasputin, the illiterate Russian rebel who shook the Tsar dynasty.
"You cannot have an army with two field marshals. You either support Rasputin or the Tsar," Orengo thundered in a flourish of political oratory.
At the end of the stormy session where Kang'ata maintained his cool despite attempts by Deputy President William Ruto's allies to draw him into a verbal altercation, the chief whip told the subdued members that they should not read any personal motive in Kindiki's ouster.
According to Kang'ata, he was only doing his job as delegated by his troubled party.
This calmness in the heat of battle might be the reason this son of a Murang'a peasant family has achieved stratospheric success in his political career.
"A calm mind makes a wiser decision," he recently tweeted.
But he is also not beyond taking jibes at party rebels who were recently kicked out of powerful Senate positions. "Take heart, my colleagues. Sit down and watch how things are done," he declared after his appointment.
His new assignment that thrust him into the rough and tumble world of whipping errant party members marks just one more step in a roller-coaster career that kicked off in 2002 when he was elected as a councillor in the defunct Murang'a Municipal Council.
Student activist
At the time, he had been suspended from the University of Nairobi where he was an outspoken student activist.
Kang'ata is taking office at a tough time when the Jubilee Party is deeply divided, and when President Uhuru Kenyatta's tenure is coming to an acrimonious end as constitutional changes loom and a dark cloud hangs over Uhuru's relationship with his deputy.
As things stand, the new chief whip may never win the confidence of disgruntled members who have sworn allegiance to Ruto. The coming days will offer a stern test to his charisma and tenacity, and there can only be two outcomes: bolstering his career, or crashing and burning.
Asked about whether he was worried about taking on such a crucial role in the party's affairs, and his thoughts about MPs in Ruto's camp who think he is a betrayer, Kang'ata said his work was not about division but ensuring the party sticks together.
Kang'ata was born in 1980 in Murang'a and attended Murang'a Township Primary School (now Vidhu Ramji Primary School) between 1986 and 1993.
He went to Thika High School for his secondary education before gaining admission to the University of Nairobi for a Bachelor of Law degree.
In 1999 he was elected vice chair of the Kenya Law Students Society and the Student Organisation of Nairobi University. The following year he was suspended for two years for allegedly leading a strike.
This would become an indefinite suspension when he sued the university.
Kang'ata rejoined campus in 2003 after the Mwai Kibaki adminstration granted amnesty to suspended students. He graduated in 2005 and got his practicing certificate the next year after earning a diploma from the Kenya School of Law.
In 2013, Kang'ata's political career took off when he edged out former MP Muturi Mwangi and former Cabinet minister Ngenye Kariuki to clinch the Kiharu parliamentary seat that had been vacated by Kembi Gitura, who had left to vie for the Murang'a Senate seat.
As a first term legislator, Kang'ata is remembered for being feted for the best development projects in water provision. He also won the Mzalendo Trust People's Shujaaz Award, given to lawmakers who champion issues of public interest.
But his elevation to the Senate is what shocked many after he edged out Mr Gitura in the Jubilee primaries by garnering 158,167 votes against the incumbent's 146,207.
Gitura, who was then the outgoing Senate speaker and a senior politician in central Kenya, claimed that Kang'ata had been the beneficiary of rigging.
He contested for the seat as an Independent candidate but was trounced once again. This time Kang'ata garnered 279,285 votes, or 55.11 per cent of the ballots cast.
After being sworn in, Kang'ata, along with Nairobi's Johnson Sakaja, Kimani Wamatangi (Kiambu) and Susan Kihika (Nakuru) applied for the vacant deputy speaker position but ethnic balancing saw him settle for the seat of deputy chief whip.
Murang'a residents say they were attracted to the senator's simple life. He continued driving a second-hand car after the elections and commutes from his home in Kikuyu.
He dresses in budget suits and avoids the retinue of aides and convoy of cars associated with the country's pampered politicians. He still picks his calls and answers his text messages with a disarming manner.
"In my legal practice, my most defining case was when I successfully represented Rebecca Kerubo, a poor guard, against Deputy Chief Justice Nancy Baraza. This was a case of David and Goliath that embedded constitutional principles of equality before the law," he said in a past interview.
He is also a huge reggae fan, a genre of music that most Kenyans associate with ghetto life. These were the songs he shared when he clinched the chief whip position.
The father of three is a Catholic who regularly attends church, and his wedding to Mary Wambui in 2018 was graced by President Kenyatta.
Kang'ata was formerly a cheerleader in the 'Uhuru 10 years, Ruto 10 years' choir. He also said that a Ruto presidency should have a deputy from Murang'a, saying it was the only region in central Kenya that had never produced a president or deputy since independence.
The senator said former Gatanga MP Peter Kenneth was fit for the position.
But his fellowship with fellow pro-Ruto legislators soon soured in 2018, perhaps pointing to his ability to read the signs. He accused MPs such as Gatundu's Moses Kuria of attempting to rob Uhuru's presidency of its legitimacy by promoting succession politics before 2022.
The senator occasionally gets into arguments with Murang'a Governor Mwangi wa Iria, who thinks that Kang'ata is eyeing his seat in 2022. The senator, however, says he has not decided whether he will vie to be county boss.
Should he throw his hat into the ring, he will most likely face off against two Irungus – Water Principal Secretary Joseph Irungu and former minister Jamleck Irungu Kamau.
Could Kang'ata's fairy tale run continue? Only time will tell.