From Jomo to Uhuru: The curse of kingmakers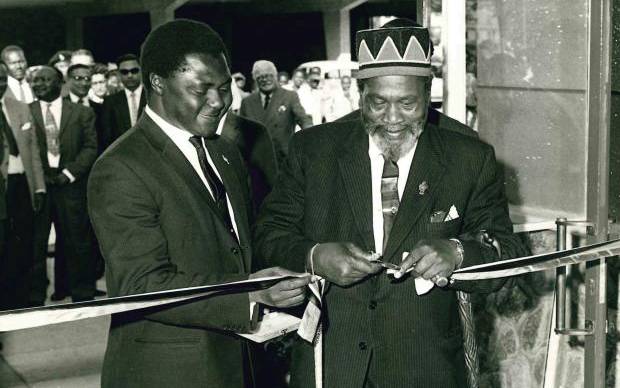 The unfolding fallout in the Jubilee government, between President Uhuru Kenyatta and his deputy, William Ruto, is nothing new.
From Kenya's independence in 1963 to date, the cast of Kenya's kingmakers and the kings has kept changing, while the script has been the same. It is a script riddled with deception, treachery and open backstabbing.
It does not matter that the main actors may be Uhuru with his deputy, or Mzee Jomo Kenyatta and his deputy Jaramogi Oginga Odinga. It may also be Jaramogi's son, Raila Odinga, and Mwai Kibaki. Nothing changes. Kenya's kingmaking script is typecast, airtight and ill-fated for the kingmakers. As in the case of the praying mantis, the fulfilled party eats up the partner after the political lovey-dovey affair. The instructions on the partnership package read, "dispose deviously after use".
It is an article of faith that without Raila's "Kibaki Tosha" call, the storms against a Kibaki presidency in 2002 were unassailable. He probably would not have weathered them to become Kenya's third president. Yet, a single rallying call effectively galvanised the desired critical mass in the country to take him all the way to State House.
It did not matter that a terrible accident soon after the "Kibaki Tosha' call precluded him from running around the country on the campaign circuit. Once the call was made, the die was cast. The entire opposition massed around him, with even more politicians fleeing Kanu to join what was now visibly the winning outfit. Victory was assured and it was now a roller-coaster mission all the way.
Raila joined Kenya's class of kingmakers, with the declaration of Kibaki as president-elect. Getting with him into that class was the curse of the nation's political hatchetmen. They do the spadework and deliver the prize.
But, once the king is enthroned and comfortably in the saddle, they are shoved into disgrace. Those who cannot get the strands of their political ropes right are filtered away into irrelevance. From the ascent of Jomo to power to Uhuru's, this has been the accursed story of Kenya's kingmakers.
A critical phase in Jomo Kenyatta's rise to Kenya's leadership was paved through the firmness of Jaramogi. Yet, only a year after Kenyatta's rise to power, the fallout had begun. It was a bitter fallout, at the climax of which Kenyatta sent Jaramogi into detention without trial in October 1969. The animus of the separation ran so deep that the echoes can still be heard today, 51 years later.
Historian Charles Hornsby recalls Jaramogi's lone struggle to make Kenyatta relevant at a time when the African political top brass did not wish to hear about him. The country was marching towards independence, with Mzee Kenyatta still locked away in solitary confinement. Hornsby recalls that Kenyatta remained in detention even after Rawson Macharia, the main witness against him in the Mau Mau trial in 1958, had admitted that he had been bribed to lie at that trial. The powerbrokers in the United Kingdom were afraid of an unknown Kenyan future under Kenyatta. So, too, were the white settlers. The best thing would be for him, therefore, to remain under detention until after independence.
Jomo, our second god
One man alone, Jaramogi, insisted that Kenyatta must be freed and that he must lead Kenya to independence. In Kenya: A History Since Independence, Hornsby recalls, "Odinga, who had met Kenyatta in the early 1950s, was the first member to call, in the Legislative Council, for Kenyatta's return to political life. The Europeans and the government were horrified by Odinga's reassertion of Kenyatta's significance and the suggestion that he might return to lead the country."
Historians are categorical that Kenyatta had no constituency and no wider relevance, "until Odinga created it". It will surprise the present-day reader that the strongest resistance against Kenyatta came from the political class in his home base of Mount Kenya.
The regional political elite in the legislature (like Julius Kiano and Jeremiah Nyagah), came from non-Mau Mau families. They had been elected by people who were loyal to the colonial government – and who were the only ones allowed to vote.
These Mt Kenya political elite club members, therefore, did not wish to see Kenyatta becoming relevant. They feared that he would upstage them. They even urged Jaramogi to take power and free Kenyatta after independence. Jaramogi resisted them. In very strong language, he stated, "Kenyatta is our leader. He is like our second god. He must lead us to independence. There will be no independence without Kenyatta."
Whatever the prompting for Jaramogi, by 1965 all the indicators for a terrible fallout were there. The independence party, Kanu, was badly divided between the radicals and the moderates. The radicals assembled around Jaramogi. Mboya led the moderates. He was Kenyatta's chief schemer and lead vocalist.
Charles Njonjo and Mwai Kibaki were his key sidekicks. The rift that separated the radicals from the moderates was ideological. Jaramogi's corner had people like Kung'u Karumba, Bildad Kagia, Pio Gama Pinto and Joseph Murumbi rooting for a left-leaning political economy.
Throw into the mix Mboya's own machinations, and by the end of 1966, the fallout was complete. Jaramogi and his team had been jettisoned out of Kanu. Pinto was dead, stopped by an early morning February 1965 bullet, whose origins remain a mystery. In the end, Jaramogi would be detained after an ugly verbal slanging match with Kenyatta in Kisumu and a violent protest in which the president's security detail shot and killed a number of protestors.
If Jaramogi made Kenyatta the king, it was Mboya who secured the presidency. Through leading a series of constitutional amendments in Parliament, Mboya ensured that Kenyatta was firmly in the saddle and unassailable. The first amendment created the Office of President. It abolished that of the Prime Minister, the Senate and regional assemblies. It ensured that Kenyatta became the first President without being elected to the office. In a sense, therefore, Mboya was also a kingmaker. But he also put through an amendment that placed the president veritably above the law.
A further amendment with far reaching consequences was made in 1966, forcing Jaramogi and other members of the then newly-formed Kenya People's Union (KPU), to face the electorate afresh. Jaramogi's political cronies outside Luo Nyanza all lost their seats in the subsequent Little Election of 1966. Mboya had done a great job.
Just when he should have been beginning to feel secure himself, with the opponents of his boss conquered, he became a hunted and haunted man, himself. Close associates would report that Mboya was worried for his life before three bullets cut his life short on Saturday, July 5, 1969. Another kingmaker thwarted.
Ironically, Kenyatta was succeeded by Daniel arap Moi. Moi had been a rank outsider. During the Lancaster House Independence Talks, he had in 1962 led a strand of the Kenya African Democratic Union (Kadu) that threatened to break away from the rest of Kenya. He released a partition map and announced that a unilateral declaration of independence (UDI) was in the offing. Nakuru would be the capital city of the breakaway county. Kanu also threatened to pull through a UDI of its own. It took a lot of backstage activity to make Moi and Ronald Ngala shelve their UDI Plans. Ngala would die in a car crash in 1972 while Moi, now Vice President, would go on to rule Kenya for 24 years.
The architects of Moi's ascent to power went the same way the earlier kingmakers did. Led by Charles Njonjo and head of the civil service, Geoffrey Kareithi, they navigated Moi through very difficult waters to power. Others who helped Moi to ascend to power were Mwai Kibaki, GG Kariuki and Stanley Oloitiptip. They steered past Kiambu Mafia sharks, led by Njoroge Mungai, Njenga Karume and Dickson Kihika Kimani, who had vowed that Moi would never rule Kenya. Housing Minister Paul Ngei was also against a possible Moi presidency.
When Moi was marking his seventh anniversary as president in October 1985, three key players among those who made him king had fallen by the wayside. Njonjo had been sidelined in the infamous "traitor affair". He was accused of scheming to take over from Moi through illegal avenues. He underwent a humiliating inquiry, led by Judge Cecil B Miller. Oloitiptip and Kariuki fell with him. Oloitiptip returned from a visit in his Kajiado South Constituency to tell journalists: "The Maasai are asking me where the flag on their car has gone." He literally refused to live without power. He collapsed, died a few weeks later.
Fast forward to 2003, Raila and others who thought that they had made Kibaki the president in 2002 were now sulking. Kibaki the candidate had promised them great things for themselves. Raila had been promised to be made prime minister. Kibaki had also agreed to give Kenya a new constitution within the first six months of his administration. Once in power, however, he focused on consolidation through sidelining those who had helped him to get there.
Apart from Raila, Kibaki rode on the political backs of what was called the National Rainbow Coalition (Narc) Summit. Its membership included Moody Awori (also as chair), Raila, Kalonzo Musyoka, Charity Ngilu, Wamalwa Kijana, George Saitoti and Kipruto arap Kirwa. Wamalwa died within the first year of the Narc government. Saitoti, who had been part of Raila's team, shifted his allegiance to Kibaki. Meanwhile, Kalonzo and Raila were marginalised in governance, with Kalonzo being technically demoted from Minister for Foreign Affairs to Agriculture.
No bouquets for hatchetmen
In line with the regular script on how to deal with kingmakers in Kenya, President Kibaki made a surprise announcement from Mombasa in December 2003. He called for "immediate dissolution of all Narc component political parties". Raila's Liberal Democratic Party (LDP) strongly resisted this announcement. Ford Kenya, now led by Kibaki's friend Musikari Kombo, after the demise of Wamalwa, also resisted the move. While it died a natural death, the die was cast. People around Kibaki were openly berating Raila and his LDP friends, telling them to style up or ship out.
Interestingly, even outsiders to Narc – such as Paul Muite of Safina Party – joined the fray in taunting Raila. Professed votaries of democracy, like Koigi Wamwere – then an assistant minister in the Ministry of Information – were not left behind. They vowed "to protect the Kibaki presidency from disgruntled political elements."
Significantly, Muite stated at a public gathering in Nairobi: "Thank you, Raila, for helping Kibaki to become the president of Kenya. You have done your part. Now it is my duty and that of others like me, to secure this presidency."
That fallout would eventually mature into the fires that threatened to destroy Kenya in 2007-08. In between, Kibaki had meanwhile brought Narc outsiders into his government, appointing into Cabinet MPs from Kanu and from Simeon Nyachae's Ford People. The Memorandum of Understanding that had brought together LDP and the National Alliance of Kenya of Kibaki, Wamalwa and Ngilu, was now a forgotten thing. Political expediency and self-gain had once again taken precedence over trust and honour.
Today it is Ruto and Uhuru. When the history of these times is written, it will talk of how, on the campaign trail for the Uhuru presidency, the presidential candidate carried on his lips the mantra of "my 10 years, followed by Ruto's 10 years". They will write about how Ruto spared not an iota of energy to help Uhuru ascend to power.
They will report about how, twice, UhuRuto succeeded. But all that was for the expediency of the moment. Ruto's world around Uhuru then crumbled and disintegrated, like that of other Kenyan kingmakers before him. Whether he will pick himself up, we don't know. But so far, both Uhuru and Ruto have remained faithful to their country's accursed kingmaking script.
In 1532, Nicolo Machiavelli, an Italian philosopher, soldier and politician, foresaw it all. He wrote about it in a small volume titled The Prince. Whether Machiavelli wrote it as a description of what happens in politics, or as a prescription for politicians, his thoughts are alive and well in Kenyan politics. Machiavelli did not see politics as matters of public good and morality.
Machiavelli saw politics as a nasty game with very clearly defined nasty rules. Among these were rules governing how the king should deal with those who navigate him to power. It is his duty to get rid of them as quickly as possible. But not just them, their families too. For if he does not vanquish their families as well, the chances were that someone might emerge from one such a family, seeking vengeance.
Above all, Machiavelli said, those who help you to ascend to power should be beheaded. And those who have not helped you should be rewarded and treated well. For, he said, when people have helped you ascend to power, they imagine you owe them something. They become a nuisance to you, all the time expecting favours from you.
On the other hand, those to whom you owe nothing will give you undivided loyalty, for they know that you owe them nothing. Kenya has enacted this script many times and it does not look like the curse of kingmakers is going anywhere, anytime soon.