Inside militarised air, ground combat against desert locusts ravaging farms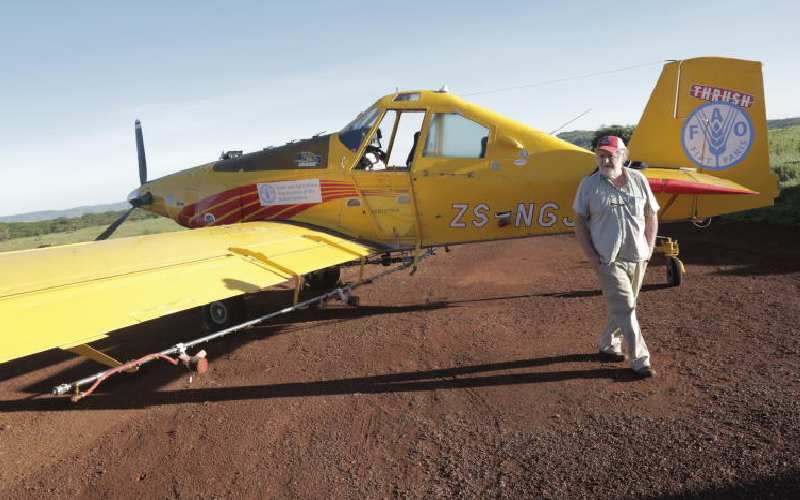 In the final act of defiance, the voracious enemy spears the ground, raises the compound eyes unto the skies from whence his death rains, to plant the next generation of 'terrorists'.
Then he dismembers his posterior, buries it in the dump, wet sand which is hot. Now like millions of his compatriots, the enemy is ready to die in dignity.
But in two weeks time, the battle will continue and the dead army, which has increased a hundred fold, will resurrect and soldier on.
In this ensuing unconventional war, strange bedfellows have been brought together. One of the combatants is an ace pilot who has exterminated billions of such enemies in his 30-year career.
It took Rob Tailor three days to fly his battle-hardened air tractor from South Africa to Kenya. Bad weather forced him to lay over for a whole day in Zambia.
Back in Nairobi, the government had to knock on numerous doors in the neighbouring countries before Tailor and his cousin could be allowed safe passage in these countries.
When we catch up with Tailor one Sunday morning, he has just supervised the arming of his specialised aircraft with his arsenal, which comprises about 400 litres of poison.
Tailor has already made 70 similar trips since he came to Kenya on March 10 this year.
Tailor caresses his greying beard as he explains that he is licensed to kill and has the license to fly and another to spray agricultural chemicals.
"I have been killing desert locusts since 1984. I have been to many African countries and I have done many campaigns to suppress desert locusts. This is like my specialty now. Although I never get to the ground to ascertain whether my enemies die, I know I kill them," Tailor explained.
Tailor works for South African firm Cosmos Aviation, who have been contracted by Food and Agriculture Organisation (FAO) to rid Kenya of the deadly enemy. His temporary base is at Lewa Conservancy airstrip.
More than 300km away in Marsabit, another combatant is in the middle of battle.
Unlike Tailor, who is wearing everyday clothes, 23-year-old Renson Waswa is dressed to kill. He has heavy-duty goggles, a black apron, matching rubber gloves and gum boots. On his back, just like five of his compatriots from National Youth Service, is a 16-litre manual knapsack.
Buried in sand
Waswa and his unit are combing an eight-kilometre square patch of desert in Kargi, Marsabit County. Their boots crunch and squash lifeless yellow desert locusts scattered all over the place.
"If you look critically you will see all these desert locusts are buried in the sand. Once you extract them, part of their body has disintegrated. Those are eggs they have planted in the sand. Each insect lays about 100 eggs," explains Waswa.
That explains why in the next 14 days, Waswa's unit must return to the same location to spray the newly-hatched nymphs before they can grow into immature hoppers, who are very destructive because they are highly mobile and eat voraciously before they mature in between two to four months.
Agriculture Cabinet Secretary Peter Munya says the war against the desert locust has been fully militarised. Perhaps, this is why the government has tapped into the skills of Julius Ngera to coordinate the fight against the gregarious army, whose numbers are mind boggling.
Col Ngera (Rtd) explained that the campaign against the desert locust has to be carried out with precision because every minute counts. He has at his disposal the paramilitary, civilians, police as well as scientists who all have been assigned specific roles.
According to Stanley Kipkoech, an assistant director of agriculture who is in charge of migratory pest control, on average a swarm of desert locust has about 20 million insects and they are most destructive when they are about to mature.
Kipkoech explains that the insects, whose lifespan is between two-four months, has a biological mechanism which is triggered to hasten maturity when the weather changes and may not be conducive.
"By a sense of touch, the insects can communicate and hasten their growth prematurely especially when they are in recession. When they ultimately mature, they feed less and their movement is limited. Once they lay their eggs in moist sands, they are now ready to die. The eggs hatch in 14 days," he says.
Munya further explained: "We have deployed over 500 NYS personnel who are operating in all the five counties where there is serious locust invasion. We are also using two Kenya Defence Forces planes for spraying and another two for surveillance."
To complete the aerial bombardment, the locust control warriors have additional five sprayer aircraft supported by 10 vehicles mounted with motorised sprayers. The NYS ground troops have at their disposal 42 motorised sprayers and handheld manual knapsacks.
The combat on the ground where the locusts thrive, the paramiltary personnel explained, is not a bed of roses.
"Sometimes we have to travel for over 100 kilometres in sweltering heat before we reach the battle zone. Getting water for drinking and mixing the chemicals is quite a challenge. But this is a mission we have to execute because we have sworn to build the nation, no matter the difficulties," a NYS trooper told us.
He said although they are entitled to a daily allowance of Sh700, there are times the payment is delayed.
"It is true there were hitches in the past in payment of this allowance to the NYS personnel. But this has been streamlined and they are now getting their payments directly in their accounts," Munya added.
At the peak of the locust invasion, 27 counties were seriously affected by the voracious insects, but after dispensing 133,500 litres of insecticides, the menace has been contained.
"Although it is impossible to say with certainty that we have completely eradicated the desert locusts, we have made some progress. The situation in the country is such that now we only have swarms of locusts in five counties of Samburu, Marsabit, Turkana, Isiolo and Laikipia," the CS says.
But the war against the locust is far from over and Kenya is still wary of the threat posed by some unstable neighbours such as Somalia and South Sudan where containment of the insects is still a problem.
In Somalia, the locusts have an ally for the Al Shabaab militants and have made it impossible to spray and contain swarms in the strife torn country. Yemen, too, poses a real danger to Kenya and East Africa, should the winds blow out of the region, driving more of the minute "beasts" towards Kenya and her neighbours.
So far, the war, according to the government, has gobbled up Sh530 million set out in the national budget and still more millions from donor communities, which has been spent by FAO on behalf of the Agriculture ministry.
According to FAO's field officer in Isiolo, Ambrose Ngetich, among the chemicals being used in the fight are dethamethrin, penithrothion, cypermethrin and sumithion. In all these chemicals, it takes between half a litre and one litre to spray one hectare of land.
Initially, Kenya was planning to get the chemicals from Japan, but when there was global closure of international skies, Kenya had to turn to India and some local supplies who quickly learnt how to blend and mix the chemicals to the required international standards.
There were concerns, Munya admitted, that some of the chemicals initially used in the spraying had adverse environmental impact while others were ineffective on the desert locusts.
"In our haste to contain the menace we purchased some chemicals which were not very effective. This has been corrected and now the chemicals we are using are quite effective. Although some may have mild effects on the environment, their usefulness outweighs these concerns. By the way, we are using the internationally recommended chemicals and rations," the CS said.
Very resilient
And in the wilds of Kargi, tiny heaps of yellow desert carcasses are strewn all over while in Angeli in North Horr, there was evidence of annihilation although the insects were not to be found in one place.
"These insects are very resilient. Once you spray them they can still fly for about 60 kilometres and survive for up to three days," Ngera says.
It is his responsibility aided by the paramilitary personnel and 440 extension workers and trained youthful scouts to track the insects, report their locations which are confirmed by aerial surveillance before either the aircraft sprayers or the knapsack troops are given the coordinates.
And still, he prays that the wind will blow northwards and blast away the dreaded locusts to Yemen.