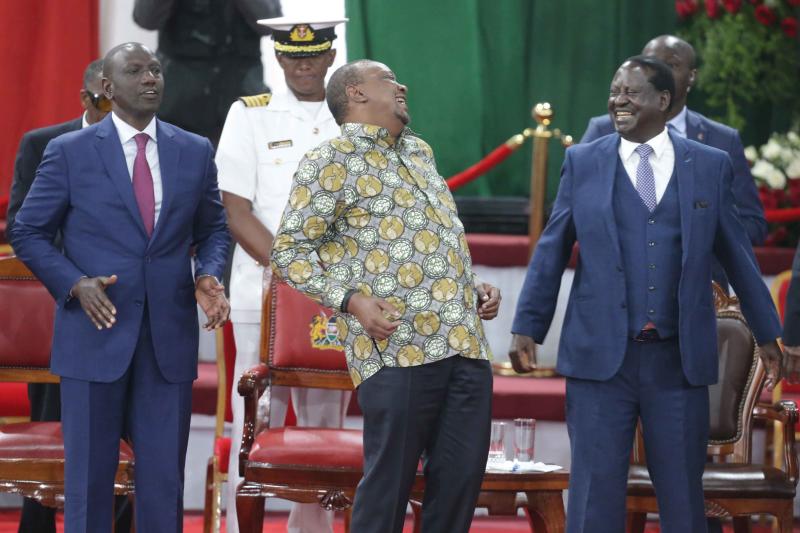 Carthage must be destroyed. Such was the refrain with which Cato the Elder crowned off every meeting in the age of what history records as the Punic Wars (264-146 BC).
"Carthago delenda est, Carthage must be destroyed."
In the end, Carthage, the most illustrious African city in the old world, fell, some 146 years before the Christian era. However, that was not before Carthaginians had occupied the ancient North African city of Rome for 15 years (159-146 BC).
Read More
Deputy President William Ruto has been to Kenya's Rome. In his own words, the boy from Sugoi has had his hands washed. He has sat at the table and dined with the high born. He has, however, outlived his welcome. In the unfolding Uhuru Kenyatta succession, the ruling thought is, "Ruto must be destroyed."
In the global age of the new coronavirus, Kenyans have abandoned all decorum and pretext. They have thrown off the gloves to engage in an all-against-all bare-knuckle fistfight. Ruto must go.
The search to bring down Kenya's number two is a continuation of the country's succession jinx. On the one hand, departing presidents want to manage their replacement. Their plans fall through, however. On the other hand, you have their principal assistants.
These people sit only a heartbeat away from the ultimate power. Yet that power remains elusive. It sits one bridge too far. They see it and yearn for it. They stretch out their hands to reach for it. But they don't grasp it.
Mwai Kibaki succeeded President Moi in December 2002. While Kibaki had been Moi's first vice president for 10 years (1978-1988), he was never in Moi's succession thoughts. Except only to the extent that he was not the chosen one.
Quite early in the Moi presidency, Kibaki became a marked man in the Kanu struggles of the 1980s. He tussled for sustained political relevance within the Kanu corner labelled "Kanu B."
In the "Kanu A" corner were politicians aligned to Attorney General (later Constitutional Affairs Minister), Charles Njonjo. While Njonjo fell only in the fifth year of the Moi rule, Kibaki was shoved aside in 1988. He was removed from the vice presidency and given the health docket. Towards the end of the life of that Parliament, he resigned from the Cabinet and Kanu. He tried to succeed Moi in 1992 race but lost to the incumbent.
For the second time, Moi beat Kibaki in 1997. He went on to field Uhuru Kenyatta as his candidate in 2002. This time around, Kibaki had the last laugh. In pitting Uhuru against the opposition, Moi had to first bypass his vice president George Saitoti, and a galaxy of other political luminaries.
Moi's project was defeated through and through, introducing the jinx of failed presidential succession projects. It was a humbled Uhuru who conceded defeat in December 2002, paving way for Kibaki to be inaugurated as Kenya's third president.
Although he denies it in his autobiography titled 'Soaring Above the Storms of Passion', there are those who believe that ANC Party Leader Musalia Mudavadi, was President Kibaki's choice to succeed him. Towards the end of his tenure, Kibaki became oddly fond of Mudavadi.
Early 2012, things got steadily worse between Mudavadi and his then party leader in ODM, Raila Odinga. Mudavadi was the last of the ODM Pentagon politicians of 2007 left standing with Raila. As 2012 rolled on, it became clear that Mudavadi would bolt.
State House assignment
Mudavadi bolted. He ran for president in 2013 on the United Democratic Front (UDF) ticket. Many pundits still believe this was a State House assignment, led by Kibaki's private secretary, Prof Nick Wanjohi. The election was, however, lost to Uhuru – who had himself momentarily toyed with the thought of stepping down to support Mudavadi.
Other pundits have thought that if Kibaki indeed had a hand in the Mudavadi 2013 candidacy, he probably intended it to boost Uhuru's chances by spoiling for Raila and ODM, against even Mudavadi's own wish. Regardless of the prompting, the election was lost to Uhuru.
Today, the world is watching as the ground around Ruto begins turning into quicksand. The energy driving the fall of Ruto is clearly from the centre of power. Cotu Secretary General Francis Atwoli let the cat out of the bag when he pronounced repeatedly last year that Ruto would not be part of the 2022 succession game.
Atwoli's interest in the fall of Ruto borders on manic obsession. The source of the bad blood between them is not clear where. In any event, that does not seem to matter anymore. What matters is that Ruto must be destroyed.
And Atwoli is not alone on this mission. Jubilee Party's National Vice Chairman, David Murathe, is perhaps even more vociferous in his disavowals against Ruto and his power dreams. He has called him names that you repeat only when you are very sure of the ground you stand on.
If Ruto will be politically slain, it is not very clear whose sword will do it, or how exactly. There is a saying, however, that there are many ways to kill a cat. The assignment is now on, in earnest. They have begun with the clearing of the political forest around the giant tree that is Ruto, before they sort him out. The blows suffered in the House by Senators Kipchumba Murkomen (Elgeyo Marakwet) and Susan Kihika (Nakuru), present the clearest signal yet that Ruto must go.
When they have cleared all the thickets around him, they will want to take on Ruto frontally. It could come by the avenue of impeachment, or removal from the Jubilee Party. It has always been speculated that Ruto has enough political muscle in Jubilee to turn the tide and cause an upset. The moment of truth is finally here.
For now, President Uhuru has put in several heavy body blows. There are many more where those have come from. Five nominated women senators have a date with the Jubilee Party's disciplinary committee. New Uhuru compliant officials have been named to the National Management Committee of the party. Other Rutorites are turning coat and edging in towards Uhuru.
It is in Uhuru's interest that he keeps the politicians, even as Ruto is torn into pieces. The more urgent task would seem to be how to mess up Ruto while keeping the MPs aligned to him in office and making them remain loyal to Uhuru. In the event that their loyalty remains with Ruto, then Uhuru must depend on borrowed fire from ODM and other parties to conduct his business in Parliament.
The alternative is to force them out of Jubilee en masse and take the country to a little General Election such as happened in 1966, after President Jomo Kenyatta fell out with his deputy, Jaramogi Oginga Odinga.
This would, however be a risky option. These are unchartered waters that could turn treacherous for Uhuru and his ODM friends. Eventually, the choice remains between gaining total loyalty of sitting MPs, through persuasion, inducement and intimidation.
One question remains. What are President Kenyatta's intents for 2022? Clearly, Ruto is only relevant to the extent that he must get out of the way. During the 2017 campaigns and even earlier, however, Uhuru was voluble in calling for "completion of my 10 years, followed by Ruto's 10 years."
It is difficult to see what exactly messed up the relations between the two former friends. Some say it was Ruto's early campaigns, against the wishes of his boss. Others say he simply does not respect the boss. Still others have it that it has to do with the war against corruption. Yet nothing here is new. Everything being said today was also said before the 2017 elections.
It must, accordingly, seem like Ruto was in these things only for a season, after which he must be forced out of the fray. What then was the president's agenda for 2022? And will it work?
Again, some say it is about Uhuru himself. He must change the Constitution to allow him to shift to some other docket with the powers of the Executive. Towards this, he could work within the merging new alliances, with promissory notes to kingpins from other political parties.
What kind of promissory notes is President Uhuru likely to be giving out to his new allies in ODM, Kanu, Wiper, Chama Cha Mashinani (CCM), and possibly Ford Kenya and ANC? Will he be thinking of fronting one of the leaders of these parties for the country's topmost job, or does he indeed intend to remain at the centre of power? Will his new found friends agree? Is it a done deal? Will the voters endorse their plans?
Flawed election
If not, what will be the role of the State machinery in the succession game? Can citizens turn a blind eye to a flawed election? These are just some of the questions that President Uhuru must wrestle with even as his friendship with Ruto gives writhes painfully on its deathbed.
Instructively, even as Wiper leader Kalonzo Musyoka seems to be making his way into the emerging alliance formation around the Uhuru wing of Jubilee, some of his erstwhile supporters – led by former Machakos Senator Johnson Muthama – seem to be reading from a different script. They have called on Uhuru to mind what is left of his term and to leave succession matters to the will of the people.
ANC and Ford Kenya have meanwhile remained cagey, without a clear indication of their position in the face of the unfolding events and the weight of the punches they could throw. The stage, however, is getting set for something titanic.
Whether Ruto eventually falls or not, a titanic political confrontation is looming. Ruto's voice will have a significant role, whether he will be in the race or not. Kenya's electoral engines for 2022 are only beginning to warm up. It will be interesting to see if, this time round, the presidential will can carry the day.