Playing with fire has always been a national pastime in these parts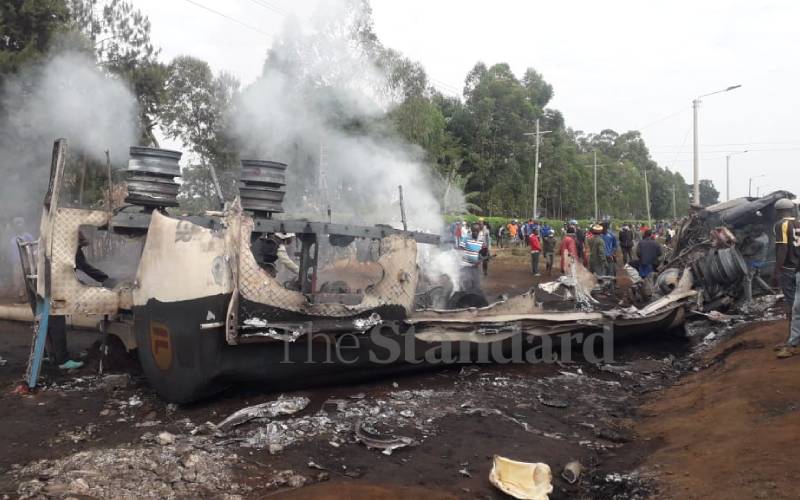 Yesterday, I woke up to news that a petrol tanker had exploded in the night, its hellish flames engulfing 13 poor souls and sending 11 to hospital in a critical condition. It wasn't the first time this is happening, and it won't be the last.
I have suffered a burn or two over the years, nothing that required hospitalisation, if you disregard an incident from when I sat on a jiko as a toddler.
It was hell, I hear. So I shudder to imagine the horror and terror of being smack in the middle of a petroleum explosion.
What bothered me, however, is that I felt nothing other than numbness.
Like being rained on for so long in an unceasing storm without a shelter in sight, we have come to accept that if a petroleum tanker overturns, Kenyans will come running and die.
Were the poor souls driven by poverty, or ignorance? I doubt it.
They damn well knew they were playing with fire. It wasn't poverty either.
There are millions of poor Kenyans who wouldn't dare race to an overturned petroleum trailer with jerricans in hand.
Because they know playing with fire is stupid.
Or they were raised to know that siphoning petrol at accident scene makes one a thief.
Or maybe they wished they too could rush in to harvest, but lacked the guts.
Not that I blame them.
Every single day, there is always a Kenyan playing with fire.
Like the men who tiptoe into other people's matrimonial beds, only to hear, "Fungua! (open up)," at 3am and get shocked when their gizzards are slit open by the angry owners of the bed.
Like the women who stupidly send insulting messages to the wives of the men with whom they are illicitly entangled – taunting them, insulting them, belittling them.
Or the wives who stand on a balcony and scream, "You pretend to be tough but today I will say it loud for everyone to hear! You walk around with a toothpick in your pants. Come and beat me! Kill me if you are a man!"
Like the young braves who accompany politicians to rallies to fight the "enemy" for Sh500, a stick of weed and a tin of brew, only to end up with weeds sprouting on their graves after stopping a bullet, rungu or machete.
Like the zombie with a death wish on a boda boda taxi, or the stoned motorist who dangerously overtakes 10 times successfully, only to end up squashed on the highway, forcing kin to gather and mourn his "untimely" death.
Like the man who encounters a beautiful Jezebel in a pub, buys her a drink, walks her into his car to an undisclosed location and wakes up two days later lying in a ditch with poison in his liver: phone, money, everything, gone.
We just don't give a damn.
A great deal of the alcohol sold in this country is counterfeit and toxic, but who cares.
And condoms? What are those? We are Kenyans.
If it promises to make us rich or give us a high or pleasure, heck, show us a beehive and we will poke a finger into it.
Show us a fire and will sit on it. Oh, how we love playing with fire!
Occasionally, our actions are driven by poverty and ignorance.
But most times, our madness, our taunting of the gods, results from shamelessness, greed and bad manners.
There is no mention of this in the Constitution. Our National Anthem says nothing of the kind. But playing with fire is our national philosophy.
***
Last Friday, I was at a village called Eshilunyire in Butere sub-County for the funeral of a beautiful old lady.
The local MP found a group of people waiting at the gate. They wanted money for doing nothing.
After the funeral, another crowd lay in wait as he condoled with the family.
Again, they wanted money for doing nothing. They were following the man all over the place like flies.
What kind of life is this? If this is what being a Mheshimiwa is like, wacha ikae!
And to imagine some people are recklessly playing with fire, running all over the place, campaigning for this thankless and stupid job!