Life as art: Why women are central to my painting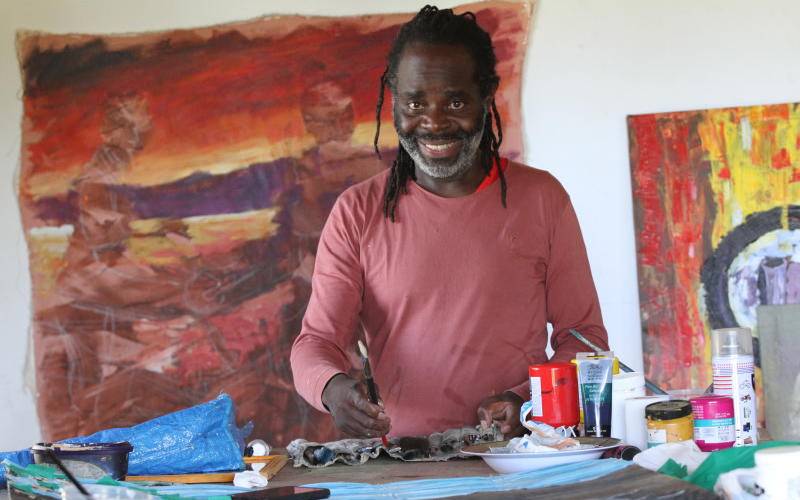 Eccentricity is almost a requirement in art, so I find it comically stereotypical when Patrick Mukabi pulls an empty paint can to sit on for our interview. He has insisted that I use the only seat in the vicinity, a jungle green folding camping chair in the art studio. The can with a piece of plywood over the top will do for him.
His personable demeanour can make one almost forget that he is one of the most seasoned and sought after artists in the country. One of his many works is a 12-metre-long mural at the Jomo Kenyatta International Airport.
Also, if you have been inside one of the many Java House cafes, from Galleria to Naivasha to Nakuru and many others, you have probably laid eyes on the large paintings on the walls.
"Not the big leg ones, the big butt ones," he says of his paintings at the coffee houses. He is as humorous as he is pleasant, although on viewing the paintings, it turns out that he is not joking. It is an accurate distinction between the paintings found there.
We are seated in his studio at Karen Village, surrounded by tens of paintings in various stages of completion - some his, some belonging to other artists. Each artist's style is distinctly different. Mukabi's kind of art can be classified as impressionism.
"I do figurative but impressionist paintings, meaning my paintings are people. Human beings. But it is also impressionist in the sense that I use my own colours. The impression of what I got is what I paint. Not the real thing. So I just do an impression of what I saw, and that's how it goes into impressionism," he says.
He loves to draw the female form, especially that of the plus-size variety. Because he draws people, ideas are almost everywhere he looks.
"Mostly I draw women because I am a man," he says. "I admire women, the plus size ones. But also, it's just looking at the form, their poses, the way light and shadow falls on them, their drapery - the way they are dressed - that gives me ideas. It just makes me take a pen."
He has even been thrown out of churches because while people were supplicating, he could not help but see new ideas for his art and would begin to sketch them, much to the chagrin of the faithful. Clubs are equally fair game, although he doesn't drink or use any substances.
"I do not look for highs. I look for art," he says. "Some clubs in town don't like me because I don't take alcohol. I just draw. So I buy a soda and by the time I get out of there I have a whole library of drawings," he says.
Mukabi is known as 'Uncle Supuu' on the children's show, 'Know Zone'. Just before this interview, he had been teaching one of his students, Kyla, with whom he is doing a series of landscapes. He spends a lot of time teaching children. He gets a lot of referrals this way.
As a child, Mukabi thought he would be the next Michaelangelo. The school he was in, Loreto, Mombasa, was Catholic, so there was a lot of art by the legendary artist and others. His mother also had books from the Vatican that had such art.
"I used to say maybe one day I can draw like that. On Mondays, during Art and English classes, we would be asked to write a composition and draw what we had done over the weekends," he says.
"Later on when I came back to Nairobi, I went to a high school that offered art - Arya Boys in Ngara, then later moved to Eastleigh. Eastleigh offered art too, but the art teacher was also like, 'I don't want to see people walking around. If you don't like maths, you don't like it. Come to the art room and do something'. So that door was always open, and I think that was where I became passionate about art."
After high school, he was sure he wanted to focus on art. His father's side of the family had a lot of musicians and his dad was not impressed by the life they led. He wanted his son to do something more substantial than art.
They made a compromise, that he would study graphic design at the then Kenya Polytechnic (now Technical University), and in exchange, his father would help him get a job afterwards. But when he was done, he was still set on art.
"When I finished, I told him, 'Let me try art first because I have a passion for it since I have the certificate for graphic design now. If it doesn't work out, I can come back.' My mum also convinced him.
"She was a nurse so because she didn't know much about how artists lived, she said, 'Just try'. If that guy roasting maize there can support himself on his income, why wouldn't you be able to do the same through painting?' So my father gave me Sh2,000 as capital and that's how I started off," he says.
It took five years before he was able to really make a living from art. Back then, if you couldn't get your work into a gallery and exhibitions as an artist, you were in for a tough time.
"The main problem was getting market. I would go ask for a show. Every show has requirements people have to meet. You would go and they tell you what they take and how it should be presented. Sometimes you work and it is all rejected. Some people give up that way.
"I have had so many rejections. You can think it is the best work ever done in the universe and all you get is 'NO'," he says.
His first big break came when he won a big award from East African Industries, now Unilever.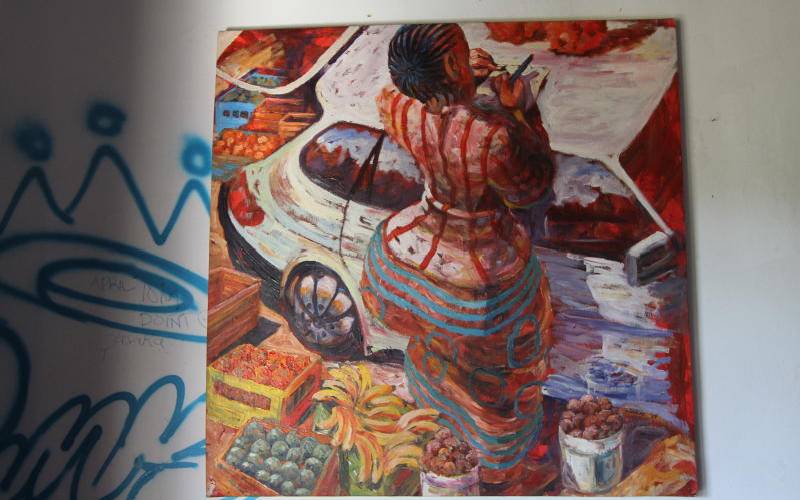 "I didn't even take a matatu home that day!" he says, remembering how excited he was. "I walked so fast because the matatu was taking too long! I rushed with that cheque home, showed it to my mum shouting, 'Let's go cash this!' When my mum said we would do it the next day I exclaimed that that was too long!"
Now 52, he has been in the game for a long time. His art has taken him to over 20 countries, and his gist has taken him before literal kings. He has met President Uhuru Kenyatta twice, the queen of Holland and the now king of Holland.
His work has evolved over time. The painting that got him the award was reminiscent of Michaelangelo's work, back when he was a huge influence on Mukabi. "I would paint each and every corner of the canvas, then I discovered later on that less is more and I could do better than Michaelangelo. But if you meet him don't tell him that!" he says in jest.
"I do less. Now I just flow. Like this one (points to a painting behind him), the canvas is reddish. You can see the reddish. For this one, the canvas was blue. So I don't cover the whole canvas," he says.
That evolution happened quite by accident, when someone asked him to paint something for an exhibition and he didn't finish it to Michaelangelo standards on time.
"I had forgotten about the guy, then he came back after two weeks: You know tomorrow we're coming to collect! I was like, 'What!' When he left I painted the undercoat, sketched it until about 7pm then decided to go and sleep, telling myself that by the time the guy arrived at 11am the next day, I would have finished the painting.
"In the morning I got a bit late but came to the studio and started to paint. When he came at 1am I had stepped out for a bit and I found him looking at the painting. He said (takes on a tone of awe), 'Wow, Mukabi this is fantastic!' And I thought it was half-finished! 'Fantastic! He took it. At 3pm he called to ask if I had another one because someone had already booked the first one, and he wanted to pick it up the day of the exhibition because he had a flight."
The client said he wanted something similar and thought the new painting was fantastic as well.
"That is how I came to doing half paintings," he says. People loved them, so he kept doing them.
"So do you consider these to be half finished?" I ask, referring to the current paintings on the wall.
"Now? I shouldn't say anything about it. Because you can never finish a painting by the way. I was once in Amsterdam going to an office and a big painting of mine was there, half finished. I was feeling like I should touch it. I was feeling a bit embarrassed and the guy was telling me, 'This is yours? I like this area!' The area that I thought I did not finish is what attracted him to buy that piece. Not the area I thought I had finished.
"It's like life. Sometimes you think your life is in a mess but someone else admires you. So paintings are like people. From far away they look good. But when you are very close to them it looks scratchy," he says
He thought he would have gotten into abstract art by now. "Where you draw one line and all that. But if I go somewhere and find someone in a nice pose? That one I must draw," he says.
"When you hang around the women you can tell what kind of a society that place has. I look for those angles.
He also paints men sometimes and has a series called Siasa mbaya, maisha mbaya, which is mostly made of men.