Dance of death: Founder's bow out blew Kwani? down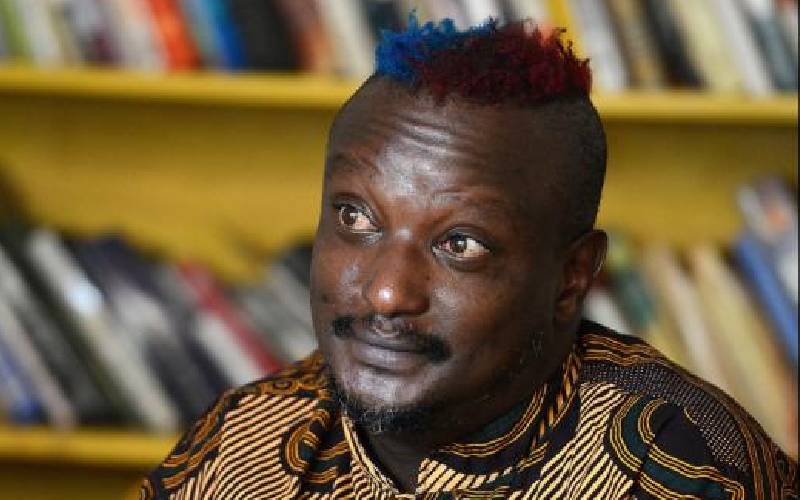 It's Boxing Day, 2006, in Lamu and we are on a moonlit lit rooftop of a multi-storey house rented by an Egyptian lad called Djibril with writers on the 2006 Kwani – SLS (Summer Literary Seminars) Lamu workshop.
Kwani? founder Binyavanga Wainaina is drinking beer. I'm on vodka. Writer Martin Kimani is sipping Campari, as Kwani? Editor Charles 'Potash' Mathathia is smoking, and because the electricity in Lamu is off for (reliable old KPLC), we all have our torches on, a surreal aesthetic.
We thought this Kwani fest would be the start of an annual pilgrimage to the seaside, Christmas cancelled for literary workshops.
But, by then, Kwani? Founder Binyavanga Wainaina was already moving away from this 'lit' idea.
The first signal of the 'rejection' of his baby was when he turned down the Young Global Leader award (given to people for their 'potential contribution to shaping the future of the world') by writing to the Queen of Jordan and the World Economic Forum the following: "... although, like many, I go to sleep at night fantasizing about fame, fortune and credibility, the thing that is most valuable in my trade is to try, all the time, to keep myself loose, independent and creative... it would be an act of great fraudulence for me to accept the trite idea that I am 'going to significantly impact world affairs' …"
Creative. Independent. Loose.
A few months earlier, in April 2006, I had been with Binyavanga at the Blue Metropolis Lit fest in Montreal.
I was seated at the bar counter of the Copacabana off the Rue St Catherine, shooting the breeze with the barman, when Binya joined us with a male companion. Years later, he would write that it was his first real encounter with a man as a gay person.
I believe it was this personal revelation, as well as the desire for academic realisation, that led him to substantially abandon the community of Kwani?
Thanks to Prof Iossel, off he went to Union College in New York, as 2007 Writer in Residence.
Back in the office, the brash and brilliant Billy Kahora and the 'British-ish' and efficient Angela Wachuka had taken over Kwani?'s financial and management structures respectively.
What creative output had Kwani? put forth in those heady years from 2003 to 2007?
With permission from Dr Tom Odhiambo of the University of Nairobi, we can quote from his Kwani? and the Imaginations around Re-invention of Art and Culture in Kenya: Rethinking Eastern African Literary and Intellectual Landscapes. Kwani 01 "was irreverent, flamboyant, and breached artistic and genre boundaries and indeed seemed to suggest a literary revolution". Kwani 02 was "unwilling to localise itself too much", meanwhile, "while still drawing inspiration from the Mau Mau/Bob Marley in a way that sustained its apparent revolutionary zeal."
Kwani 03, the Sheng' edition, was an attempt at bridging the English-Sheng' divide by "broadening the range of audiences for the publication" Kwani 04 meandered about "a sense of Kikuyu isolation" following the collapse of "the post-Moi dream of a corruption free and inclusive Kenya." And Kwani 05 was a reckoning with the 2007 post-election violence in Kenya.
In 2010, SLS and Kwani? finally got together again for yet another Nairobi-Lamu literary festival, but by then, even this writer was feeling the drift.
All other prolific published writers of our generation, from Ng'ang'a Mbugua to Kinyanjui Kombani, had little or nothing to do with Kwani? Even Yvonne Adhiambo Owuor of the celebrated books Dust and The Dragonfly Sea had dusted Kwani? off her book sleeves by 2013.
By 2014, like in some Greek tragedy, the separated fates of Kwani? and Binyavanga were beginning to intertwine in one last doomed dance.
Shortly after Binyavanga had 'come out' in the January of 2014 as gay with his essay, then gone on national TV to attack Kenyans "PCEA mentality", the Ford Foundation announced it was winding down its sponsorship of Kwani Trust.
As Binyavanga got a stroke in 2015, Kwani? held its last ever proper literary event at Chiromo.
In the following two years, as Binyavanga announced his HIV positive status and complained of being beaten in Berlin by a racist taxi driver, Kwani? was announcing writing workshops in castles called in the Aberdares – workshops that turned into building castles in the air, as nothing got published.
So, in a nutshell, first the oxygen of funding from the Ford Foundation stopped, and Kwani? went on life support. Then it died! Did it, or did it just become 'a bit dormant,' as its co-founder Tom Maliti insists?
Rebirth?
Starting January this year, Michael Wagithi, long term ex Kwani? man, got MC Akinyi Oluoch, a rising star in Nairobi's 'Spoken Word' circles, and kicked off the Kwani? spoken word sessions.
At Joe Kago's Wasani Bar at the Kenya National Theatre every first Tuesday of the month.
As I sat in the full houses of these 'Spoken Word' spaces, surrounded by a few familiar face-masked faces like Steenie Noroge, poets we groomed to poetry lions like Mufasa, and a new generation of defiant talent like Nadia Njeri, we exchanged a smile of nostalgia with Cindy Ogana, time rolling back to Phoenix Theatre, IMAX Theatre, and back to Club Soundd, 2005.