Maraga's big shoes no problem for Harold's feet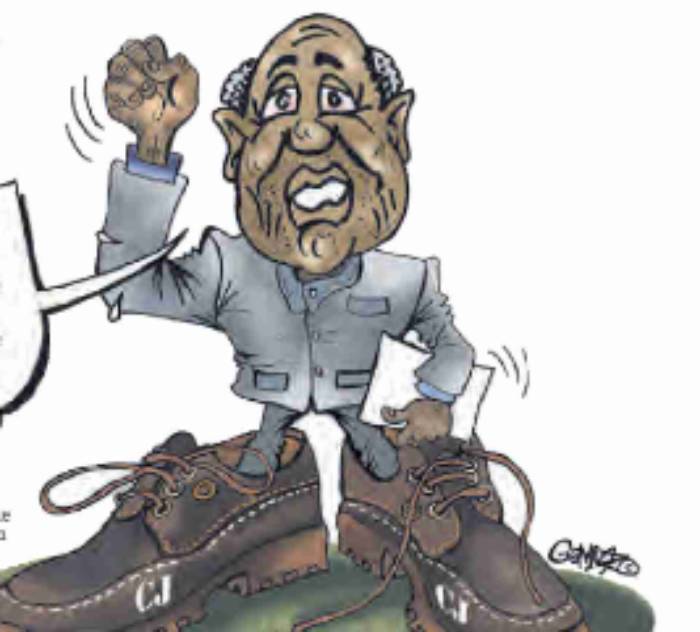 After Harold realised that his Prayer Payment Initiative was floundering, he visited Gitegi's most famous consultancy, Pete's Intelligence, to find a way out of his mess. The experienced head of the consultancy, yours truly, did not mince his words.
"The die is cast," I told Harold. "Ndumia and Sue are taking over the church from you. It is not a matter of if, and not of when either. It is a question of what. What will be left of you?"
Harold, upon hearing that the die was cast, retorted: "I will die for what I started."
But before he died, Harold had one daunting assignment: to draft a Will.
He came into my bedroom a disturbed man that evening, foolscaps in his hands, and Sue's stockings wrapped around his head, which he does when he wants to take stock of what is happening around him.
"Pete," he grunted, peering into his own writing, so horrible he had to flick on his lighter to see what he had written. "You are the English guru here. Why do we call it a Will when it is used after the writer has died? Should we not call it a would?"
My explanation only confounded him more.
Harold stormed out of my room, and out of the house. I knew he was going to confront Sue. He took her to Maua for Valentine's just last week, bought her flour and 24 carrots and a rock (the rock standing for a diamond, therefore a 24-carat diamond) and confessed his love for her.
After he had left, I sneaked into his room and studied the contents of his foolscaps.
Harold, your favourite priest whose role models are Judas Iscariot, Adolf Hitler and my famous grandfather who spent a lifetime trying to capture the rainbow and bring it home in a gunny sack to make his drab marriage colourful, had written a letter requesting to be Kenya's next Chief Justice.
Harold made it clear that he was poised to become the local chief in the next few weeks, and so the vetting board had a lighter task; they were only going to be checking if he was going to be a good justice.
"I will already be a chief by the time the vetting begins."
Harold, in trying to convince his addressees that he was the most qualified candidate for the position, drew forced parallels with those who have come before him, saying that their names determined who they became.
"Willy Mutunga — the name Willy shows a willingness. David Maraga — the Biblical David was the man that killed Herod," wrote the priest, who often uses the wrong characters in the Bible to drive his point home; he relies more on hearsay than he does on reading the holy writ.
"And I am Harold, most often mentioned in The Lord's prayer. I have been struggling to convince him that the The Lord's prayer doesn't go: "Our father who art in heaven, Harold be thy name."
Harold further insisted that he feels he can streamline the justice system quite the same way he feels he has streamlined his church, and the gossip club. He called himself a disciplinarian, and a man rooted in principles, even reminding the panel that he was principal of the failed Harold College of Magic and Fortune Telling.
"I want to be the president of the supreme coat," he wrote. "I know that the coat of arms is one of our most important yet neglected coats, and I will give it the supremacy it deserves."
He said he would merge the supreme 'coat' and the coat of arms to have a Supreme Coat Of Arms of Kenya.
David Maraga, who was Kenya's Chief Justice until last month, left what many describe as big shoes to fill. He was a staunch Seventh Day Adventist and famously said, during his vetting, that he would not sit for a hearing on Sabbath.
But Harold is categorical there are no shoes too big for him.
"I can even do size 11," he wrote. "I do not fear shoes purely because they look big. As a matter of fact, his shoes might be too small for me, and this is no mean feet (sic). If they are too small, I will do this thing barefoot, fight bare knuckle and bear the burden of the Judiciary to streamline this country."
But on the issue of the Sunday service, Harold is unwilling to follow in Maraga's example. Harold, a jack of all trades and a master of none, said that while he respects the day, he wouldwork on Sundays, like Christ who was bashed for conducting miracles on Sabbath.
"We are dealing with endless backlogs and that is what I will be trying to eliminate."
I'm sure Harold does not know what backlogs are. It is not entirely inappropriate what he wrote though, because as an environmentalist, he thinks that preventing backlogs is stopping illegal logging.
But above everything, Harold says that he is considering being an ice-cold head of jury, with no tolerance for impunity.
"I will serve justice ice cold, otherwise it will be just water!" reads a joke that concludes his letter, copied from God knows where. ?