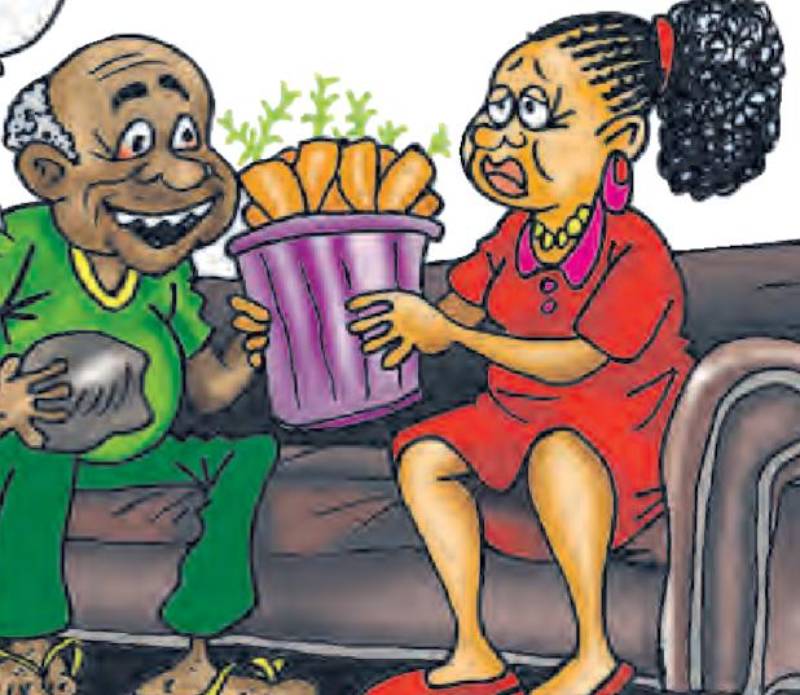 Uncle Harold yesterday said the only rose he wants to hear about this February is in a statement like "Christ rose on a Sunday".
After Harold's Prayer Payment Initiative suffered blow after blow, with Ndumia, the embattled assistant pastor at Harold Assemblies of Holy Associates (Haha) campaigning vehemently against it with every chance he gets, he's teetering on the brink of poverty.
For a man who literally lives from hand to mouth, his Sunday collection does not see midweek, and he has to scrounge for scraps end-week.
The controversial preacher, who preaches wine and drinks wine, caused drama last year when he fulfilled Sue's Valentine's wish with shouting impunity. It was the first time he was taking instructions from anyone.
Sue asked for flowers, which Harold promised to get from an unnamed local vendor. "Nataka pia unipatie dooh (I also need some money)," said she in the purring voice she uses whenever she is looking for the odd favour. Which she gets.
Harold left wearing his red smock-frock, which pretty his gown, both reddened by a combination of spilt church wine and the occasional squirts of blood when he works in the local butchery in exchange for meat.
Three hours after Harold had left to go and bring Sue what she wanted, I heard him drunkenly singing by the gate. When he finally made it to the house, Harold dragged in his gifts and collapsed into a heap.
In one package were three two-kilo packets of wheat flour, and in the other package, heavy as lead, a well wrapped box, which I put away as we helped him onto a seat. "Make some chapati and then we can proceed with the rest of the niceties," he stammered in the tone he has used for lies since the 90s.
An elated Sue made chapati, adding every sweetener in sight, singing about honeymoons and red roses, and sending me for the occasional spice from under Harold's bed. When she was done with the chapati, Harold fished out meat wrapped in a newspaper from his pocket.
I wanted to point out that the cat had been missing all morning but could not muster the courage. After we had all had chapati and meat, Sue inched closer to Harold and, in the romantic voice she uses to woo him into punishing his savings accounts for her, asked where her flowers were. "I brought you three flours," Harold coughed, belching like an overfed cat.
Friday evenings have been Harold's days at the watering hole, and this was on such a day, where he chairs the weekly meetings for the gossip club. There he meets, alongside other influential parties, Sue, who, in addition to being the chief barmaid is the club's secretary.
Soon that afternoon, he told Sue he would be going out to meet Sue, but would, before then, prove to Sue that he was smart, and that she was anything but. "How many flours did you even want? Three should be enough."
Sue's eyes dilated into monster balls, but Harold, with his tummy heaving, sunk deeper into the couch, propping his head against a pillow. "And you said unataka dooh. That is why I ensured you made your own dough!" said Harold, who considers himself funny. Only he does.
Harold was not done yet. He struggled to his feet and hobbled towards the parcel he had by now tucked away in a drawer. He unwrapped it slowly as if for dramatic effect.
I had been given the task of blindfolding Sue; my palms over her eyes, close enough to bar her from seeing anything but my skin but far enough not to wipe out her foundation and make her totally unrecognisable.
When Harold had done away with five wrapping papers, a bunch of carrots popped out. At first, it was another unfunny joke. What he unwrapped next was plain silly.
An ugly stone jutted out from beneath yet another bunch of carrots. When he signalled to me to let go of Sue, I skipped back and waited for her frustration.
"Surprise!" he screamed, hands struggling to escape his cumbersome frock as he waited for Sue to fall into his embrace. "Few people date geniuses," he said pulling out a date from his pocket, which he tossed at Sue.
"You are my sweet date. Here, a stone, because I rock. But think about it, it is not just a stone, but a 24-carat diamond!" Twenty four carrots, a rock and a date; not to forget flour1
I knew that Harold did not have a clue as to what a 24-carat diamond is. Neither did Sue. She remained rooted in her spot, speechless, staring blankly.
He had promised to, in 2021, take Sue to Meru for a Valentine's treat. He is taking her to a town called Maua in Meru. That's all the flowers she will get today.