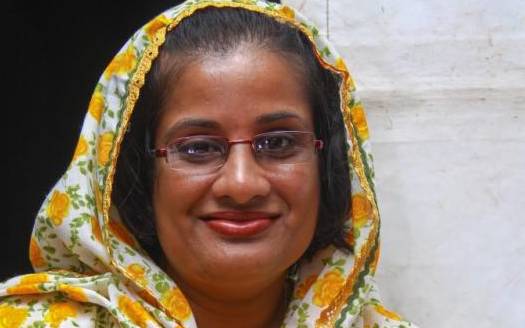 Nafisa Khanbhai, 43, was born with spina bifida. And while this throws many curve balls her way, she has learned to smile through her pain and make other lives better. I was born with a crack in my spine, a condition doctors referred to as spina bifida. My skin was torn above my hip, right where the cracked spine jutted out. That day, my parents were told that I would use crutches for the rest of my life since the lower part of my body had failed. Schooling was normal for me save for the fact that I had to wear nappies to school. I had a problem controlling my bladder. My mother would come to school every day at 10am to change my nappies. I remember one particular day when she came to change my nappies and I rose from my seat to find my white uniform soaked in blood. Then it dawned on all of us that at six and in Standard One, I had already started menstruating. When I was diagnosed with spina bifida, doctors had mentioned the likelihood of starting this process at an earlier-than-normal age. But still, the thought of teaching me about grown-up stuff and the whole menstruation process shocked my mother. But she did it to help me cope in school. I was also told that I would never conceive due to my condition.
SEE ALSO: Three agents charged with wrong declaration of goods out on bond
I was still adjusting to my new body when I started having strange ailments. I had these frequent excruciating pains in my belly and started noticing whitish particles in my urine. An x-ray at a hospital in Mombasa would confirm that my kidneys were not functioning well. At that point, nothing major was done to correct my situation since my family didn't have any money to spare. Earlier, in1985 when I was nine, my parents had sold the family house to put me on a special diet to manage my kidney condition. I had also undergone a surgery to correct my kidneys. The surgery involved the removal of the whole urinary system to get it sterilised and then put back in place. It was, however, still non-functional, and instead I started using special urine bags to discharge my urine. I also stopped wearing nappies. It wasn't easy adjusting to urine bags. Back then, the bags were not as good as the ones we have now. One also had to remove the bag every time they wanted to empty them and it was tiresome to walk around with them. Besides, the bags would peel my skin every time I changed them and the iodine used to clean the wound would burn my skin until the whole area became numb. Additionally, we had import the bags in bulk from Denmark since there weren't any in Kenya. Today, the available ones have a form of tap at the bottom that one opens to let out urine. I wear adult diapers especially when I am travelling. I then add on a special type of plastic panties just in case my urine leaks. With the stoma attached to my urinary system and without a functioning bladder, I have no control of my urine that runs through out.
Dealing with the weirdness
Initially, I was conscious of the bags and imagined that I could wet my bed when I fell asleep. The anxiety has, however, died with time. I only wake up once at night to empty the bag. I also empty it about five times during the day.
SEE ALSO: Port business rebounds after end of restrictions
It hasn't been easy managing my condition. In fact, I quit school and didn't go past primary school because I didn't want to deal with the school nappy changes. But I enrolled for private English classes since I loved the subject. Sadly, I haven't found a brave man who can accept me the way I am. In fact, I have met men who bluntly told me their families wouldn't accept me. For 22 years, I have devoted my life to charity work at an orphanage and a charity organisation I run. I find strength in the 37 children I take care of at Restoration Orphanage. I have also been running Dear Diary Initiative Kenya that is based on a play I wrote about my life. The play was first staged in 2009 in Nairobi and aims at creating awareness that disability is not inability. My biography, Unbroken Wings, has also been widely circulated here, in Canada and in the UK. I have always wanted my life to be an inspiration to people with sometimes unbearable health complications and those with disability. My other biggest source of inspiration is the Stoma World Kenya where we get encouragement and referrals to donors of our special bags. Our only plea as people relying on stoma bags is for Kenya Revenue Authority (KRA) to stop delaying the containers ferrying bags from our donors.