Were Kenyan designers outwitted?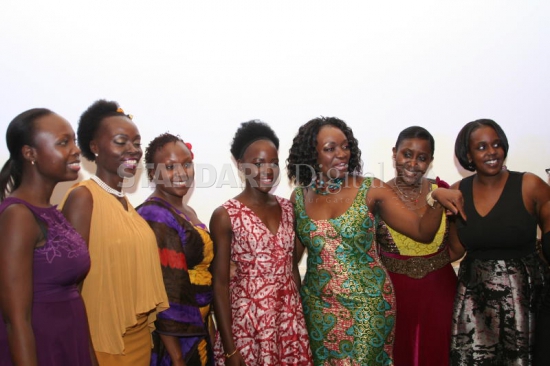 I am not a fashion journalist, nor do I have an award engraved with my name for anything remotely related to trends in dressing and design.
However, I hold opinions on clothing and the industry — probably I am like the loud football fans who castigate every missed opportunity by players.
But don't they have a point? A wasted opportunity remains a squandered chance, whether it is voiced by a fractious supporter or a decorated coach.
So, after all the protestations about how Lupita Nyong'o had confined Kenya to the back of her closet in the wake of her Oscar fame, the superstar daughter of Senator Anyang' Nyong'o finally made an official grand return to her home country amidst much fanfare.
That seemed to have been the cue for our brash bloggers and fashion "experts" to go bland, which is rather surprising for a lot whose ill-considered opinions on anything and everything fashion is not unlike the itchy feeling of tight and discomfiting pants riding up the length of your body. Seventy-two hours after Lupita stepped out to declare her new-found love for jumbos, no journalist, blogger or fashion writer could thread a story about who she was wearing.
Kenya's media personalities who had thronged the hotel for what each of them called an exclusive interview, did not have the presence of mind to find out about her jewellery, her shoes, make-up, clutch purse or even her horn-rimmed glasses.
The person who asked her who she was wearing, and why not a Kenyan designer, was Dickson Migiro who rarely, or never attends Kenya's innumerable and inconsequential fashion events which do not translate in to anything wearable.
Now, Lupita is a fashion goddess who blazes international red carpets and whose cloth designers and even lip balm we get to know of even before she assures us about the validity of dreams.
Granted, not every starry-eyed scribbler or cub reporter with a mic or notebook could have got access to the Queen of Katwe, but who said you had to meet her to get the info?
Her celebrity stylist, Micaela Erlanger is apparently a very "wonderful and approachable person," at least according to Deepa Dosaja.
And Deepa should know.
While the rest of us were staring agape at the wonder that is Lupita and fretting over her "paddling" prowess, or lack of it, with a mwiko to whip up a mean lump of ugali, Deepa had finalised a complete set of outfits for her.
Yes, that "fabulously stunning" handpicked ensemble featuring a hot pink, bespoke, silk, hand-painted and embroidered coat and skirt our girl wore in her rural Seme home in Kisumu is made in Kenya.
It was fashioned in Deepa's signature flower detail, with the flower motif being "inspired by the diverse beauty of Kenyan wilderness and embodies the true nature of the sophisticated elegant modern woman."
According to Deepa, "Lupita has been on my mind for ages. Every time I see her on international red carpets and in magazines, I get convinced that she was meant for my designs. She is perfect for what we stand for."
So, she looked up Erlanger and made a pitch to dress Lupita. Now that is a hustler, and that is how the wheel of the fashion industry spins. That Deepa is business savvy is not in doubt, after all, she is the 2013 winner of Africa's Most Influential Women in Business and Government.
Without coming across as toffee-nosed, is it that our designers have a tailor mentality, unlike the portentous enterprise of Nigerians, whose Maki Oh brand by designer Amaka Osakwe, is what Lupita was actually wearing on Tuesday as she faced Kenya's haughty media personalities and endorsed WildAid's elephant conservation efforts at Villa Rosa Kempinski.
And not just one look, but two. First in chic, hand-painted and hand-dyed Adire — the traditional Yoruba art of dyeing with natural indigo — and then in a silk satin and velvet vest with silk cotton wide-leg trousers at Kenyatta International Convention Centre.
Why is it that a Nigerian is the first African designer the Kenyan actress has worn at an event?
Even Erlanger more than just hinted during an event organised by Ann McCreath to link our designers with the celebrity stylist, that our local designers' approach to business is more smoke than fire (my words)!
Hopefully, such initiatives by McCreath — who happens to be a real hustler —would not be a one-off.
At least she knows how to "sneak on a prey," starting by dressing Lupita's mother Dorothy during the BAFTAs in 2014 and on Thursday, Lupita's sisters for the Sh10,000 "an evening with Lupita" dinner when the Oscar winner herself wore a design by Sophie "Sy" Zinga, a Senegalese.
@omondipaul