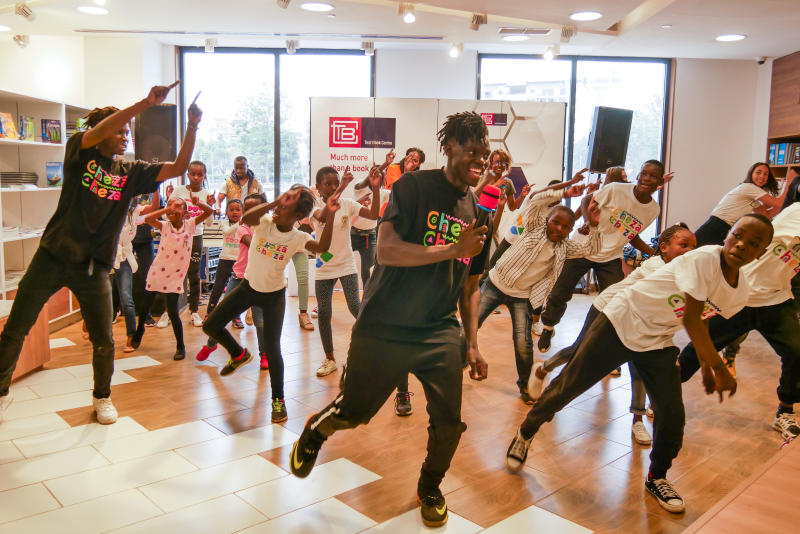 During this school holiday, 13-year old Jennifer Awuor makes her way to a class in Bombolulu, Kibra. The little girl has a notebook and a pair of dancing shoes in hand. She catches up with the other students before they form a circle to be informed on the day's activities.
The dance educators, Eric Juma, Diana Akoth and Moses Murigu brief them on the day's life skills teaching. Each student is asked to check in with their emotions and express them through a dance to music of their choice. The dance educator forms groups to present choreography of their own.
Jennifer always looks forward to these classes and tells us that she has not only become better as a dancer, she is able to relate better with people through these learning groups.
This is no mean feat in this informal settlement where many young children are left alone at home as parents fend for livelihood. Some of these children fall prey to drug abuse, join criminal gangs and are swayed to drop out of school by wayward peers. Some of them go to the streets to make a living of their own.
Fourteen-year old George Wasonga used to sell scrap metals to make money and engage his time when schools would close before he got to know about the dance programme.
"The programme has helped me learn how to control emotions by explaining what it is that I feel. I have been equipped with tools to work with people. I am more aware that it does not matter where I come from, I can make the choice to be who I want to be," says George.
Jennifer and George are among the 280 children that ChezaCheza, a dance and life skills foundation, hosted in three hubs situated in Kibra. It is a free after-school programme that seeks to impart life skills to young people through dance.
Francis Odhiambo founded ChezaCheza to build a safe space for children to go to as opposed to the streets. He created it two years ago, but it became solid last year when he met Cherelle Druppers, now a co-founder and CEO. He set the programme in motion when he opened the doors to 20 children.
"As we were rehearsing in the hall, there were children peeping through the window. We could see that they were interested in dance. We invited them in for a month to see if they would want to go on with the classes. We visited their homes to get parental consent for those who wanted to be part of us after a month," says Francis.
The 22-year-old, having been born and raised in Kibra, hopes to change the mind-set of the younger generation of his community.
He notes that it is easy for young people from informal settlements to build a negative mind-set towards life and to fish for sympathy to become successful. The other view he is fighting to change is to show dance as a positive activity since he has seen that African parents, especially those living in slums, believe dance promotes unruliness.
"They associate dance with bad behaviour and think that it will corrupt their children's moral values. But dance is a way of expression we are trying to change the narrative of the parents to allow their children to dance. These children get into drugs when they are stopped from dancing," says Francis.
The children meet five days of the week during the holidays and once a week when schools reopen. The programme has its our own curriculum, which is in three parts; self-awareness, collaboration with others and the last part is on critical thinking, which entails creativity and problem-solving.
"We teach them that they can go for their dreams where they are right now and in the circumstances there are in. We want to engage them to reach their potential. If one of them wants to be a lawyer, we train that person to go out into the world to be an empathetic, critical thinking lawyer, " states Francis.