Otieno stars as Shujaa finish second in Vancouver Sevens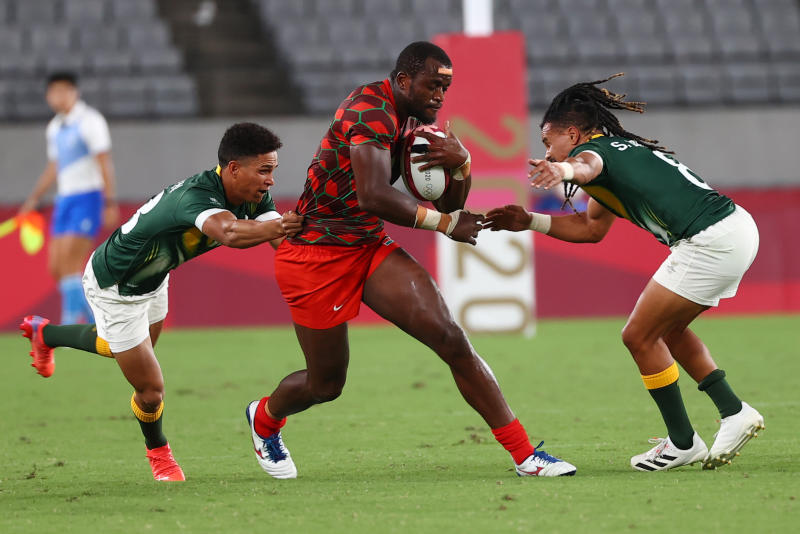 Alvin 'Buffa' Otieno might not have ended up on the winning side but he was unstoppable after he inspired Shujaa to a second-place finish at the Vancouver Sevens.
Kenya Sevens lost 38-5 to South Africa's Blitzboks in the Vancouver Sevens final played at BC Place Stadium, in Canada, yesterday. This was the first all-African Cup final since 2008.
Daniel Taabu scored Kenya's sole try with Angelo Davids, Sakoyisa Makata, Christie Grobellar, Ronald Brown, and Darren Adonis going over for South Africa.
Otieno finished as Shujaa's top try scorer with seven tries followed by Willy Ambaka and Taabu, who scored three tries each. Tabuu finished with 39 points for Shujaa, followed by Otieno with 35.
Kenya Seven's five freshmen did not disappoint as Alvin Marube and Timothy Mmasi also joined the party with two and one try respectively.
Kenya is now second on 18 points with South Africa seating top on 20 in the overall standings.
On the way to the final, Kenya beat Ireland 38-5 in the semis, USA 19-14 in the quarters, Spain 17-5, Mexico 45-7 and lost 33-14 to South Africa in pool matches.
The last time Kenya reached the final was during the 2017/2018 World Sevens Series.
Interestingly, it was at the Vancouver Sevens and Hong Kong Sevens where they lost to Fiji 31-12 and 24-12 on both occasions.
The tournament in Vancouver had only three pools after some of the core teams in the Series; New Zealand, Fiji, Australia, Argentina and Samoa failed to show up owing to Covid-19 travelling restrictions.
Meanwhile, Shujaa halfback Daniel Taabu was voted the Vancouver 7s DHL Impact player of the tournament.
Taabu played a key role in Kenya's performance and got involved in almost all the tries that Kenya scored in the tournament. He topped the impact player table with 69 points.
Taabu made an impressive six tackles, eight line-breaks, five offloads and 29 carries for Kenya.
Otieno is also part of impact players (sixth) having made eight tackles, seven breaks, one offload, and 21 carries for 52 points.
Impact Player Table recognises such moments using a statistical analysis of individual players' performances measured against four key criteria;Off-Loads, Carries, Line-breaks, and Tackles.
The Kenya Sevens squads also received the Mark of Excellence award following their impressive display across the weekend.
After winning the opening round of the 2021 World 7s Series, South Africa are top of the standings following a 100% win record that earned them victory.
They head to the final tournament of the 2021 campaign seated top with 20 points. Shujaa are second on the log with 18 points after finishing second in the tournament.
Great Britain are third with 16 points following a podium finish. Ireland have 14 points from the tournament having finished fourth.
USA close the top five with 12 points while Canada are on 10 points following a sixth-place finish in their home tournament.
The 2021 Series continues in Canada for the Edmonton Sevens this weekend.