Isaac Juma: The man who lived, ate and breathed football
FOOTBALL By Ben Ahenda | January 28th 2022 | 3 min read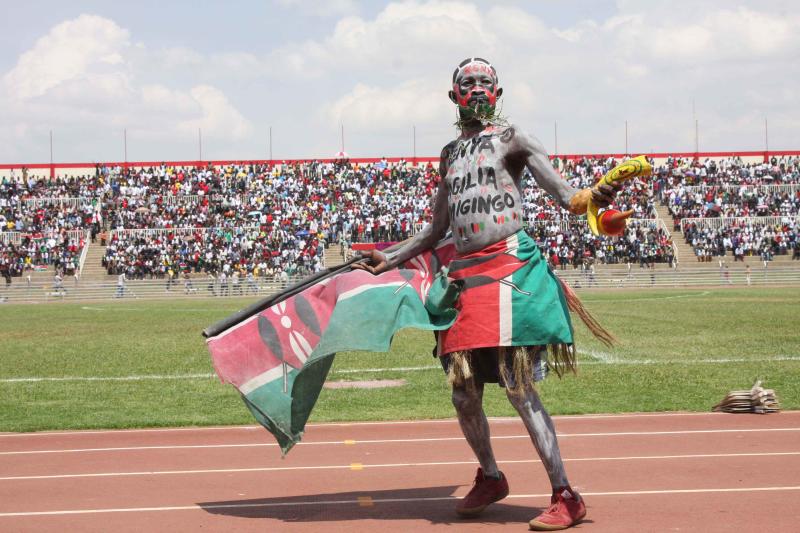 When Harambee Stars number one fan Isaac Juma relocated to his rural home in Mumias from Nakuru Municipality in 2019, he wanted to live a simple life. He had stayed in Nakuru for more than four decades.
And he did so with nostalgia knowing very well his life and that of his family would change for the better to avoid the daily urban-set-up expenses after being bogged down by domestic pressure.
Juma, who had worked as a shoe shiner cum newspaper vendor for over four decades in Nakuru, was hacked to death on Wednesday night (January 26, 2022) by unknown people in Mumias, Kakamega County.
Since relocating to Mumias, his life took a nosedive owing to family pressure that led to the theft of part of his livestock and loss of working tools worth Sh300,000.
"I'm back to square one as I cannot meet all my financial needs after my all lifetime investments were stolen due to these domestic squabbles," Juma told Standard Sports on September 5, 2021.
Being an ardent AFC Leopards and Harambee Stars fan, he toured many parts of Africa with both teams.
With his torso branded in Harambee Stars and AFC Leopards colours in Kenyan Premier League and international matches, Juma became a centre of attraction to thousands of fans and dignitaries for for over three decades. This equally earned him advertisers and resources that he channeled towards his children's education.
"Funds from fanaticism has supplemented on what I earn from my shoe shining business towards supporting my big family as I had equally invested in livestock and poultry farming from the proceeds of football," Juma said in a past interview.
Land squabbles
Born 59 years ago, Juma had two wives and 15 children.
"It is tough on us to have lost my father at a such a time when we need him most through these land squabbles that could have been solved amicably," said Caroline Auma, Juma's daughter.
Auma wondered why his father had to undergo this painful death.
COVID-19 ruined Juma's lifestyle as a fan where for over three decades his football theatrics endeared him to fans and advertisers.
When he branded himself with Harambee Stars and AFC Leopards colours, images of a few products from advertisers were inscribed on his chest, a brand that soon became his trademark in the multi-million football industry.
As a result, Juma earned recognition from far and wide where football was in his menu.
Surprisingly, even when stadiums were fully packed, Juma was able to access the pitch just like an appointed match official.
When a goal was scored, he could make an electric lap around the pitch before rolling on the ground several times in appreciation of the scored goal while waving to the ecstatic fans until when sporting activities was banned in March 2020.
It was a hilarious moment that left spectators thrilled both in local league and international matches.
All these theatrics were only evident in matches mostly involving two teams; national football team Harambee Stars and AFC Leopards.
His ardent support of the Kenyan giants earned him the nickname 'Ingwe', meaning a leopard in Luhya dialect.
He was easily traceable in Nakuru town as Ingwe as opposed to his real name.
His love for football can be traced way back in 1987 at the All African Games final match between Kenya and Egypt at Nyayo Stadium. The Pharaohs won 1-0.
As Kenya lost by the solitary goal to pick a silver medal, Juma was equally awarded with a national flag by the late President Daniel Arap Moi owing to his passion for the game. Later on, many leaders followed suit.