Tokyo Olympic Games: Timothy Cheruiyot in, Kamar Etyang out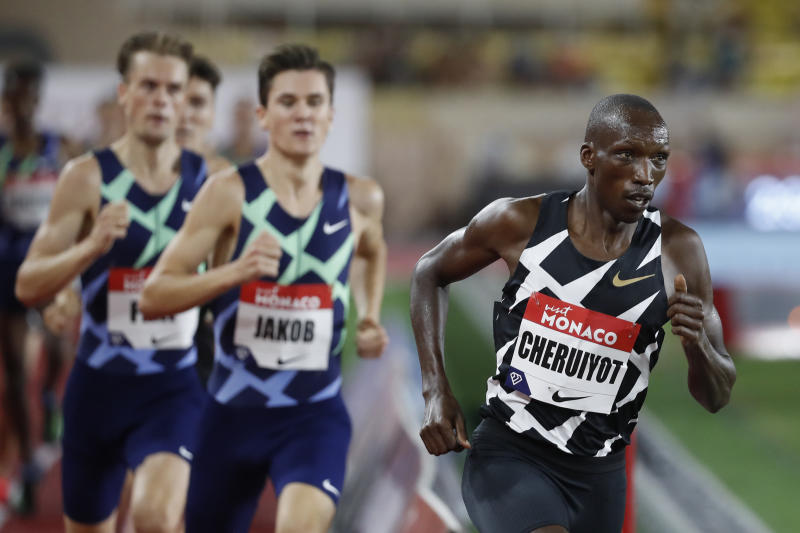 It's Timothy Cheruiyot and not Kamar Etyang, who will compete at Tokyo Olympic Games.
To the athletics world, the Summer Games without the world 1500m champion Cheruiyot was just out of this world.
Cheruiyot finished fourth at the national Olympic trials in Nairobi and missed an opportunity to represent Kenya in 1500m at the Games that begin next week on Friday.
But just as the chit-chat kept going on Cheruiyot missing in action, the athlete was yesterday named in Kenya's final team to the Olympics as Athletics Kenya and National Olympics Committee of Kenya (NOC-K) dropped Kamar Etyang who had not undergone mandatory anti-doping tests as required by AIU and World Athletics, ahead of the national trials.
Before yesterday's changes, the reigning world champion had not finished celebrating a stunning world-lead win of 3:28.28 at the Monaco Diamond League last Friday.
Team Kenya's management said the decision to include Cheruiyot in the team was made at a steering committee meeting in Nairobi yesterday.
Cheruiyot's Olympic dreams were hanging in the balance even as he produced the fastest time in the world for six years at Friday's Herculis meeting.
He is Kenya's favourite for gold in 1500m at the Olympics given his impressive performances in recent years.
Etyang, who has been dropped from the team, came in second during last month's trials.
His dream to represent Kenya at the Tokyo Olympic Games had been shrouded in confusion, as determination by the World Anti-doping Agency (WADA) and the Athletics Integrity Unit (AIU) was awaited.
Cheruiyot disclosed after the Monaco win that a hamstring injury and the death of a relative on the day of the national trials had affected his performance and exuded confidence that he would be selected for the Olympics.
He now joins Charles Simotwo and Abel Kipsang who placed first and third respectively at the trials held at Kasarani Stadium
Team Kenya General Manager Barnaba Korir confirmed that Etyang was dropped from the team over the compliance issue.
"The case (Etyang's) was a complicated one. Chances of winning were so minimal and the cost of testing the athletes was huge. This should not have happened and we will ensure that it does not happen in future," Korir said.
Team Kenya management also dropped US-based Moitalel Mpoke (400m hurdles) over reasons similar to those that locked out Etyang.
Racewalkers; Samuel Gathimba (men) and Emily Ngii (women), who were in the initial team, were also dropped.