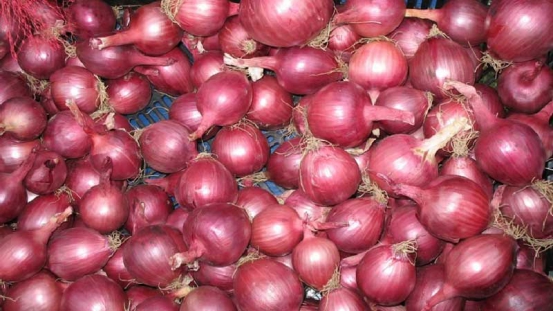 NYERI, KENYA: Farmers have protested against an influx of cheap onions from Tanzania, saying they are ruining local prices.
Tonnes of Tanzanian onions have flooded Nyeri markets, threatening to edge out produce brought in by local farmers.
The influx has seen onion prices drop to as little as Sh23 per kilogramme of Grade 1 red onions and Sh15 for Grade 2.
Three months ago, a kilogramme of Grade 1 onions went for between Sh50 to Sh80, while Grade 2 went for Sh50.
Read More
"The markets are filled with Tanzanian produce, we are facing serious challenges because of the surplus in the market," said Josphat Kingori, a farmer.
Kieni Constituency is considered one of the top producers of onions in the region. However, a kilogramme of onions is now going for as little as Sh80, half the price it was fetching in March.
Local traders say they prefer Tanzanian onions.
"These onions from Tanzania are well cured and of better quality than the local ones that have just been harvested and not dried," said Kimani Waigwa, a vegetable seller in Nyeri town's open air market.
No intervention
In a statement, Nyeri Agriculture department declined appeals by some farmers to intervene and stop Tanzanian onions from being sold in local markets.
"We have received complaints from our farmers asking the government to intervene. With current East African integration, we cannot stop onions from Tanzania, since nothing stops our farmers from selling in Tanzania," the department said in a statement.
County executive for agriculture Henry Kinyua said the main challenge facing the region's onion farmers was managing harvesting period and processing harvested crop.
"When onions are ready for harvesting, farmers are supposed to cut the leafy part and leave onions in the field for a minimum period of two weeks, or alternatively harvest and spread the bulbs out in the sun," he said.
This, he said, made the onions dry naturally, thus increasing their shelf life.
"Ethiopian and Tanzanian farmers have perfected this, and that is how they have taken over East African markets," he said.
"Local farmers on the other hand are quick to sell and skip the drying process to send produce to market when the bulbs weigh heaviest," he said.
The agriculture department, he said, was training farmers on how to handle competition posed by Tanzanian imports.
"We are training farmers to carefully study market trends and significantly reduce growing crop that will mature in June/July season when Tanzanian onions flood the market. The best months to have your onions ready for market is either January to mid-March or August to September seasons," Kinyua noted.
He advised farmers to embrace the practice of curing, and stop rushing to sell uncured onions.
But farmers such as Daniel Gakuo said while they were willing to dry and store their onions as they wait for opportune time to sell them, they lacked proper storage facilities.