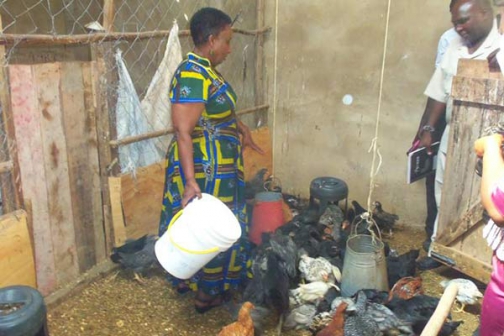 The life of a politician is so busy and complex that a side hustle like farming would most likely collapse due to political engagements.
However, for the last three years, Makueni Deputy Governor Adelina Mwau has successfully juggled politics and farming.
When The Smart Harvest visited her three-acre farm at Kalongo village in Kaiti Sub County, we found her busy feeding her chicken.
Ms Mwau's farm holds 850 chicken - the improved Kari Kienyeji breed – and has now become a training ground for upcoming farmers who flock the farm every so often to get tips on sound farming practices.
Every day, customers flock her home to buy either eggs or day old chicks for rearing. A day old chick is sold at Sh100 while a month old goes for Sh250. A four month old retails at Sh500 while a grown chicken is sold at Sh1,000.
When she was starting off, Mwau says she had a flock of 100 chicken bought at Sh50,000 from Naivasha.
PEACE OF MIND
Months later, she increased the birds to 200 as the business picked up. Slowly the project picked up.
"It is a profitable and fulfilling farming," she reveals while taking us around the farm, stopping at different points to collect eggs.
The deputy governor says she is not bogged down by office work because as she puts it, women are good at multitasking.
"I inspect the farm very early in the morning and give instructions here and there to ensure everything runs smoothly. Besides, I have a dedicated team of workers who are passionate about what they do," says Mwau, whose farm is managed by five farmhands.
Other than layers, she also keeps broilers which she sells for meat to hotels across the county.
"When I see people coming here to buy, it gives me a lot of encouragement to continue," she offers.
In a good month, Mwau says she can fetch Sh100,000 but on a bad season it drops to Sh60,000.
"Last December we made very good sales because it was a festive season," she asserts.
In another part of the farm, she has installed three incubators to hatch eggs. The incubators have capacity to hatch around 800 chicks at one go.
The downside, however, is the recurrent power outages which interfere with the process.
MARKET ISSUE
"Incubators use electricity to hatch but our county has constant power outages. As a farmer, if you don't have an alternative source of power, it is easy to be driven out of chicken business," laments Mwau, revealing that as a county government, they are planning to sue Kenya Power for denying such farmers their rights.
"Sometimes we get a power outage lasting six hours, so farmers who rely on electricity lose their products and customers as well. Why does it have to be Makueni?" she poses.
To curb this, Mwau is installing solar power whose design is already complete.
She says the demand for chicken and its products is so overwhelming that she is unable to satisfy the market.
She has a client who has placed an order for 5,000 chicken but she is not able to meet that.
To cure the deficit and as a way of eradicating poverty among her people, Ms Mwau is identifying needy women, the elderly and people living with disabilities to empower them.
"I will donate free chicken to them so that they can also go into chicken farming. That way they will have an income generating activity," she says.
"If in this village each family had 50 chicken, every home would have eggs which are a source of proteins because it's not everybody who can afford meat."
Mwau says she will identify farmers with enough chicken but who lack market to form a cooperative society to market their birds.
"As such it would be easy for a client who needs a large number of chicken to get them," she notes.
Despite giving her returns, Ms Mwau says the venture is her relaxation therapy after a tough day at work.
"After a hard day's work in the office handling political and development issues, I retreat to my farm in the evening to feed the birds and tend to my animals. It gives me peace of mind as I am able to relax from the pressures of politics," says Mwau.
NOT A ROSY AFFAIR
However, it has not been a rosy affair for the farmer who says the birds which are prone to diseases, needs a lot of attention.
"Once in a while I have lost a few birds to diseases, the commonest being Newcastle disease. But thanks to livestock extension officers in every ward, I have been able to contain the diseases. The officers are just a phone call away," she says.
Ms Mwau points out that her farm has made it convenient and cheaper for farmers who want to buy eggs for hatching.
Unlike in Naivasha where a farmer would buy the eggs at Sh60 each, Mwau sells the same for Sh20 to encourage other farmers especially women to take up the venture.
The deputy governor, who was introduced to farming by her mother at the tender age of five at Nditikwa village is not stopping at chicken farming though.
In her farm, she also keeps 11 dairy cows which produce about 200 litres of milk daily. The milk is sold to hotels in Wote town where a litre fetches between Sh50 and Sh70. Some milk is donated to her private school; St Teresia Kilungu Academy.
To keep the flow of milk, Mwau has grown a lot of nappier grass to feed the cows.
"Regularly I buy hay and mix it with the nappier grass. Other times I buy feeds from unga factories," she says.
She is also into banana and cabbage farming.
Due to her standing in society, Mwau receives a lot of guests at her farm which is next to her home.
As the interview concludes, she jokes that since she is into business, she does not feed her visitors chicken.
"I am happy to take them round the farm but we don't feed them the chicken as that would cripple the business. However, a few lucky ones get cabbages," she says with a hearty laughter.
Future plans?
"In most farming circles, people are talking about value addition and tapping into the export market. Indeed, those are great possibilities that I would like to explore in future," she adds.