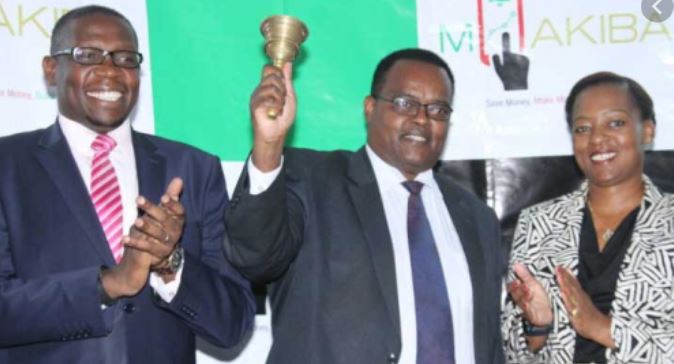 Thousands of small investors in Kenya's government infrastructure retail bond, M-Akiba have received their final dues from Treasury.
The Central Depository and Settlement Corporation (CDSC), which is the issuing and paying agent for The National Treasury (TNT), paid out the principal amount and final interest of Sh935.9 million to 13,592 M-Akiba 2 Retail Infrastructure Bond investors.
M-Akiba 2 was first issued on June 30 2017 after a successful pilot phase launch of M-Akiba 1 on 23 March 23, 2017.
"The final interest and the principal amount paid out to M-Akiba 2 investors is Sh44.6 million and Sh891.4 million respectively," read an M-Akiba statement. "This follows the final payout in April 2020 to 5,609 M-Akiba 1 Retail Infrastructure Bond investors totaling Sh157.6 million."
M-Akiba 2 Retail Infrastructure Bond Investors have previously received five interest payments on totaling Sh222.8 million.
After buying the bond, one is paid back their initial investment amount, the principal, after one and a half years in addition to the annual interest payments received throughout the period.
Read More
In its time, a total of Sh312.4 million was paid out in interest to all M-Akiba Retail Infrastructure Bond Investors, with Sh1.04 billion raised from the five Bond Issues since 2017. CDSC also recorded a total of 582,572 M-Akiba registrations since the first Issuance in June 2017.
The retail Bond was issued by the Government of Kenya to raise money to fund infrastructural projects.
CDSC Chief Executive Nkoregamba Mwebesa thanked Kenyans who participated in the two M-Akiba Bond issues "with interest and optimism".
Nkoregamba also thanked the National Treasury for bestowing confidence in CDSC as the issuing and paying agent during the M-Akiba Bond tenure. The Chief Executive also thanked the Capital Markets Authority (CMA), Nairobi Securities Exchange (NSE), Integrated Payment Services Limited (Pesalink), Safaricom PLC, and Airtel Kenya for partnering with CDSC during the Bond issuance and coupon payments.
The Chief Executive reaffirmed that the objectives of the M-Akiba Retail Infrastructure Bond were achieved.
"The National Treasury was able to leverage on increased mobile phone penetration across the Country to democratize access to formal financial systems for savings and investments among Kenyans," he said.