Billion shilling projects fail to solve gullies menace
By MANGOA MOSOTA
I approach an elderly man to seek his views on the effects of Katuk-Odeyo Gullies on the livelihoods of locals. However, the resident of Aol village in Nyakach District who is busy clearing a bush on his piece of land, does appear keen to offer any information.
"Ok wadwaru. Ubiroka loso pesa tuwewa kawatwo (we do not want you. Your aim is only to make a lot of money from us), says the visibly angry man. And his hostility and cynicism is understandable, as huge gullies have developed next to his home in last two years.
Apparently, he had mistaken me for an official of yet another agency gathering information on the gullies.The amount of money the Government and NGOs have directed towards initiatives trying to address the gullies problem in Katuk-Odeyo is said to run into billions of shillings.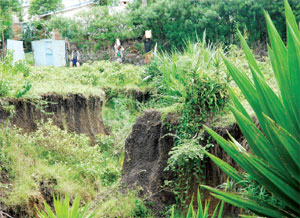 New gulleis that have formed next to residential areas in the last three years [PHOTO: MANGOA MOSOTA/STANDARD]
Experts say in the last ten years, close to 20 NGOs and several Community Based Organisations have secured close to Sh2 billion to reverse the situation but with little if anything to show for it.
Dr Raphael Kapiyo, who has been involved in intervention to control the destruction of gullies, says the figure could be higher.
Kopiyo also says although a number of studies have been done on the enduring crisis, they have only ended being academic exercises, what he calls 'academic tourism'.
"There are research projects such as PhD studies that have taken advantage of the tragedy to acquire knowledge which do not serve the interests of residents," Kapiyo says.
Judith Miguda-Attyang, a communication expert, concurs with Opiyo that there is a mismatch between the studies and efforts, if any at all, to solve the problem.
"On whose interests has research conducted in Katuk-Odeyo served? The community lives in abject poverty," says Prof Miguda-Attyang, a lecturer at Bondo University College. Both dons argue that carrying out surveys on how the locals have been affected by the gullies without using the findings to offer solutions is unethical.
Five-year project
Wangu Mutua, a project manager with SCC-VI Agroforestry, a Swedish NGO engaged in afforestation in the affected area, says it is not uncommon for some organisations to pass off interventions by other groups as theirs.
"There are NGOs that have barely done nothing, but are quick to show their donors results on the ground that they were not part of," says Mrs Wangu.
These sentiments are shared by George Ayaga, who was project coordinator of Western Kenya Integrated Ecosystems Management Project (WKIEMP), a five-year project that lapses mid last year.
It was implemented by Kenya Agricultural Research Institute.
Other organisations trying to mitigate the catastrophic effects of the gullies include World Neighbours, the International Centre for Research in Agroforestry (Icraf) and Lake Victoria Environmental Management Project Phase (LVEMP).
Most of the interventions have done little to improve the people's standards of living in North East Nyakach and East Nyakach locations, where poverty levels hover around 58 and 60 per cent. The two locations are among the eight in Lower Nyakach division.