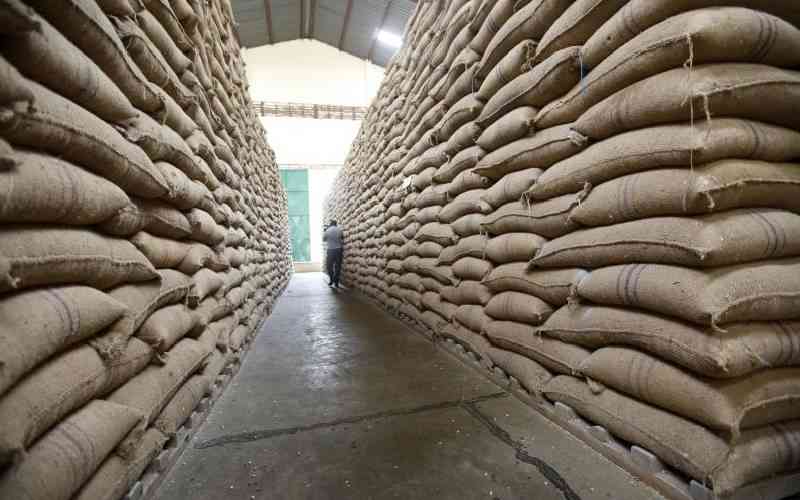 Small-scale maize millers in Nakuru have closed down due to an acute shortage of maize.
The situation has been made worse by the rising cost of maize which is now going for Sh7,000 from Sh2,500 per 90kg bag.
The millers are warning consumers to brace for harsh times ahead due to the current shortage which could see the prices hit Sh250 per 2kg bag.
In the last couple of weeks, the cost of maize flour has hit Sh220 per 2kg packet with millers blaming the rise on fuel prices.
According to Samuel Waweru, the chair of small and medium-scale millers in Nakuru, many of the millers could not afford to import subsidised maize forcing them to close down their businesses business or turn to other businesses.
"Many millers from Naivasha, Gilgil and Molo have been forced out of the market either due to shortage of maize or the high prices," he said.
"Kenya has never been self-sustaining in maize production and we have relied on imports from Uganda and Tanzania leading to the current crisis," he said.
He warned of low production in the coming months as many farmers had not applied fertiliser during the planting season due to the high prices.
Elijah Thuo, a miller at Thumkem Products said that it had become almost impossible to buy maize due to the high prices.
He added that previously, he was sifting over 15 bags per day but this had changed to less than one bag.
"We are living in hard times and the situation has been worsened by the escalating prices of fuel which has seen the cost of production also go up," he said.
Jane Wanjiku said that sifted maize was going for Sh100 per kilo up from Sh50 a few months ago with projections that this would rise again.
"We have been forced to increase the cost of maize-flour and this has affected many consumers who can only have one meal per day," she said.
Consumers Miriam Wangui and Khalid Faiz challenged the government to come in and cushion them as many families could not meet the current prices of maize flour.
Peter Kimani, the manager of Menengai Flour Mill said for the last one week, they haven't received any maize from their suppliers and since Monday, they have been turning customers away due to lack of unga.
He said they mainly depended on suppliers from the East African countries. However, the middlemen informed them that their stocks have been depleted and they have no capacity of importing.
Kimani said they milled over 100 sacks per day and their main customers were local households who purchased between two to ten kilogrammes.
According to the Kenya National Bureau of Statistics, local maize production in 2020 stood at 42.1 million bags, down from 44 million bags in 2019. The country's maize flour production over the last five years has averaged 2.8 million tonne annually.