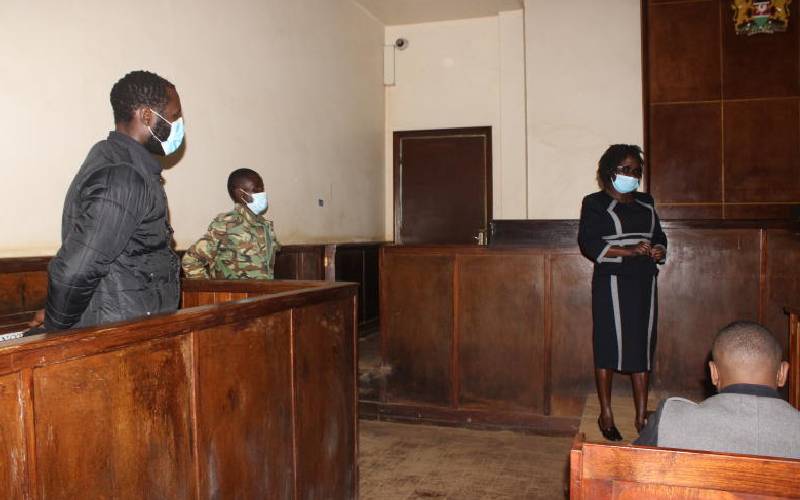 A man accused of killing three minors has been denied bond after prosecution proved that he had a bad record.
Evans Wanjala is to remain in remand during his trial following the decision by the High Court to reject his bail application for the second time, on grounds that he absconds court many times.
The court noted that the accused was a habitual offender, who was facing two other murder cases of minors in the same court and had pending warrants of arrest from the Chief Magistrate Courts in Makindu and Kajiado.
"I have seen in the proceedings that the accused has also been charged with a similar offence in Eldoret HCCR No E048 and HCCR No E049. In all these cases, the victims are minors aged between 10 and 14 years old and have signs of defilement and physical torture depicting a similar modus operandi (style/technique) of a serial offender," read part of the judgment.
Mr Wanjala, 34, is alleged to be behind the murder of five minors from Moi's Bridge in Uasin Gishu between 2019 and 2021.
He is facing three separate murder charges of minors Linda Cherono, 13, Stacy Nabiso, 10, and Mary Elusa, 14, before the High Court in Eldoret.
While ruling on the bond application, Justice Eric Ogola noted that the prosecution had provided overwhelming reasons to deny the accused bond, directing that Wanjala be tried while in remand.
Out-of-court confession
"From the foregoing, this court is satisfied that the applicant's entitlement to bond can be interfered with by this court on the strength of the above overwhelming reasons given by the prosecution. For the foregoing reasons, the application for bond/bail is denied, and the accused shall be tried while in remand," ruled Justice Ogola.
Justice Ogola noted that the prosecution's affidavit had it that the accused had made an out-of-court confession and led the investigators to various scenes of crime, where he admitted to having defiled and killed his victims.
"If there should be any truth in these allegations, then it can be said that when released on bond the accused may abscond. Wanjala had been denied bond in December by Justice Reuben Nyakundi.
Wanjala had through his advocates applied to be released on reasonable bond terms pending the hearing and final determination of his cases.
However, the prosecution filed an affidavit opposing release on bond. Emma Okok stated that the prosecution had overwhelming evidence including forensic evidence against the accused who is said to have committed serious offences of kidnapping, defiling and murdering three.
The court noted that his life could be in danger if released on bond since his case has been highly publicized and the public could be baying for his blood.