Six employees seized as police raid counterfeit liquor distillery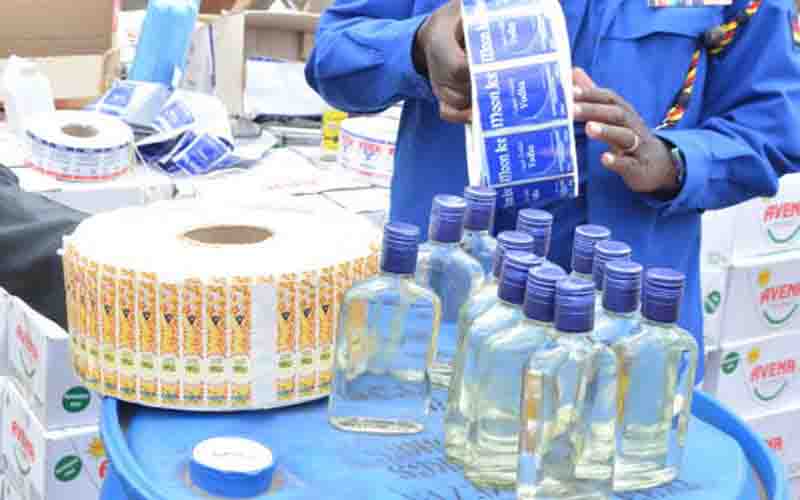 Police in Naivasha have recovered counterfeit liquor worth thousands of shillings and arrested six suspects behind the business.
During the sting operation in the sprawling Karagita estate, the officers managed to recover assorted liquor belonging to various companies.
The raid follows complaints from licensed brewers within Nakuru County.
According to Simon Macharia, Zheng Hong Limited's marketing manager, the company has been incurring huge losses every year due to counterfeits.
He said they were tipped off by members of the public over the illegal production of the counterfeit liquor in Naivasha.
"We informed police and KRA officers and on raiding the premises, we found several workers manufacturing fake the alcohol using our name," he said.
Macharia termed the conditions within the premises as poor, noting that the products were a health risk to unsuspecting consumers.
Addressing the press at the scene, he said such businesses were on the rise in the county and challenged the county government to intervene.
"We are losing thousands of shillings every day as the market is flooded with counterfeit products," he said.
The company's security manager Joseph Kahura said Nakuru County was among the counties where the counterfeit liquor business was thriving.
He urged the county government to act terming the brewing conditions as pathetic and a health hazard to consumers.
"Those involved in the production of counterfeit products are making more cash than the licensed owners and this is very unfair," he said.
Speaking on phone, Naivasha police boss Samuel Waweru confirmed the arrests and recovery of the goods, adding that the suspects would be arraigned in court and charged with various charges.
"Last month we raided two illegal factories involved in the production of counterfeit products and this operation will go on until we reinstate sanity in the liquor sector," he said.
In the last couple of months, over ten people have died in parts of Nakuru after drinking illicit brew that had been laced with poisonous substances.