Families demand justice following Christmas Day shooting in Turbo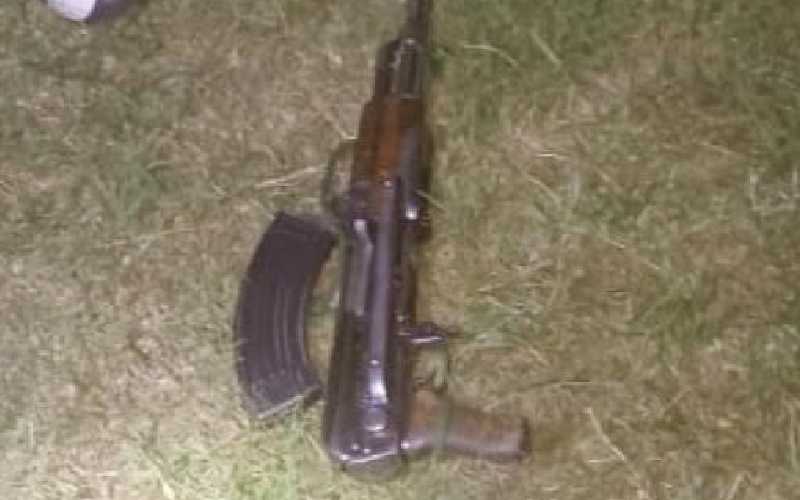 Families of two men shot dead during a confrontation between residents of Kiplombe in Turbo, Uasin Gishu County, and Kenya Defence Forces (KDF) soldiers on Christmas Day over a disputed parcel of land near Moi Barracks are calling on the police to speed up investigations and bring culprits to book.
The shootings are said to have happened after KDF soldiers moved in to rescue their colleagues who had reportedly been locked up and surrounded by residents in a school that sits on the disputed land.
The residents are said to have been angered after KDF officers from the Kenya Ordinance Factory, accompanied by police officers and surveyors, moved in to demarcate the land. A confrontation ensued.
Two other people were injured during the incident.
The victims, Joel Kibet Keter, 53, and 47-year-old Eliud Menjo, died on the spot.
At Kolongei village, Keter's family demanded justice for their kin who they said had been their sole breadwinner.
His widow Dorcas Chepleting said they were home when a commotion erupted. "My husband rushed to the scene to what was happening and that is when he was shot," Chepleting said.
She added: "We had started celebrating Christmas despite the tension that had started building in the area. We had just taken breakfast when we heard gunshots from the school that neighbours our home. That is when my husband dashed to the scene and the next thing we heard was that he'd been shot dead."
"He was shot in the legs immediately he arrived at the school. We were informed that he died of excessive bleeding. He lost a lot of blood. My family, as well as the extended family, have lost our anchor. We all depended on him. Now I don't know what will happen to me. I don't know how I will educate our ten children now that he's gone," a distraught Chepleting told The Standard.
She said Keter's death had badly hurt her family and asked the government to ensure those involved are punished.
Paul Ng'elechei, Keter's father, accused the soldiers of killing innocent people.
"My firstborn son was a kind man who went about his farming business and was a responsible family man. He took care of all of us. He did not wrong anyone. We want to know why he was killed. I am asking the government to help me get justice for our son," said Ng'elechei.
He said they don't have money to accord his son a befitting sendoff.
"We had hoped to enjoy Christmas together as a family as we have always, even though we don't have much, then this happened. Instead, we have been plunged into mourning," said Ng'elechei.
He wondered why the dispute has been sort five decades since it erupted.
On the other hand, Menjo was shot in the mouth and the bullet exited from the back of his head. He too died on the spot.
His brother, Barnabas Birgen, said the family is saddened by his untimely death and demanded justice for him.
"He had been taking care of us, especially our grandmother. We have lost a wonderful person," said Menjo.
Birgen added: "We are saddened by the ruthless manner in which my brother's life was cut short by people who should actually be protecting us. It was cruel and we hope we will get justice."
Menjo's mother, Evelyn Ng'eserei called upon the police to carry out fair investigations and help the families get justice and bring closure to the matter.
"We are hurt and will only feel a bit better when my son's killers are arrested and arraigned in court. Members of the disciplined forces should stop using live bullets anyhow. You cannot use live bullets in the name of scaring away crowds. The two did not have to die," said Ng'eserei.
The County commander Ayub Gitonga confirmed that the fracas led to the death of two people and three injuries.
Gitonga said that the KDF officers were on a three-day exercise to survey the piece of land when they met resistance from locals
"The KDF officers were carrying out their duty to survey their parcel of land and had no motive to evict anybody. Unfortunately, they encountered resistance from the locals, which degenerated into chaos as the officers tried to repulse the locals. Unfortunately, two were gunned down and three injured," said Mr Gitonga.
The County commander said that investigations were ongoing to ensure that the right information is solicited, and the lawful step is taken
"Various agencies are going on with their investigations, and we will not hide anything. We only urge the public to avoid resisting or interfering with the police as they go about their duties," added the County boss.
Gitonga said that the bodies of the two victims had been taken to the Moi Teaching and Referral Hospital mortuary, while those injured were receiving treatment at the hospital.
Residents of Kiplombe have been embroiled in a legal tussle over the ownership of parcels of land in the area since 2019 after National Land Commission (NLC) ruled in favour of KDF.
NLC, in its findings, noted that the land was originally allocated to the Ministry of Defence and reserved as Eldoret military camp where the 9 Kenya Rifles Battalion (9KR) and Recruits Training school (RTS).
The Ministry of Defence had written to NLC, in 2018, complaining that several parcels of land that belong to the ministry and KDF had been grabbed.
NLC noted that the land was compulsorily acquired by the government in 1979 and gazetted.
The genesis of the dispute between the local community and KDF stems from a directive by late President Daniel Moi, in 2000, to KDF to cede part of the land for resettlement of squatters.
KDF is said to have agreed to surrender 1,714.39 hectares from its Eldoret land to Buheba and Kamagut settlement schemes while it was left with a total of 11,988.84 acres.
The process to degazette the land was, however, not done as per the law, leaving the directive in limbo.