Laikipia security crisis that just won't go away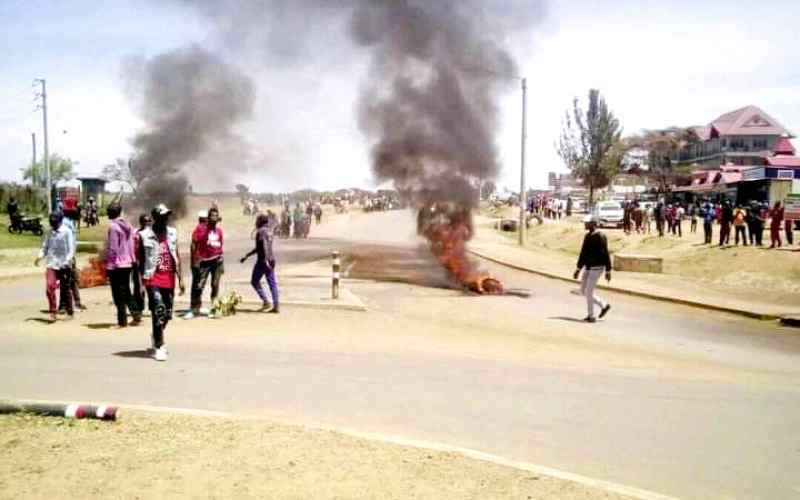 Concerted government efforts to restore calm in volatile parts of Laikipia appeared to have achieved their goal until April when 'spontaneous' banditry returned.
The Interior ministry had launched a security operation in Laikipia, Baringo and Turkana counties in January following the killing of police officers in Kapedo.
Political leaders from the three counties, however, approached the ministry requesting for suspension of the operation to allow for their engagement with residents on a possible peace process.
Interior Cabinet Secretary Fred Matiang'i allowed their prayer giving them 30 days for dialogue with the communities until April 23.
Before the period lapsed, Rift Valley Regional Commissioner George Natembeya reported more attacks at the Laikipia-Baringo border areas that left one dead and hundreds of livestock stolen.
"In the past two days, 230 animals have been stolen by bandits in coordinated attacks and one fatality reported. This shows the bandits have no intentions to cooperate," Natembeya said on April 6.
His statement marked the resumption of the operation that targeted Turkana East, Tiaty and the Laikipia Nature Conservancy (LNC) where stolen animals are said to be hidden after attacks.
While the operation succeeded in restoring peace in Baringo and Turkana areas, it turned LNC, parts of Laikipia West and Laikipia North into a battlefield.
Isolated attacks in various villages in Laikipia West continued throughout the year with the situation escalating in September when the bandits engaged in violent killings of six residents.
The situation had been worsened by the influx of herders from Samburu and Isiolo counties in search of pasture following a prolonged dry spell in the region.
Dr Matiang'i visited Ol Moran on September 10 after government officers confirmed the torching of 28 homes. Residents maintained the number was higher. "We have created Kirima Sub County (Ol Moran) and appointed a Deputy County Commissioner. Ol Moran police station is also upgraded to a divisional headquarters," Matiang'i said.
He said that this was aimed at bringing command of security closer to the people with two other police stations at strategic locations.
"They (bandits) have for long enough shown their might. We shall now establish an elite police training facility whose presence shall be the first line of defense to deter these criminals," he added.
Despite the heightened security presence and an intensified security operation in the conservancy, attacks have continued in the settlement areas, leaving more civilians and uniformed officers dead.
Charles Maina, 65, of Wangwaci village was a victim of a September 22 attack in which bandits shot him dead and made away with 25 heads of cattle which they drove into the conservancy.
On October 11, the bandits raided Ndindika village where they killed three people and injured one. Police recovered hundreds of livestock stolen from different homes.
"Bandits have shifted their attacks to settlement areas that had not experienced attacks before in what is seen as outright acts of criminality and not pastoralist-related conflicts," police spokesman Bruno Shiosi said in a statement on October 11.
On October 28, three police officers were killed and two others injured after they were ambushed while on patrol within LNC, an incident confirmed by Rift Valley regional police commander Fred Ochieng'.
In yet another attack on November 10, two General Service Unit officers who were in the company of 50 others were killed while patrolling the conservancy near Kamwenje area, an attack that was confirmed by Natembeya.
"They had alighted from their armored vehicle after they found the road blocked. A chief inspector survived the attack with bullet injuries," said Natembeya.