Sh24m West Pokot road to open up region troubled by raids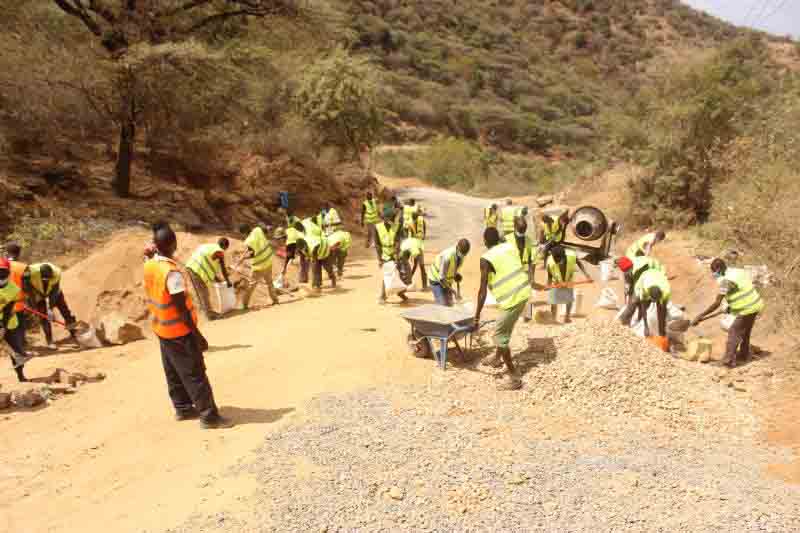 In 1998, Pokot elders set out to open the 24-kilometre Chesegon Road, linking Pokot and Marakwet communities.
But the idea of opening the road, which was expected to connect remote parts of Sigor and Marakwet, was thwarted by bandits.
Wilson Nyakuriesarak from Anet village, West Pokot was among the elders on the mission of opening the road from Lomut in West Pokot through Chemisto, Chepkowo, Cheptulel to parts of Kipchumwo locations in Marakwet East.
He told The Standard they were sprayed with bullets by bandits at Lomut road minutes after their arrival.
The elders wanted to end perennial insecurity between the two neighbouring communities which was fuelled by cattle rustling.
Nyakuriesarak said nobody was injured during the incident, but they abandoned the project as nobody dared visit the site again for fear of being killed by bandits.
"We were lucky that day. We didn't know that the bandits were aware of the project. The bandits armed with AK-47 ambushed us and shot aimlessly minutes after our arrival," he narrated.
More than two decades later the elders have reawakened the dream.
Elders and residents from the two communities have welcomed a move to open up the roads linking the upper parts of Kapyego ward in Marakwet East sub-county to the lower parts of Lomut in Sigor.
Kapyego location, which for years has been a battlefield, is set to get four-kilometre murram road from Kamelei junction to Tabach location in West Pokot.
Elders from West Pokot have so far constructed 2.5km since mid-November 2021, and are set to continue through Chepkokow location to Kipchumwo, Lomut and Cheptulel.
Daniel Cheptarus, an elder from Kapyego, said residents were forced to flee their homes due to cattle rustling and banditry attacks.
He said they lost livestock, property and a number of people were killed during such attacks, and that no bandit was arrested due to impassable roads.
Area assistant sub-county commissioner Edmond Nyagah said Kamolokon forest has been a hideout for bandits, making it difficult for security officers to pursue them after raids.
Cellestine Rotich, a mother of four, said they have been transporting goods from their farms to the market using tractors and donkeys.
In West Pokot, Rhoda Chepkiror joined the residents who are constructing the road on West Pokot side.
"Patients seeking treatment have been having a rough time due to impassable roads. A number of pregnant mothers have had to deliver at home due to the poor state of roads. Transporting school materials from Lomut to the interior parts of Kipchumwo has also been a challenge, many residents opt to use donkeys," she said.
To construct the roads, the residents with the help of the United Nations Development Programme (UNDP) will utilise Do-Nou technology, borrowed from Japan.
The road is funded by Japanese government through UNDP and is being implemented by Community Road Empowerment at a cost of approximately Sh24 million.
The technology is suitable for the area which gets waterlogged and experiences mudslides and landslides.
Jacob Kiplagat who is monitoring the implementation of the project, said the Do-Nou technology is suitable for the region.
"It is a technology from Japan where sacks are filled with sand and arranged on the road," said Kiplagat.
Nicholosa Ng'olei said they are ready to work with the county government to build other roads.