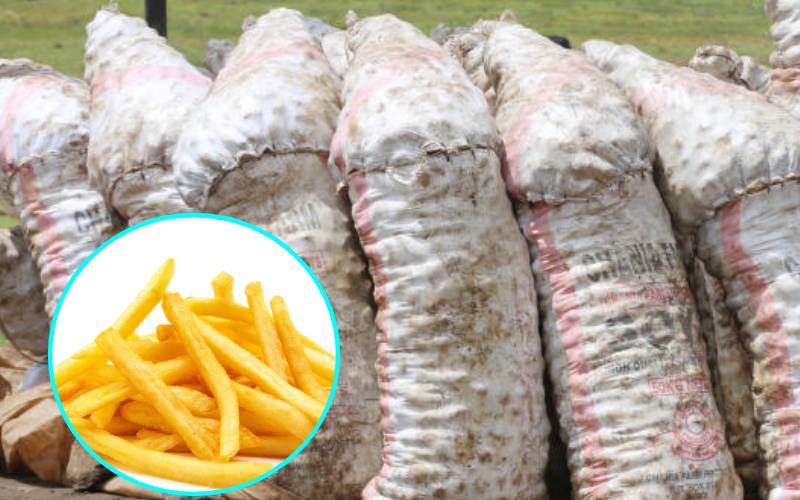 The price of a plate of chips in some of the fast-food restaurant chains is about Sh250 on average.
But a bag of potatoes in the country's highest producing area of Elgeyo Marakwet is Sh500, which is the equivalent of two plates of chips.
After deduction of harvesting and loading charges, which are Sh100 and Sh50 respectively, the farmer ends up with Sh350.
Potato prices have plummeted to the lowest in years amidst high cost of fertiliser and agro-chemicals.
Farmers from Lelan and Kapyego in Marakwet West Sub-county as well as those from Chepkorio in Keiyo South who had quit pyrethrum for the quick and huge money from potatoes, are now counting huge losses as middlemen dictate prices.
Elgeyo Marakwet is the largest potato producer in the country, producing 290,000 tonnes annually, according to the National Potato Council.
As farmers count losses, potato cooling stores established across the county in 2016 to help farmers store their produce awaiting better prices during a glut are wasting away after they were abandoned.
The Sh3.6 million potato cooling stores were built by the National Government Affirmative Action Fund (NGAAF). Reports at the county's NGAAF office indicate that each of the four cooling stores was constructed at Sh900,000.
The cooling stores were to help farmers ward off middlemen who had held the potato sector hostage, buying the produce at as low as Sh400 per 90-kilogramme bag during harvest.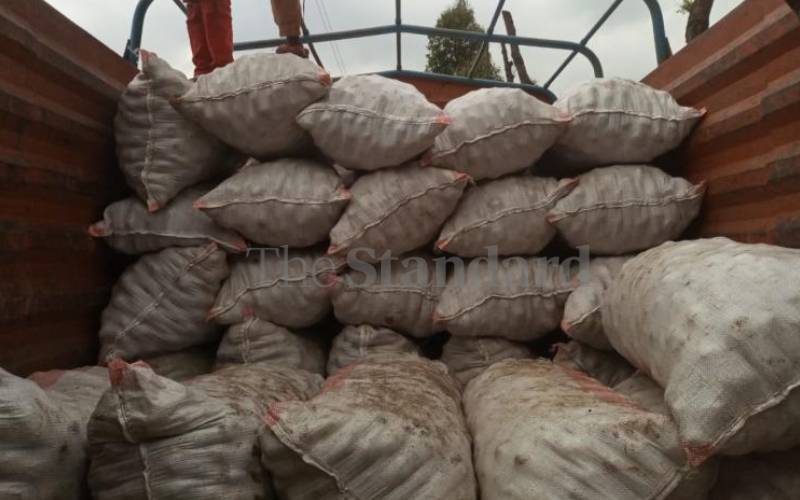 "This is the worst harvest season in many years. Middlemen who have been buying potatoes in the farms at as high as Sh2,000 for 50kg bags are now buying the produce at Sh500 before the cost of harvesting and loading onto lorries. After deductions, the farmer gets Sh350," Walter Maiyo, a farmer from Lelan, said yesterday.
He continued: "The number of middlemen has also reduced. I harvested 300 bags of potatoes three days ago and they are still lying on the farm because the dealer is yet to arrive."
Mr Maiyo said the price of 50kg stipulated in the country's Irish potato regulations is not implemented as desperate farmers are forced to bow to dictates by dealers.
He says farmers sell potatoes in illegally expanded packages weighing up to 80kg to the advantage of middlemen.
"The cost of fertiliser has shot up to Sh3,000 per 50kg bag and that of pest and blight control has also increased, pushing the cost of production high. We are seeking intervention so that farmers get better returns," Maiyo said.
Walter Kipchumba from Chepkorio in Keiyo South said it has been difficult for farmers to store produce, making it easy for middlemen to dictate prices.
"Adding more potatoes to the 50kg bags is unlawful, but brokers are still doing it because no one enforces the regulations," Mr Kipchumba said.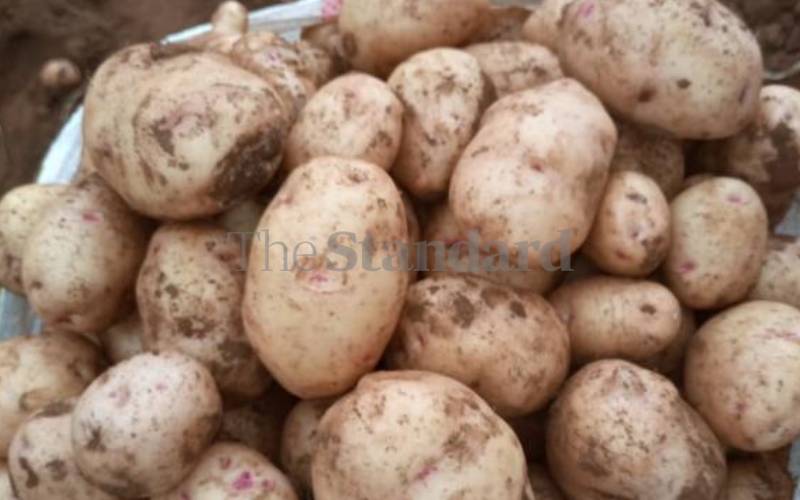 A potato dealer who did not want to be named said they lost the produce's market in Western, Nyanza and neighbouring Uganda following enhanced Covid-19 regulations.
The regulations resulted in curfew in Western and Nyanza regions and a lockdown in Uganda, the dealer said.
Elgeyo Marakwet Deputy Governor Wesley Rotich blamed the haphazard pricing and packaging in the county on what he termed as "confusion on how the Irish potato sector law operates".
Mr Rotich said poor public participation was conducted, giving middlemen room to wreak havoc.
"The Irish potato law was supposed to protect farmers from exploitation, ensure quality seeds, stabilise prices and eliminate foul play in the sector that employs millions. However, it has achieved the opposite. Prices have plummeted to Sh300 per 50kg bag, a situation which has never been seen before," Rotich said.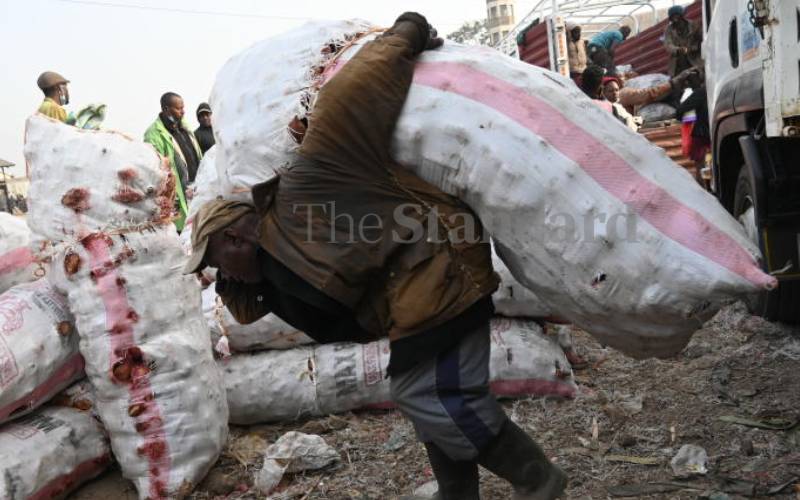 He said Elgeyo Marakwet's department of agriculture was currently processing all licences required to operationalise the new regulations, but stated that uptake was low.
"I urge all farmers to organise themselves in groups and register the same to transporters," he added.
The potato cooling stores, which were abandoned by farmers, were established in Kaptalamwa in Marakwet West, Kimowo (Marakwet East) as well as Kamwosor and Kapkoi in Keiyo.
A potential beneficiary in Kapyego, Marakwet East, told The Standard that security of their produce was not factored in during the establishment of the stores that were poorly constructed.
Boaz Kimaiyo, a potato farmer in Kamwosor, Keiyo South, said the storage facility built in the area failed to offer a solution to poor prices of the produce.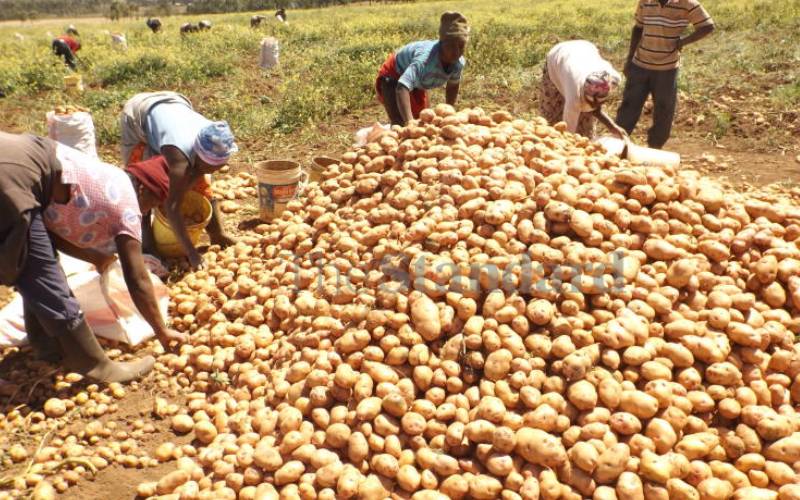 "Some farmers stored their produce in the facilities for the first few months but middlemen started offering better prices, forcing those who had utilised the store to contend with poor prices. Farmers later stopped using the stores and preferred to deal directly with potato middlemen," said Mr Kimaiyo.
Elgeyo Marakwet County NGAAF Manager Stephen Cheboi said the fund took potato farmers to bench-marking tours in Molo, Nakuru County, and when the farmers returned, they requested to be assisted in establishing the Danish model of potato storage facilities because it required the use of locally available materials.
"After liking the potato cooling stores idea, the issue of funding challenges was raised and they decided to send proposals to NGAAF. The applications were successful, and the fund allocated money for it. Each of the stores cost an average of Sh900,000, and we built one in each sub-county," Mr Cheboi said.