You weren't my father's wife, man tells Washington Olweny's widow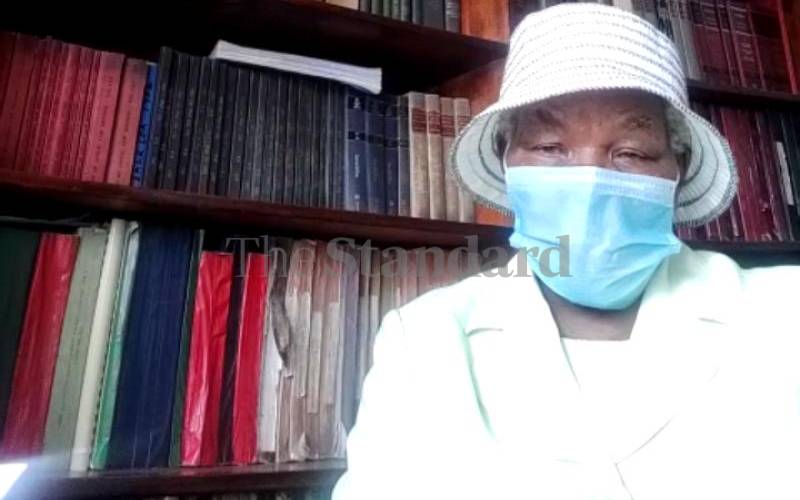 One of three women claiming to be widows to former Nakuru surveyor Washington Olweny was yesterday put to task over her marriage to the deceased.
Lawyer Michael Wabwile put to task Anne Lennah Wanjiru, who is seeking a share of Olweny's property estimated at Sh200 million, to prove that she was not just a mistress.
Prof Wabwile, representing Timothy Olweny, one of the sons, said the late Olweny had in fact denounced Wanjiru in a case she had filed against him in court in 2016.
The lawyer was referring to proceedings of a case at Environment and Lands Court in Nakuru, where Wanjiru had sued Olweny, referring to herself as his mistress.
Only a secretary
Wabwile said in the case, Olweny had replied and said Wanjiru was only his secretary and not even a mistress.
"The deceased clearly stated that your claims that you were his mistress were your imaginations. What do you say to that," Wabwile posed.
"Only the deceased can answer your question. As far as I know, there was a misunderstanding between us, leading to the case. However, we reconciled before he died," responded Wanjiru.
Asked to describe the kind of marriage she was in with Olweny, Wanjiru said it was a "come-we-stay" arrangement.
"My marriage to the deceased was neither Christian nor civil, we simply lived together," she said.
When she was asked if she lived with Olweny as his mistress, Wanjiru denied. She could not tell whether their alleged marriage was polygamous or monogamous.
Wanjiru was also unable to state clearly the exact date she got married to Olweny. When asked, she said it was some time in 1990.
She admitted that she was a secretary at Olweny's firm and was employed in 1979 and left in 2009.
"Are you Olweny's mistress," asked Wabwile.
"No, I was married to him," answered Wanjiru.
Wabwile challenged Wanjiru to confirm to the court that she only gathered the courage to say she was Olweny's wife when he died.
However, she said Olweny introduced her to his brothers as his wife.
Wanjiru produced a letter from ABSA bank, formerly Barclays Bank of Kenya, confirming that she and Olweny had a joint account. She produced the bank statements as proof that she was married to him.
Account's use
According to Wanjiru, the account was used for paying workers and junior surveyors.
However, Wabwile claimed that a shared account was not proof of marriage. "Did the shared bank make you a wife of the deceased," posed Wabwile.
"I do not know," she answered.
Wanjiru wants a share of Olweny's property and she is battling Phelesia Akoth (Olweny's first widow) and Norah Atieno, who claims to have been the man's second wife, for the inheritance.
Olweny, who died before writing a will on November 28, 2016, owned two hospitals in Nakuru town, land, several buildings and estates and apartments.
Following Olweny's death, Akoth and her two sons moved to court to lockout Wanjiru and Atieno from the inheritance, claiming that the two were never married to him.
The case will proceed on January 24, 2022.