We were not consulted, Pokot elders reject Raila's endorsement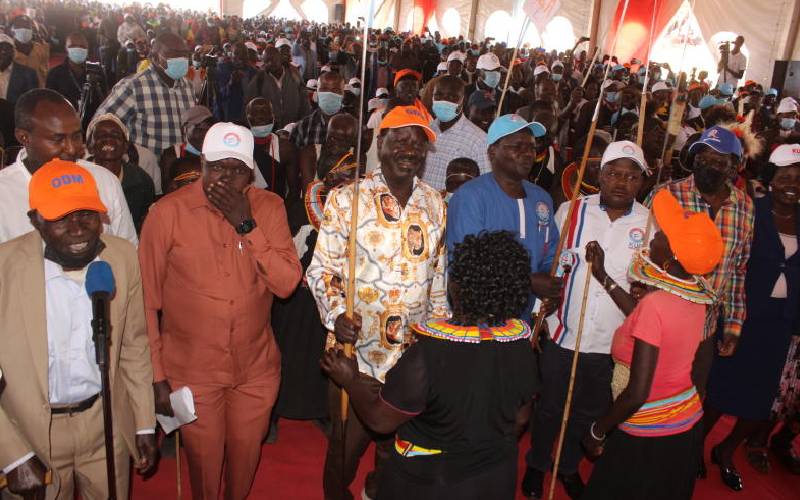 A political split among Pokot elders has emerged after one group opposed the recent endorsement of ODM leader Raila Odinga as the 2022 presidential candidate.
The group under the umbrella of Pokot Council of Elders claims that there was no wider consultation over the matter before Raila was endorsed.
This comes a few days after West Pokot Governor John Lonyangapuo, Pokot South MP David Pkosing and former Tiaty MP Asman Kamama launched the Kenya Union Party (KUP) and declared their support for Raila during the Azimio la Umoja event at Kishaunet show Ground in Kapenguria.
Also present was the Senate Majority Leader Samuel Poghisio.
The KUP leaders presented what they said a memorandum of the people Raila and promised to work with him.
The elders, however, said Lonyangapuo and Pkosing are hiding behind the new party and Raila's endorsement to run away from corruption allegations they are facing.
Speaking in Kapenguria, the elders led by chairperson John Muok thus rejected the endorsement claiming 'it was a two-people affair' insisting that they were not consulted.
"We were surprised to hear about leaders endorsing Raila without the elders' consent and blessings. Lonyangapuo was not chosen as the spokesman. There is a complaint that people from faraway places as Tiaty were brought but West Pokot people were missing. They hid the endorsement and did everything in darkness. No elder from Chepareria or any part of the county attended the function," said Muok.
Arguing that politicians have no mandate to talk about the issue on behalf of the community, the former paramount chief warned over politicians who want the Pokot community to have its own identity code and delink them from the wider Kalenjin community.
He said although all politicians are welcome to campaign, it should not be a guarantee for the community's endorsement.
Mr Muok noted that many of the proposals the new party gave to Raila are issues to be dealt with by the County and National Governments.
"Some of the proposals are good but many 'were misplaced'. Why present issues that you are supposed to handle as Governor to Raila just because elections are around the corner?" the chairman posed.
The elder maintained that the Pokot Community is behind Deputy President William Ruto and they will not change their allegiance.
His sentiments were echoed by Christopher Lonyala who said they will present the official memorandum to DP Ruto.
Reached for comment, Lonyangapuo who is now the KUP party leader dismissed the allegations saying they collected views from everyone and delegates were drawn from the five constituencies in the County.
"We are duly elected leaders and we have powers to give our people direction," he said.
Pkosing in his defence cited that they are waiting to be approached by UDA leadership as ODM did.
"If they don't come, we have already taken a different route," he said.