Moi University staff strike enters day three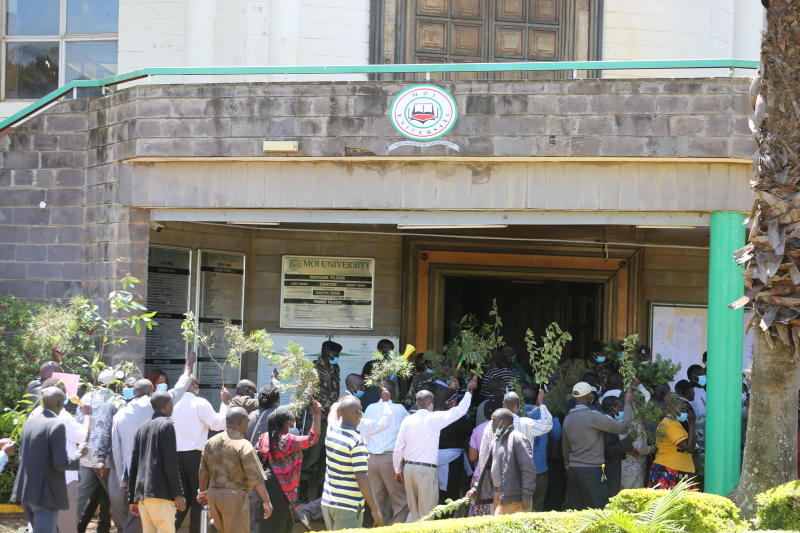 Striking Moi University staff yesterday demonstrated for the third day in a push to have the administration pay them.
On Monday the staff took to the streets to protest delays in payment of their salaries and failure by the institution to implement the 2017-2021 Collective Bargain Agreement (CBA).
The Universities Academic Staff Union (Uasu), Kenya University Staff Union (Kusu), Kenya Union Of Domestic Hotels Educational Institutions Hospitals & Allied Workers (Kudheiha) claimed the management had ignored their grievances.
Drama ensued at the main campus in Kesses when the striking staff attempted to storm the administration building to seek audience with Vice-Chancellor Isaac Kosgei, who they accused of neglecting them. Police repulsed them.
Uasu Chairperson Richard Okero told journalists poor management and misappropriation of funds were to blame for the institution's challenges. "We will only respond to the meeting calls if all the employees are invited," said Dr Okero.
Uasu Organising Secretary Nyabuta Ojuki claimed their grievances were simple issues the management had ignored. "Our employer has oppressed us instead of giving us a conducive working environment. We demand full implementation of the CBA that majority of other universities have already implemented," said Mr Ojuki.
The lecturers claimed the university owed supervisors and external examiners, paralysing post-graduate programmes. They claimed the university lacked basic resources like felt pens and printing papers.
Casual workers claimed they had not received their pay for more than 13 months.
Through their representative Abraham Bargoria, the casual workers claimed despite working for the institution for years, they are yet to be employed on a permanent and pensionable basis.
But Prof Kosgei denied the allegations. He said: "Everything's in public domain and we are progressing well. We found the institution with challenges; I have tried to do a lot. We will have a meeting with the unions tomorrow."