Dr Gakara widow reads bedtime stories to her children during burial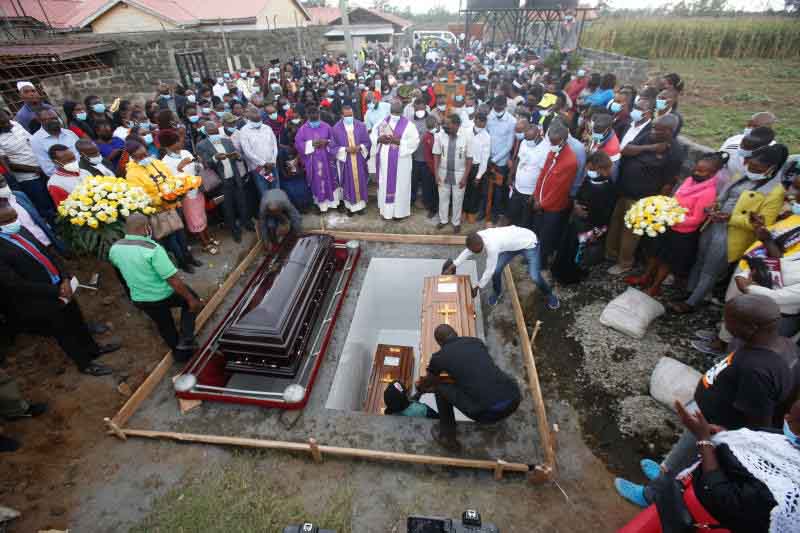 Grief engulfed mourners who turned up to bid farewell to the doctor believed to have killed his two children before committing suicide. The burial took place at their Mbaruk home in Gilgil.
James Gakara, 54, was interred in a separate grave, as his children Dylan, five, and Hailey, three, were buried in one.
The graves were not filled with soil. Instead, they were covered with timber, a layer of polythene, steel reinforcement and on top covered with concrete.
"Some may ask why we are doing this. We are doing this as per the wishes of Dr Gakara," said family spokesman Burton Njoroge.
Gakara, an obstetrician and gynaecologist, died on September 22 at Nakuru Level Five Hospital after four days in the ICU.
The proprietor of Optimum Current Health Care Hospital is suspected to have injected his two children with a concoction of drugs. He is thought to have injected himself with the same stuff. The children were found dead.
Gakara's widow, Winnie Odhiambo, brought mourners to tears as she read stories to her children moments before they were interred.
"We never went to bed before we prayed, and me reading them bedtime stories. Your favourite stories were the 'Donkey in a well', the 'Big Bad Wolf' and 'The Six Piglets'. How shall my weekends be," said Winnie amid sobs.
She described her daughter as an upcoming doctor and her son as a future captain. "It is a big loss that will take a long time to heal," said Winnie.
She described Gakara as a hardworking and visionary man who never believed in shortcuts. "My husband was so resilient. He was such a beautiful soul, such a beautiful character. Rest in peace Doctor Gaks," she said.
Gakara's daughter from a previous marriage, Agnes Njeri, expressed her love for her father who continued to support her despite the separation from her mother. "You are the best father I could ever have. You have been my source of strength. Thank you for being present in my life. You ensured that I had the best education," said Njeri.
She also mourned her step-siblings, with whom she said she had made great memories.
"I have so much to say, but I don't have words to express them. Dylan and Hailey, I cherished you so much. Life can be unfair sometimes, you have left us this early," said Njeri.
Dr Norman Njogu, an associate of Gakara's, said there had been a nightmare for the doctors' fraternity since his death. "I delivered the two babies lying in these caskets. It breaks my heart to see them in this state," said Njogu.
Burton Njoroge assured Winnie of their support in her healing journey. "We will always hold your hand. We can only pray that God gives you peace and courage to face the days ahead of you."
"As a family, we shall remain united even in this situation," said Peter Gakara, the doctor's brother.